February 15, 2006 Roper Industries (ROP)
Click HERE for my ***PODCAST*** on Roper Industries (ROP)
.
Hello Friends! Thanks so much for stopping by and visiting my blog,
Stock Picks Bob's Advice
. As always, please remember that I am an amateur investor, so please remember to consult with your professional investment advisors prior to making any investment decisions based on information on this website.

To refresh your memory, let me once again remind you that when I am looking for a new stock to discuss on this blog, I start with the top % gainers lists. Today, looking through the
top % gainers on the NYSE
, I came across Roper Industries (ROP) which closed at $42.31, up $1.79 or 4.42% on the day. I do not own any shares nor do I have any options of this company.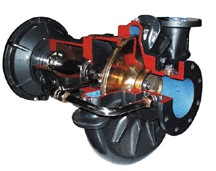 Contributing to the bullish sentiment on this stock was
last week's announcement
that 2005 earnings should be at the "high-end of forecast" which had previously been forecast at the range of $1.64 to $1.70/share.
And what exactly does Roper do? According to the
Yahoo "Profile" on Roper
, the company
"...engages in the design, manufacture, and distribution of energy systems and controls, scientific and industrial imaging products and software, industrial technology products, and instrumentation products and services. It operates in five segments: Instrumentation, Industrial Technology, Energy Systems and Controls, Scientific and Industrial Imaging, and RF Technology."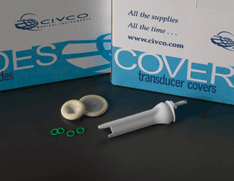 And how about the latest quarterly result? On October 27, 2005, Roper Industries
reported 3rd quarter 2005 results
. For the quarter ended September 30, 2005, net sales came in at $365 million, 52% higher than the $240 million reported in the same quarter a year earlier. Net earnings increased to $39.2 million from $27.4 million the prior year, and on a diluted eps basis, came in at $.45/share, up 25% from $.36/share last year during the comparable quarter.
And what about longer-term results? Looking at the
"5-Yr Restated" financials on ROP from Morningstar.com
, we can see the steady growth in revenue from $.5 billion in 2000 to $1.0 billion in 2004 and $1.2 billion in the trailing twelve months (TTM). Earnings have increased a bit erratically, climbing from $.79/share in 2000 to $.89/share in 2001, then dipping to $.63/share in 2002. However, since 2002, earnings have had a steady growth to $1.24/share in 2004 and $1.42/share in the TTM.
Dividends have also been increasing steadily from $.14/share in 2000 to $.19/share in 2004 and $.20/share in the TTM.
The company has been increasing its number of shares outstanding, apparently for acquisition purposes, from 61 million in 2000 to 74 million in 2004 and 86 million in the TTM. This has not been an excessive growth in shares, with an approximately 50% increase in the float while revenue has nearly tripled and earnings doubled during the same period.
Free cash flow has been positive and growing from $79 million in 2002 to $153 million in 2004 and $183 million in the TTM.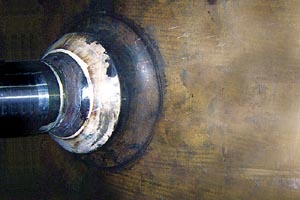 The balance sheet, as reported by Morningstar.com looks strong with $68.4 million in cash and $458.8 million in other current assets. Balanced against current liabilities of $244.1 million, this gives us a 'current ratio' of approximately 2:1. In addition, the company does have a significant long-term debt load of $1.04 billion.
And how about some valuation numbers? Looking at the
"Key Statistics" from Yahoo on Roper
, we can see that this is a large cap stock with a market capitalization of $3.63 billion. The trailing p/e isn't too bad at 28.08, with a forward p/e (fye 31-Dec-06) even nicer at 21.37. The PEG ratio works out to a nice 1.46 (under 1.50 is reasonable imho.)
And the Price/Sales ratio? According to the
Fidelity.com eResearch website
, Roper is in the "Diversified Machinery" industrial group, and in fact is priced the richest in valuation relative to this parameter with a Price/Sales ratio of 2.6. Following ROP is Illinois Tool Works (ITW) with a ratio of 2.0, then Pall (PLL) with a Price/Sales ratio of 1.9. Next is Ingersoll-Rand (IR) at 1.3 and Eaton (ETN) at 1.0.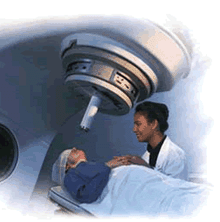 Going back to Yahoo.com for some additional numbers on this stock, Yahoo reports that there are 85.80 million shares outstanding and 83.19 million of them float. Of those that float, 1.80% are out short as of 1/10/05, representing 6.4 trading days of volume. This is significant imho, as it is greater than my own cut-off of 3 days of short interest. With the company raising guidance, she short-sellers may be starting to cover their short sales with purchases. Just a hunch.
As I noted above, the company pays a small dividend of $.24/share, yielding 0.60%. The last stock split, a 2:1 split, was on August 29, 2005.
And how about a chart? Looking at the
"Point & Figure" chart on Roper Industries from Stockcharts.com
, we can see that the stock was really moving sideways to lower between February, 2001, when it was trading at $19/share, to a low of $13.50 in February, 2003. The stock broke through resistance in June, 2003, at approximately $18.50, and has trading strongly higher since!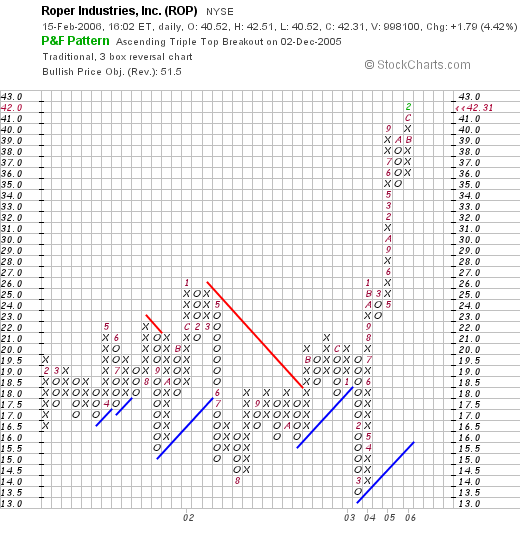 So what do I think? Well, I like this stock! That's why I wrote it up :). Seriously, the stock moved nicely higher today, they guided to the high end of estimates last week and shall be reporting the final quarter's results soon. The Morningstar numbers look nice with fairly steady revenue growth, and strong earnings growth the past few years. The company, in addition, has a small dividend, and has been steadily increasing the amount. The p/e and the PEG are nice, but the Price/Sales ratio suggests, at least within its group, a bit of a high-end valuation. Free cash flow is positive and growing and the balance sheet has a current ratio of over 2.0. There is a large amount of long-term debt however. In addition, the chart looks strong!

Anyhow, that's another stock for you to review! Thanks so much for stopping by and visiting. If you have any comments or questions, please feel free to email me at bobsadviceforstocks@lycos.com or leave your comments right in the blog.

Bob







Posted by bobsadviceforstocks at 4:07 PM CST |
Post Comment
|
Permalink
Updated: Wednesday, 15 February 2006 10:10 PM CST