A Reader Writes "Precision Castparts (PCP) came upon my radar...."
Hello Friends! Thanks so much for stopping by and visiting my blog,
Stock Picks Bob's Advice
. As always, please remember that I am an amateur investor, so please remember to consult with your professional investment advisors prior to making any investment decisions based on information on this website.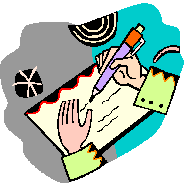 Last week, my good friend George K. wrote me a note and here I am late Sunday night, catching up with things, and I really figured I owed George an answer. George is a member of my stock club as well as a friend of mine. He wrote:
"Hi Bob,
Precision Castparts (PCP) came up on my radar screen recently. I'd be interested in your take; thanks for all you've taught me and freely sharing your advice...your blog is great...
Geo"
Well, first of all, I sure appreciate your support and kind comments. When I was first putting together the ideas for this blog, George put down a list of the names I was looking at, and encouraged me that I was onto something. I hope that I still am, and appreciate your interest and support.
So let's take a brief look at Precision Castparts (PCP), and see how it fits into my perspective on stock investments. I cannot predict whether the stock will rise in the future or the price will fall, I can just tell you about a few of the things that are important to me and whether it would be a stock that I would include on my blog. But you probably knew that already :).

First, what does this company do?
According to the
Yahoo "Profile" on Precision Castparts
, the company
"...provides investment castings, forgings, and fasteners/fastener systems for aerospace and industrial gas turbine applications. It operates through four segments: Investment Cast Products, Forged Products, Fastener Products, and Industrial Products."
Let's run through some of the basic screens that I like to review on a stock: latest quarter, Morningstar.com financials, and a 'point and figure' chart. By the way, PCP closed at $56.37 on 2/17/06 and I don't have any shares or options on this company. I don't know if George has any shares or options.
First, the latest quarterly result: on January 17, 2006, PCP
reported 3rd quarter 2006 results
. Sales totaled $864.4 million, up 16.2% over sales of $743.9 million, the previous year same quarter. Net income (including discontinued operations) totaled $93.7 million or $.69/diluted share, vs. net income of $61.7 million or $.46/diluted share last year. These were certainly solid results!
On the 'good-news front', the company
announced a completion of an accounting review
which resulted in a $1.9 million or $.01/share decrease in net income which was recorded as an adjustment in the second quarter of 2006. The 'street' hates uncertainty, and it is a positive that the company has this review of earnings behind it.
What about Morningstar? Reviewing the
Morningstar.com "5-Yr Restated" financials on PCP
, we can see the erratic growth in revenue from 2001 to 2004, when revenue changed from $2 billion in 2001, down to $1.9 billion in 2004. Fortunately, strong growth has developed since, with $2.9 billion reported in 2005 and $3.1 billion in 2006.
Earnings have also been eerratic, dropping from $1.23 in 2001, to $.41 in 2002, climbing to $1.18 in 2003, then dropping all the way to a loss of $(.02) in 2005, only to come back to $.16/share in the trailing twelve months (TTM).
Free cash flow is solidly positive with $190 million in 2003, increasing to $301 million in 2005 and $287 million in the TTM.
The balance sheet is adequate with $1.2 billion in cash and other current assets, balanced against $755.9 million in current liabilities. This gives us a reasonable 1.5 current ratio.
In addition, the company has $1.05 billion in long-term liabilities.
Looking at
Yahoo "Key Statistics" on PCP
, we can see that this is a large cap stock with a market capitalization of $7.51 billion. The trailing p/e is moderate at 23.95, with a forward (fye 03-Apr-07) p/e of 18.36. The PEG is a tad rich at 1.92.
There are 133.3 million shares outstanding and 132.8 million of these float. Of these, 1.64 million shares are out short representing 1.2% of the float or 3 trading days of volume (the short ratio). This short interest doesn't look very significant to me.
According to Yahoo, the company pays a small dividend of $.12/share yielding 0.20%. The last stock split was a 2:1 split in September, 2005.
How about a chart?
Looking at a
"Point & Figure" chart from StockCharts.com
, we can see that the stock was trading very weakly from January, 2001, when it hit $24.00/share, until declining first to $9.00/share in late 2001, and then again down to $8.50 in October, 2002. Since that time, especially after breaking through resistance at $16 in July, 2004, the stock has traded strongly higher to the $56.37 level. The chart looks strong, especially the last couple of years.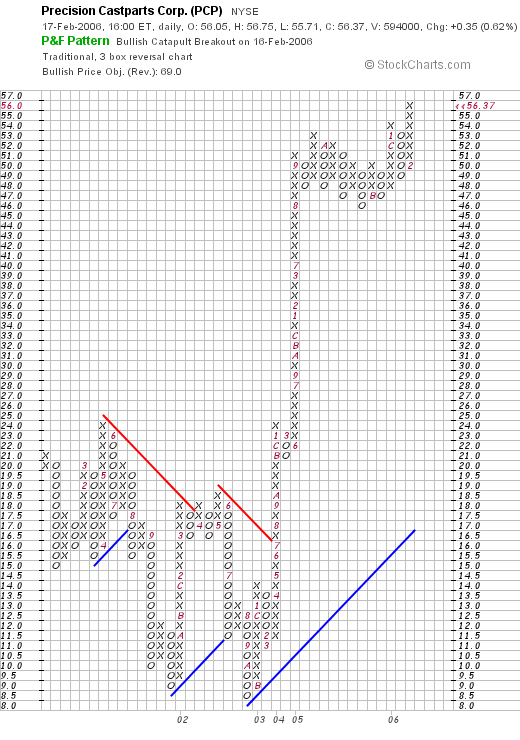 So what do I think? Well this is an interesting stock market idea! I like the latest quarterly report. However, the Morningstar.com does not show the consistency in revenue and earnings growth that I generally like to see. At least for two or three years. The last couple of years have been quite strong, and the stock price has behaved accordingly.

Not a perfect fit to my blog, but then again, not too shabby a selection either! Just what I would have expected I guess.

Thanks for visiting! If you or anyone else have any other questions or comments, please feel free to leave them on the blog or email me at bobsadviceforstocks@lycos.com.

Bob