March 1, 2006 Autodesk (ADSK)
Click
***HERE***for my PODCAST on AUTODESK
Hello Friends! Thanks so much for stopping by and visiting my blog,
Stock Picks Bob's Advice
. As always, please remember that I am an amateur investor, so please remember to consult with your professional investment advisors prior to making any investment decisions based on information on this website.
I was looking through the
list of top % gainers on the NASDAQ
this afternoon and came across Autodesk (ADSK) which closed at $41.68, up $4.03 or 10.70% on the day. I do not own any shares of this stock nor do I own any options. This evening, I did happen to listen to the first part of
Jim Cramer's Mad Money
, and did hear a listener call in about Audodesk and hear Cramer give it a big plug. This doesn't really determine or affect my choice on the blog, but it is a plus as well.
And what exactly does this company do? According to the
Yahoo "Profile" on Autodesk
, the company
"...operates as a software and digital content company worldwide. The company provides business solutions through technology products and services, including integrated and interoperable design software, Internet services, wireless development platforms, and point-of-location applications."
And how about the latest quarterly result?
Yesterday, after the close of trading, Autodesk
reported 4th quarter 2006 results
. For the quarter ended January 31, 2006, revenues climbed 17% to $417 million, from $356 million in the same quarter the prior year. Net income for the quarter was $83 million or $.33/diluted share compared to $66 million or $.26/diluted share the prior year. In addition, the company raised guidance (the third part of what I like to figuratively refer to as a 'trifecta') for 2007. As
reported last night
" Chief executive and chairwoman Carol Bartz said demand was strong for its products to design in two dimensions while an increasing number of customers were migrating to new three-dimensional products.

"I think we (will) have a big run on both sides for a long time," Bartz said. "Considering the fact that ultimately the majority of our base should move to 3D, and we are only 10 percent there, that is a huge opportunity."

Bartz said Autodesk raised its fiscal 2007 forecast from its November target due to a dollar that has stabilized, an economy that seems stronger and momentum from a strong fourth quarter."
And how about a longer-term look at the company from Morningstar?
Reviewing the
"5-Yr Restated" financials on ADSK from Morningstar.com
, we can see that between 2001 and 2003, the company actually had flat to declining revenue from $.9 billion in 2001 to $.8 billion in 2003. However, since 2003, revenues have grown strongly to $1.2 billion in 2005 and $1.5 billion in the trailing twelve months (TTM).
Earnings have followed a fairly similar course, declining from $.40/share in 2001 to a low of $.14/share in 2003, then climbing sharply to $.90/share in 2005 and $1.26/share in the TTM. The company also pays a small dividend of $.06/share, although Morningstar reports only $.03/share in the TTM.
Free cash flow has been positive and growing strongly from $50 million in 2003 to $332 million in 2005 and $418 million in the TTM.
The balance sheet as reported on Morningstar looks solid with $547.9 million in cash alone, enough to cover both the $463.4 million in current liabilities and the $50.1 million in long-term liabilities combined. As far as the 'current ratio' is concerned, Morningstar reports an additional $311.8 million in other current assets, which when combined with the cash of $547.9 million and compared to the current liabilities of gives us a current ratio of just under 2.0 another sign of financial strength.
Taking a look at the
Yahoo "Key Statistics" on ADSK
, we can see that this company is certainly a large cap stock with a market capitalization of $9.62 billion. (The cut-off for mid-cap stocks for me is $3 billion). The trailing p/e is 33.26, with a forward p/e (fye 31-Jan-07) of 24.37. The PEG Ratio (5 yr expected) is a reasonable 1.22. (I use anything under 1.5 as fairly valued and frankly any PEG under 1.0 as 'cheap').
According to the
Fidelity.com eResearch website
, ADSK is in the "Technical/System Software" industrial group. Within this group of stocks, ADSK is relatively expensive with a Price/Sales ratio of 6.4. This ratio is only exceeded by Infosys (INFY) at 9.8, and is ahead of Mercury Interactive (MERQ) at 3.8, Manhattan Associates (MANH) at 2.6, and Take-Two Interactive (TTWO) which is the cheapest in the group with a Price/Sales ratio of 0.9.
Going back to Yahoo for a few more numbers, we find that there are 230.8 million shares outstanding with 229.55 million that float. Of these, 6.72 million shares were out short as of 1/10/06. This represents 2.90% of the float, slightly higher than the previous month's 6.71 million shares, and yet the short ratio is only 2.8, under the 3.0 figure I use as a cut-off for significance.
As noted above, the company pays a small dividend of $.06/share yielding 0.20%. The last stock split was a 2:1 split 12/21/04.
And what about a chart? Looking at a
"Point & Figure" chart from StockCharts.com on ADSK
: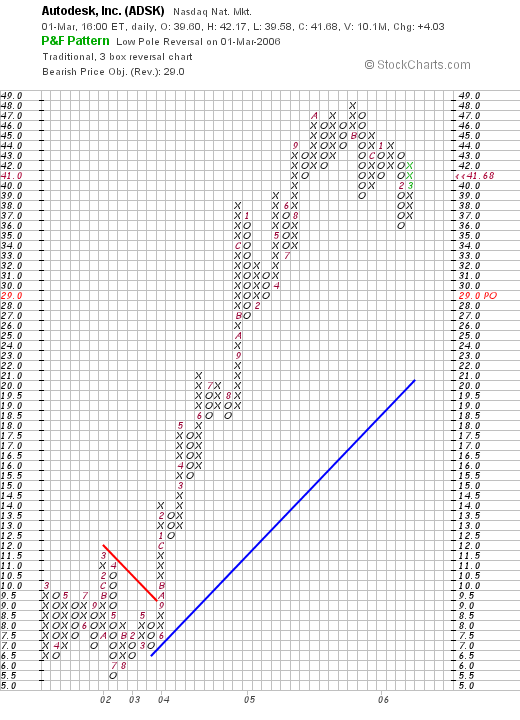 We can see that the stock chart follows the Morningstar.com long-term results report almost perfectly. While revenue and earnings have been flat between 2001 and 2003, so is the chart. Only in September, 2003, the stock broke through resistance at $9.50 and has been climbing strongly since. Recently, the stock has pulled back slightly from the $48 level to the current $42 level. Overall, the chart looks fine to me.

So what do I think? Well, the stock has many of the characteristics I like to see in a stock pick. The latest quarter was solid with strong earnings and revenue growth and raised guidance, the past five-years, while not perfect, have shown steady results the past three years. The company even pays a small dividend. Free cash flow is positive and rapidly growing. The balance sheet is solid with enough cash to pay off both the current and long-term liabilities combined. Value-wise, the P/E is moderate in the low 30's, forward P/E in the 20's with a PEG under 1.5. The Price/Sales ratio is a bit rich, but this stock may well deserve the valuation. Finally, the chart looks nice to me.

Anyhow, thanks so much for once again taking the time to visit my blog. If you have any questions or comments, please feel free to leave them on the blog or email me at bobsadviceforstocks@lycos.com.

Bob











Posted by bobsadviceforstocks at 7:28 PM CST |
Post Comment
|
Permalink
Updated: Wednesday, 1 March 2006 10:43 PM CST