A Reader Writes "And what are some basic principals you go by when picking stocks?"
Hello Friends! Thanks so much for stopping by and visiting my blog,
Stock Picks Bob's Advice
. As always, please remember that I am an amateur investor, so please remember to consult with your professional investment advisors prior to making any investment decisions based on information on this website.
One of my favorite activities on this blog, is to receive and respond to letters regarding investing, stock picks, suggestions, critiques, and words of support. If you have any comments or questions please feel free to email me at bobsadviceforstocks@lycos.com.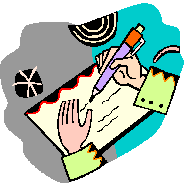 Last week I received a letter from Ryan who wrote about my investment philosophy. He wrote:
"Hi Bob,

What stocks do you currently hold. And what are some basic principals you go by when picking stocks. I'm relatively new to the stock market. Thanks.

Ryan"
Let me answer your question in two parts. First of all, in the interest of transparency, I would like to briefly go over my holdings; I try to review one of my holdings each weekend in my "Trading Portfolio Analysis" entries.
As of March 20, 2006, my current trading consists of 21 stocks: Barnes Group (B) 180 shares, Dynamic Materials (BOOM) 200 shares, Coach (COH) 102 shares, Cytyc (CYTC) 225 shares, Genesco (GCO) 200 shares, Helix Energy (HELX) 142 shares, Hibbett Sporting Goods (HIBB) 84 shares, Healthways (HWAY) 128 shares, JLG Industries (JLG) 160 shares, Jos A Bank (JOSB) 187 shares, Kyphon (KYPH) 150 shares, Morningstar (MORN) 167 shares, Packeteer (PKTR) 400 shares, Quality Systems (QSII) 44 shares, Resmed (RMD) 180 shares, Starbucks (SBX) 59 shares, SRA International (SRX) 320 shares, St Jude (STJ) 180 shares, Sybron Dental (SYD) 113 shares, Meridian Bioscience (VIVO) 210 shares, and Ventana Medical Systems (VMSI) 225 shares.
I will continue to try to get in review weekly on each of these positions.
Your second question is about how I go about and pick stocks. I tried to answer this on an earlier podcast but let me once again try to put down my investing philosophy and strategy a little more clearly.
Some of the questions that need to be addressed include how do I pick stocks, when do I actually buy new positions, when I sell stocks, and how do I manage to adjust my portfolio to changing investment environments. In other words, do I have a mechanism of moving into stocks when times are good, and move into relatively more cash when times are bad.
First on picking stocks. Almost every day you can find me at some time looking through the lists of top % gainers in the market. I emphasize NASDAQ stocks, which seem to have the fastest growing companies, next review NYSE issues and last, take a look at the AMEX stocks. I have a couple of idiosyncratic things that I like to do, which includes avoiding financial stocks which need to be evaluated in an entirely different fashion, and generally staying with stocks that are $10 or greater.
From this list of top % gainers, I generally open up my Morningstar.com "5-Yr Restated" financials page. On the Morningstar.com page, I check for some evidence of
persistence
of results, you could say financial 'momentum', that is, I look for steady revenue growth. A trend towards earnings improvement (making sure the company is profitable), and positive and hopefully growing free cash flow. Other facts that I examine, but are not necessarily necessary for a pick, is the presence of a dividend that ideally would be increasing as well. Furthermore, it is important to make sure that the number of shares outstanding is stable or even decreasing.
My review of the balance sheet includes evaluating the relative balance between the current assets and the current liabilities. This is called the "current ratio" which at least is 1.5 or greater. I like to look at the relative ability of the combined current assets to pay off both the current liabilities and the long-term liabilities combined. This is an extra "plus" in my review.
Next step is to look at the latest quarterly result. I insist on growth in both earnings and revenue in the latest quarter. Additional positive findings for me include whether the company has exceeded 'expectations' and whether the company raises guidance for future quarters.
In my review, I like to go next to the "Key Statistics" page on Yahoo finance. There I look at the size of the company (the market cap), the P/E, and the PEG ratio. The more reasonable these numbers are (a PEG under 1.5 is preferred) the more attractive I find a stock.
Using Fidelity.com, I try to compare the Price/Sales ratio to other stocks in the same industrial group. Hopefully, this also shows good 'value'.
Going back to Yahoo, I am interested in knowing the number of shares out short relative to the average trading volume of the stock (the short ratio). If there are a lot of shares out short (over 3.0 trading days), this is significant in a positive fashion imho, suggesting a possible short 'squeeze'.
Finally, I look at a point and figure chart to assess whether the stock generally appears to have price momentum. Simply put, does the chart look like the stock is moving higher, lower, or going nowhere.
I would like to briefly comment on my portfolio management. First of all, I would suggest starting a portfolio in "neutral". Which from my perspective means 50% in cash and 50% in equities. I believe an investor should know the maximum number of positions he/she would like to hold in their own portfolio. If one has goal of 20 positions, start at 10, drop down to 5 in a bearish environment, and go to a maximum 20 positions in a bull market.
I believe in allowing my own stocks to determine whether I am moving into cash or equities. Once at a maximum number of positions, all sales on good news go into cash. Otherwise, when I sell on "bad" news, I like to sit on my hands, so to speak, moving my portfolio towards cash. Good news for me is a partial sale on a targeted gain. This is my permission slip to add a new positions moving me closer to a maximum # in my portfolio.
Bad news consists of sales after either announcements of fundamental problems with a company, or declines in a stock price moving to a sale target. After a first purchase, I sell on an 8% loss. Otherwise after one sale on good news, I sell at break-even. After two or more sales on good news, I sell at 50% of the highest sale percentage gain.
Good news sales are at set intervals. I sell 1/6th of my holding at 30%, 60%, 90%, 120%, then by 60% intervals x 4, then by 90% intervals by 4, etc. These sales allow me to add a new position.
When I sell on bad news, I sit on my hands waiting for a sale on good news to replace that position. My only exception would be when I have reached my minimum # of positions.
Now that was a mouthful! I hope that clarifies my strategy. If you have any questions or comments, please feel free to leave them on the blog or email me at bobsadviceforstocks@lycos.com.
Bob