A Reader Writes "...I wanted to know what you think about the stock SIRI...."
Hello Friends! Thanks so much for stopping by and visiting my blog,
Stock Picks Bob's Advice
. As always, please remember that I am an amateur investor, so please remember to consult with your professional investment advisors prior to making any investment decisions based on information on this website.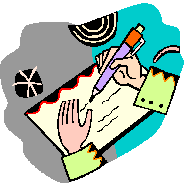 I have to admit, that the question of what to do with SIRI (Sirius Satellite Radio), is a common concern I have addressed on this blog. Before I get into my answer to this question, let me point out that I cannot predict the direction of any stock in the stock market. Sirius may turn out to be a fabulous investment, insofar as the stock price is concerned. Or it may turn out to be a dog. All that I am able to do is to comment on whether the stock fits my own particular approach to selecting stocks. My approach does NOT in any way include all of the stocks, or even most of the stocks, that are eventually going to be appreciating in price. It is just a strategy that seems to work for me. That being said, let me first share with you an email I received earlier today. Danny K. wrote:
"Dear Bob,

I know that you do not like stocks under 10 dollars. But i wanted to
know what you think about the stock SIRI, Sirius Satelight Radio. Many
of my colleagues think that this stock will have steady continuous
growth in the next year or so. I'm not sure if it is just the hype
that they released the information that just reached 4 million
subscribers or not. Please let me know what you think.


Thanks


Danny

PS. Love your Blog. Keep up the good work."
Thank you for writing! Please let me know what you decide to do with Sirius (SIRI) and how it works out for you. I actually love satellite radio, although I have XM in my car, and not SIRI. I really believe that once consumers experience satellite radio, they will never go back to "rabbit ears" again.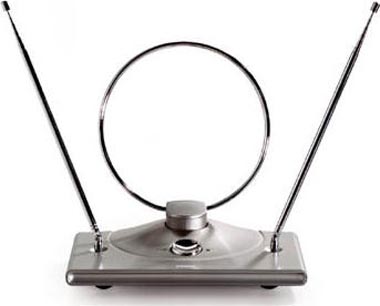 If you are interested, I posted a fairly in depth Review of SIRI on Stock Picks Bob's Advice on January 21, 2005. But let's update that review with another look at the company.

First of all, the latest quarterly result.

On February 17, 2006, SIRI reported 4th quarter 2005 results. On a positive note, revenue expanded strongly to $80 million from $25.2 million, a more than tripling of last year's result. The company, however, reported a loss of $(311.4) million, a larger loss than the $(261.9) million reported in the same quarter last year. So not only is the company losing money, it is losing more money this year than last. This is not my kind of stock.

What about the Morningstar.com results?

Reviewing the "5-Yr Restated" financials on Morningstar.com on SIRI, we can see that the company had NO revenue in 2001, $800,000 in revenue in 2002 and has increased revenue rapidly to $67 million in 2004 and $187 million in the trailing twelve months (TTM). So far so good.

Earnings however, have yet to show a profit and have been generally been decreasing on a per share basis, except initially when losses grew from $(4.72)/share in 2000 to $(6.13)/share in 2002. In 2003 losses dropped to $(.38)/share but have subsequently been increasing to $(.57) in 2004 and $(.62)/share in the TTM. In fact, looking at per share results in this company is absurd. It is necessary to look at overall company results. That is, look at the earnings or losses prior to dividing out the number of shares. That is necessary because of the incredible explosion of shares outstanding (more on that later.)

Looking at profits or losses we can see that the company lost $(184) million in 2000, $(278) million in 2001, $(468) million in 2002, $(314) million in 2003, $(712) million in 2004 and $(813) million in the trailing twelve months (TTM). If losses are increasing, then why do you think the per share results look better.

This is where the number of shares outstanding is so critical. In 2000, the company had 39 million shares according to Morningstar. You may recall in other blogs how I point out the importance of finding a company that is not diluting your ownership with new shares. Watch this.

In 2001, shares grew to 52 million, in 2002 there were 76 million. By 2003, Sirius had 827 million shares, which grew to 1.25 BILLION shares in 2004 and 1.331 billion in the TTM. In spite of the growth in the number of shares, with the continued expansion of losses, the loss per share was STILL increasing the past several years!

What about free cash flow?

This figure tells you whether the company is creating cash or burning up available assets. SIRI has been continuing to consume free cash at the tune of $(362) million in 2002, $(305) million in 2003, $(363) million in 2004, and $(381) million in the TTM.

And the balance sheet?

Here we can see that the company does show $934.4 million in cash and $98.5 million in other current assets. This is enough to pay off the $380.4 million in current assets, and have a current ratio of over 2.5 to 1. The company is also saddled with $1.14 billion in long-term debt.

Is the company going to grow fast enough and turn profitable enough soon to turn this around? That is the '64,000 question'. The company itself is optimistic. As nloted in the earnings report:
"The company also said it expected to be profitable next year, and to generate about $3 billion in revenue and $1 billion in free cash flow, after expenditures, in 2010. Sanford C. Bernstein analyst Craig Moffett called the forward projection "very positive" in a note to investors."
This is certainly an encouraging note from the management of this company. Let's hope that they are successful in this endeavor, and that the many holders of the stock do well in their purchase of these shares. It may just turn out this way. I certainly love the product.
As for me, this investment is a bit too speculative. I don't like the over 1 billion in shares already outstanding, the mounting losses, the negative free cash flow, and the latest quarterly report does not change this outlook.
And the chart?
Looking at the
"Point & Figure" chart on SIRI from StockCharts.com
: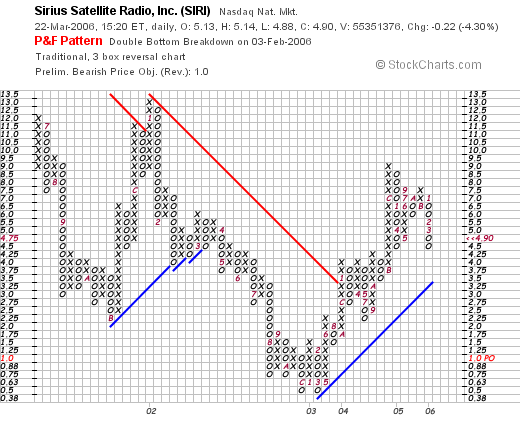 The chart actually looks a bit encouraging. after a decline from $13 in January, 2002, the stock hit a 'double bottom' in December, 2002 at the $.50 level, them broke through resistance in December, 2003, at $3.00, and is actually trading more or less higher since to the current $4.90 level.

So what do I think? SIRI might be a great investment that will yield untold riches to any purchaser of the stock today. Could be. Honestly. But it is not my kind of investment. I am looking for profitable companies with positive free cash flow and solid balance sheets with stable number of shares outstanding. That is just my trading requirements. You might be able to make loads of money doing something else. Good luck with whatever you decide. Please keep me posted!

Thanks again for visiting. If you have any comments or questions, please feel free to leave them on the blog or email me at bobsadviceforstocks@lycos.com.

Bob