March 23, 2006 National Research Corp. (NRCI)
***HERE*** for my PODCAST on National Research Corp (NRCI)
Hello Friends! Thanks so much for stopping by and visiting my blog,
Stock Picks Bob's Advice
. As always, please remember that I am an amateur investor, so please remember to consult with your professional investment advisors prior to making any investment decisions based on information on this website.

I was reviewing the
list of top % gainers on the NASDAQ
today and came across National Research Corp. (NRCI). I do not own any shares or options on this company. NRCI is trading at $23.50, up $2.26 or 11.02% on the day as I write.
According to the
Yahoo "Profile" on NRCI
, the company
"...provides ongoing survey-based performance measurement, analysis, tracking, and improvement services to the healthcare industry. The company addresses healthcare organizations' need to track their performance at the enterprise-wide, departmental, and physician/caregiver levels."
Let's take a closer look at this stock and I will try to show you why I believe it fits into the investing strategy I like to follow on this website.
First, the latest quarterly result.
On February 14, 2006, NRCI
announced 4th quarter 2005 results
. Revenues for the quarter came in at $8.6 million, compared with $6.4 million in the same quarter the prior year. This is a 34% increase in revenue year over year. Net income for the quarter came in at $1.5 million or $.22/diluted share, up from $921,000 or $.13/diluted share the year earlier. This increase represents a 69% increase on a per share basis of earnings! The company did two more things that I believe are also helpful in improving stock price performance, besides the outstanding revenue and earnings report. They increased the quarterly dividend to $.10/share (I am not sure of the previous dividend amount), and they announced a plan to repurchase up to 750,000 of the Company's common stock. Both increasing a dividend and reducing the number of shares outstanding are in general bullish developments for a stock price.
What about longer-term financial results for this company?
For this, let's review the
"5-Yr Restated" financials on NRCI from Morningstar.com
. First, looking at the revenue picture, except for a dip in revenue from $18.3 million in 2000 to $17.7 million in 2001, revenue has been increasing steadily to $29.7 million in 2004 and $30.3 million in the trailing twelve months (TTM).
Earnings show a similar pattern, dropping from $.39/share in 2000 to $.24/share in 2001, but then increasing to $.63/share in 2004 and $.65 in the TTM.
The Morningstar report suggests that the company started paying dividends just in the 2005 fiscal year and apparently was paying $.08/share in the first three quarters. This explains the increase to $.10/share reported in the latest earnings report. (Unless of course the Morningstar report is based on $.07/share x 2 quarters
with
the latest $.10/share included in the $.24 (?)). In any case, the trend is encouraging!
And free cash flow? National Research had $3 million in free cash flow in 2002, $6 million in 2004 and $8 million in the TTM. Again a solid trend.
And the balance sheet? Morningstar shows National Research with $15.7 million in cash and $7.4 million in other current assets, which, when balanced against the $8.3 million in current liabilities, yields a current ratio of almost 3. In fact, the cash alone is enough to pay off both the $8.3 million in current liabilities
and
the long-term liabilities of $6.8 million combined. This balance sheet looks 'just fine' to me!
What about some valuation numbers on this company?
Looking at the
Yahoo "Key Statistics" on National Research
, we can see that this is a
small
company with a market capitalization of only $164.88 million. The trailing p/e is moderate at 31.93. I don't have a forward p/e or a PEG as the company probably doesn't have many analysts out there making predictions about their financial results (?).
Examining the Price/Sales ratio, using the
Fidelity.com eresearch website
, we find that the company is in the "Research Services" industrial group, and sits midway in this group in regards to its Price/Sales ratio, with a ratio of 4.9. Leading this group is EXELIXIS (EXEL) with a ratio of 11.7, followed by Gen-Probe (GPRO) at 9.3, SYMYX (SMMX) at 8.8, then NRCI at 4.9, Covance (CVD) at 3, and at the bottom of the barrel with the 'best' valuation is PAREXEL (PRXL) with a Price/Sales ratio of 1.
Going back to Yahoo for some more statistics on this company, we find that there are only 7.02 million shares outstanding and 2.14 million of them that float. No shares are reported out short as of 2/10/06. The company has an estimated dividend of $.40/share yielding 2.00%. No stock splits are reported on Yahoo.
How about a chart?
Looking at the
"Point & Figure" chart on NRCI from StockCharts.com
: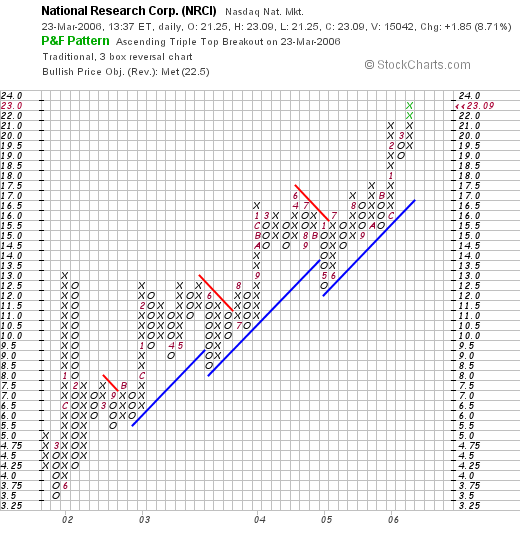 We can actually see that this stock has what I personally would call a gorgeous chart with a very steady increase in stock price from $3.50 in March, 2001, to the current level of $23.09. The chart looks nice to me with the steady increase without appearing over-extended, which from my perspective, means getting too far ahead of the 'blue support line'. That's about as far as my technical expertise extends :).

So what do I think. Well, except for the small size of the company this is an impressive stock with great latest earnings, steady revenue and earnings growth, grossly reasonable valuation, and a wonderful chart. In addition, the company pays a small dividend which the management is increasing and they are buying back shares of their already limited float. What else could a fellow want?

Anyway, thanks again for visiting. If you have any comments or questions, please feel free to leave them on the blog or email me at bobsadviceforstocks@lycos.com.

Bob








Posted by bobsadviceforstocks at 1:30 PM CST |
Post Comment
|
Permalink
Updated: Thursday, 23 March 2006 8:44 PM CST