April 7, 2006 Aladdin Knowledge Sys (ALDN) Revisiting a Stock Pick
Click ***HERE*** for my PODCAST ON ALADDIN
Hello Friends! Thanks so much for stopping by and visiting my blog,
Stock Picks Bob's Advice
. As always, please remember that I am an amateur investor, so please remember to consult with your professional investment advisors prior to making any investment decisions based on information on this website.

I was looking through the
list of top % gainers on the NASDAQ
today and came across Aladdin Knowledge Systems (ALDN) which, as I write, is trading at $22.96, up $1.61 or 7.54% on the day. This company is an old favorite of mine, having
posted ALDN on Stock Picks Bob's Advice
on March 25, 2005, when it was trading at $23.26. The stock is thus virtually unchanged (just down $.30/share) since the stock pick. Then
why
should I again post this stock on the blog?
Let's take another look at the company and I think you will be able to share my thinking about this particular stock.
First of all, why did the stock move higher today? A few hours ago, as was
reported
, an analyst from Bean Murray Carret & Co., upgraded the stock to "Strong Buy" from "Accumulate" and raised his price target to $26. As reported in the same story, he stated:
"We believe the company's DRM business, about 70 percent of revenue, is likely to return to solid growth in the first quarter of 2006, after posting disappointing 4 percent year-over-year growth in the fourth quarter of 2005," Glukhov wrote in a note."
But let's run the stock through a few of the screens that I like to use to examine a possible investment.
First of all, what does the company do?
According to the
Yahoo "Profile" on Aladdin
, the company
"...and its subsidiaries provide solutions for software digital rights management and Internet security. The company offers its products in two divisions: Software Digital Rights Management (SDRM) and Enterprise Security."
And how about the latest quarter?
On January 23, 2006, Aladdin
reported 4th quarter 2005 results
. For the quarter ended December 31, 2005, revenues climbed 16% to $21.8 million from $18.8 million in the same period of 2004. GAAP net income for the fourth quarter of 2005 was $3.9 million or $.27/diluted share, up 48% from the same quarter the prior year when net income was $2.6 million or $.20/diluted share.
How about longer-term?
Checking the
Morningstar.com "5-Yr Restated" financials
, we can see the steady growth in revenue from $44.3 million in 2000 to $69.1 million in 2004.
Earnings have been erratic, dropping from $.12/share in 2000 to a loss of $(1.32)/share in 2001. Since 2001, earnings have gradually improved to $.68/share in 2004. The company has not expanded the stock supply significantly, with 11 million shares in 2000, increasing to 12 million in 2004.
Free cash flow has been positive and growing, with $3 million in 2002, $5 million in 2003 and $8 million in 2004.
The balance sheet, as reported on Morningstar.com looks nice with $25.9 million in cash and $22.7 million in current liabilities. Combined, this yields a current ratio of almost 3.5. In fact, the cash alone is enough to pay off the current liabilites and the long-term liabilities of $3.1 million combined.
What about some valuation numbers on this stock?
Reviewing
, we can see that this is a small cap stock with a market capitalization of only $331.57 million. The trailing p/e is moderate at 27.12, but the forward p/e is even nicer (fye 31-Dec-07) at 17.81. Thus, with the growth anticipated, the company trades at a PEG of only .95.
According to the
Fidelity.com eresearch website
, ALDN sports a fairly reasonable Price/Sales ratio within the "Security Software & Services" industrial group. Topping this group is Check Point Software (CHKP) with a Price/sales ratio of 8.1. Next is McAfee (MFE) with a ratio of 4.3, RSA Security (RSAS) at 4.2, Aladdin at 3.9 and Safenet (SFNT) at 2.5.
Yahoo shows 14.4 million shares outstanding with 9.68 million that float. As of 3/10/06, there were 1.14 million shares out short representing 8.8 days of average trading volume (the short ratio). With this well over my cut-off of 3, this looks significant, and there may be some scrambling among short-sellers, in the face of the analyst upgrade, to buy shares to cover their 'shorts'.
Yahoo shows no cash dividend and the last stock split was a 3:2 on 9/18/95.
What about a chart?
Reviewing the
"Point & Figure" chart on Aladdin from StockCharts.com
, we can see that the stock actually moved strongly higher from $8 in December, 2003, to a high at $28 in June, 2004, until falling back to $13.50 in July, 2004. The stock climbed once again to $32 in August, 2004, and corrected again to $16 in late 2005. However, the stock is once again on the move higher, having broken through resistand at $18 in February, 2006. The chart is not overly impressive in terms of price momentum to the upside, but appears to overall be moving higher at this time. It certainly does not appear over-extended!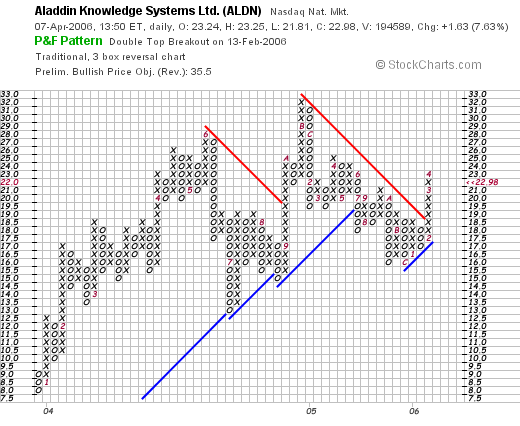 So what do I think? Well, the latest quarterly report was strong, and with all of the shares out short, there may well be a bit of a squeeze we are witnessing subsequent to the analyst upgrade today. The Morningstar results look nice with a steady picture of revenue growth, and overall earnings improvement. Valuation is reasonable with a PEG under 1.0, and a Price/Sales near the bottom in its group. Free cash flow is positive and growing and the balance sheet looks nice.

Finally, the chart which overall appears to be moving higher, does not overwhelm this observer in its bullish bias. The chart is a bit weak, but with all of the great numbers, I think it more likely that the stock rise will once again renew.

Thanks again for stopping by! If you have any comments or questions please feel free to leave them on the blog or email me at bobsadviceforstocks@lycos.com.

Bob
Posted by bobsadviceforstocks at 1:31 PM CDT |
Post Comment
|
Permalink
Updated: Friday, 7 April 2006 11:08 PM CDT