SanDisk (SNDK) "Reviewing a Recent Purchase for my Trading Account"
CLICK HERE FOR MY SANDISK PODCAST
Hello Friends! Thanks so much for stopping by and visiting my blog,
Stock Picks Bob's Advice
. As always, please remember that I am an amateur investor, so please remember to consult with your professional investment advisors prior to making any investment decisions based on information on this website.

Earlier this morning I purchased 120 shares of SanDisk (SNDK) at $61.95/share. As I am writing, SNDK is trading at $61.952, up $2.482 or 4.17% on the day. This morning, that was enough to get the stock on the
list of top % gainers on the NASDAQ
, but this afternoon, with the NASDAQ improving, SanDisk no longer makes the list of top % gainers. With this post, I wanted to briefly review the current information on this company that led me to pick this stock for my trading portfolio.

First of all let me review again why I was in the market to be purchasing a new position. Generally, my trading system dictates that I can only purchase a new position on "good news", which for me means selling a portion of one of my existing positions at a gain. Instead of selling a portion of a holding, I unloaded by entire position in Sybron Dental (SYD) after an acquisition of the company by Danaher was announced. So instead of adding a new position, I was actually in the market today to replace that position with a different one.
SanDisk (SNDK) is actually an old favorite of mine here. In fact, I first
posted SanDisk (SNDK) on Stock Picks Bob's Advice
on July 15, 2004, when the stock was trading at $24.96. On October 21, 2005, I
"revisited" SanDisk on Stock Picks Bob's Advice
when it was trading at $56.45. And today, I finally managed to purchase some shares with the stock trading at $61.95.
Since it has been less than a year since I last did an in depth review, I shall try to make this discussion a bit briefer.
1) What does the company do?
According to the
Yahoo "Profile" on SanDisk
, the company
"...engages in the design, development, and market of flash storage card products used in various consumer electronics worldwide. Its products include flash cards, Universal Serial Bus, flash drives, and digital audio players. The company?s flash storage allows data to be stored in a compact format that retains the data for an extended period of time after the power has been turned off. Its products are used in digital cameras, feature phones, and other digital consumer devices."

2) And how did they do the latest quarter?
On January 26, 2006, SanDisk
reported 4th quarter 2005 results
. Revenues grew 37% to $751 million from $549 million in the same period last year. Net income came in at $134 million, up strongly from $78 million in the same quarter a year ago. Earnings per share grew 62% year-over-year to $.68 from $.42/share the prior year same period.
3) What does their Morningstar.com page look like?
Reviewing the
"5-Yr Restated" financials on SNDK from Morningstar.com
, we can see that revenue, which dipped from $.6 billion in 2000 to $.4 billion in 2001, then went on to 'skyrocket' to $1.8 billion in 2004 and $2.1 billion in the trailing twelve months (TTM).
Earnings also dipped the same time as revenue from $2.06 in 2000 to a loss of $(2.19)/share in 2001. Since 2001, earnings have turned profitable and have grown strongly to $1.44/share in 2004 and $1.74/share in the TTM.
The company has apparently been issuing a moderate number of shares to finance activities, with 133 million shares outstanding in 2000, increasing to 164 million in 2004 and 184 million shares in the trailing twelve months.
Free cash flow, while not perfectly significant, has been positive the past several years with $90 million reported in 2002, increasing to $102 million in 2004 and $316 million in the TTM.
The balance sheet is solid with $1.66 billion in cash and $.6 billion in other current assets. This gives us a current ratio of about 4 when compared with the $.5 billion in current liabilities. In fact, the cash alone can pay off both the current and the long term liabilities combined more than 3x over.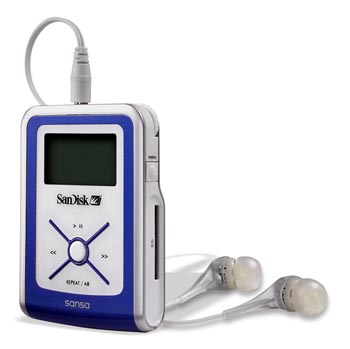 4) What about some valuation numbers on this stock?
Looking at
Yahoo "Key Statistics" on SanDisk
, we find that the market cap is a large cap $12.01 billion. The trailing p/e is moderate at 30.92 with a forward (fye 01-Jan-08) p/e of only 21.87. Thus, the PEG is a reasonable 1.25. The Price/Sales is 5.0. Out of the 189.7 million shares that float, 7.6% are out short representing a short ratio of 1.4. This doesn't look very significant. The stock last split 2:1 on 2/19/04.

5) What about a chart?
Looking at a
"Point & Figure" chart on SanDisk from StockCharts.com
, we can see that the stock price actually declined from $35 in January, 2004, to a low of $20 in September, 2004, until moving higher to peak at $79 in January, 2006. More recently, the stock has pulled back to the $53 level, where it bounced twice off of this level, to move higher to the $65 range. The stock is staying above its support line, and now appears reasonably valued to me.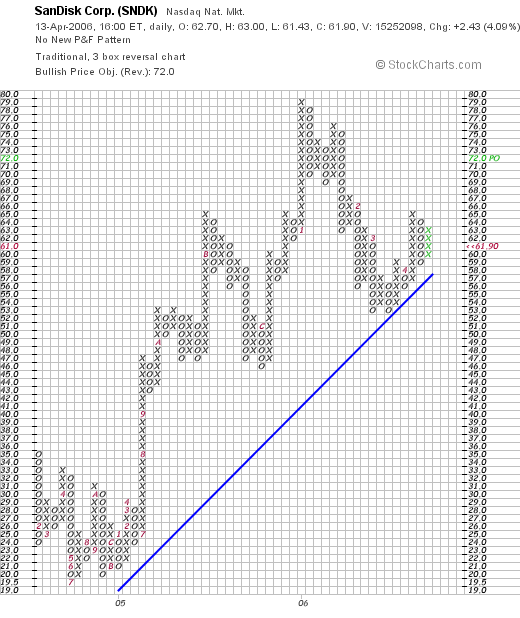 So what do I think? After reviewing SanDisk twice before on this blog, I was certainly well-acquainted with the company. Thus, after selling my shares of Sybron (SYD), when I saw this stock on the list of top gainers, I was prepared to purchase some shares.

Thanks so much for visiting! If you have any comments or questions, please feel free to leave them on the blog or email me at bobsadviceforstocks@lycos.com. And please be sure to visit my Podcast Site for Stock Picks Bob's Advice.

Bob













Posted by bobsadviceforstocks at 1:44 PM CDT |
Post Comment
|
Permalink
Updated: Thursday, 13 April 2006 11:41 PM CDT