Infosys (INFY) Revisiting a Stock Pick
Hello Friends! Thanks so much for stopping by and visiting my blog,
Stock Picks Bob's Advice
. As always, please remember that I am an amateur investor, so please remember to consult with your professional investment advisors prior to making any investment decisions based on information on this website.
With oil climbing above $70/barrel, and with instability in the mideast, the market took it on the chin today, dropping 63.87 to 11,073.78 on the DJIA, and dropping 14.95 to 2,311.16 on the NASDAQ. In spite of the overall market weakness, I found an old favorite of mine on the
list of top % gainers on the NASDAQ
: Infosys (INFY). INFY closed at $84.78, up $9.80 or 13.07% on the day. I do not own any shares of this stock nor do I have any options.
I first
posted Infosys on Stock Picks Bob's Advice
on October 10, 2003, when the stock was trading at $77.40. My effective pick price is actually only $38.70 as Infosys had a 2:1 stock split on July 7, 2004. Thus, this stock has gained $46.08 since being selected on the blog, or a gain of 119%.
Let's take another look at this stock which bucked the tide today, making a strong move higher in an otherwise weak market.
1. What does the company do?
Looking at the
Yahoo "Profile" on Infosys
, we see that the company
"...provides consulting and information technology services primarily in North America, Europe, and the Asia-Pacific region. Its solutions include custom application development, maintenance and production support, software re-engineering, package evaluation and implementation, and information technology consulting."
This company is an information technology outsourcing firm based in Bangalore, India.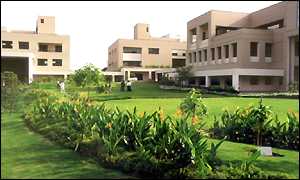 2. What about the latest quarter?
On April 14, 2006, this past Good Friday Holiday when the stock market was closed, Infosys reported
4th quarter 2006 results
. For the quarter ended March 31, 2006, revenues came in at $593 million, up 30% from the same quarter the prior year. Earnings per American Depositary Share (ADS) jumped to $.56/share from $.47/share last year. The company also went ahead and announced a 2:1 stock split subject to shareholder approval and estimated another 28-30% growth for Fiscal 2007. These were all great results and even though the market was down overall, INFY made a strong move higher today!
3. What about longer-term results?
Reviewing the
Morningstar.com "5-Yr Restated" financials
we see a very pretty picture! Revenue has steadily grown from $414 million in 2001 to $1.6 billion in 2005. Earnings have also steadily increased from $.49/share in 2001 to $1.52 in 2005. Dividends have increased from $.04/share in 2001 to $.13/share in 2004 with $.72/share paid in 2005. Shares outstanding have remained fairly stable with 264 million in 2001 increasing to 267 million in 2005 and 271 million in the trailing twelve months (TTM).
Free cash flow has been strong if not steadily increasing. INFY reported $168 million in free cash flow in 2003, $279 million in 2004 and $158 million in 2005.
The balance sheet is gorgeous imho. The company is reported to have $688 milllion in cash, enough to pay off the combined $175 million in current liabilities and the $26 million in long-term liabilities combined more than 3x over! Calculating a current ratio, combining the $688.0 million in cash and the $372.0 million in other current assets gives us $1.06 billion, which when compared to current liabilities of $175 million, yields a current ratio of 6.06. Generally anything at 1.5 or higher is considered 'healthy'.

4. How about some 'valuation' numbers?
Reviewing
Yahoo "Key Statistics" on Infosys
, we find that this is a large cap stock with a market capitalization of $23.27 billion. The trailing p/e is a bit rich at 44.39, but the forward p/e (fye 31-Mar-07) is better at 28.35. With the fast growth expected INFY has a very nice PEG of only 1.05.
Using the
Fidelity.com eresearch website
, we find that Infosys is in the "Technical/System Software" industrial group. Within this group, INFY has the richest valuation, with a Price/Sales ratio of 10.4. Next in the group is Autodesk (ADSK) with a ratio of 6.8, followed by Mercury Interactive (MERQ) at 3.8, Manhattan Associates (MANH) at 2.3, and Take-Two Interactive (TTWO) at 1.4. At least by this measure, Infosys is 'no bargain'.

Finishing up with Yahoo, it is reported that INFY has 274.52 million shares outstanding, with 213.88 million that float. As of 3/10/06, there were 1.78 million shares out short representing 2.5 trading days of volume (the short ratio). This doesn't look significant to me (less than my 3 day cut-off).
As noted, the company currently pays a regular dividedn of $.30/share yielding 0.40%. The last stock split, as noted above, was a 2:1 split on 7/7/04.
5. What about the chart?
Looking at the
Infosys "Point & Figure" chart from StockCharts.com
: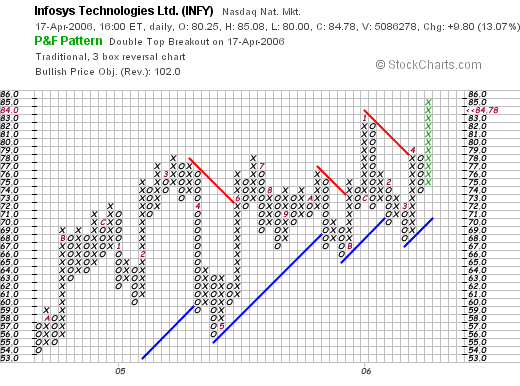 We can see that this stock has been moving fairly steadily higher from $54 range in August, 2004, to the current peak of $84.78. The stock has moved steadily higher with higher lows and higher highs, but doesn't appear 'over-extended' imho.

So what do I think about this stock? Let's review: the company reported a superb earnings report prior to trading today and the stock climbed strongly this morning ignoring the overall bearish tone in the market with oil pushing past $70. The Morningstar.com report is very nice with steady growth in both revenue and earnings the past five years. Free cash flow is positive and the balance sheet is gorgeous. Valuation-wise both the P/E and the Price/Sales are rather 'rich', but the PEG is reasonable just over 1.0. Finally the chart looks reasonable and not too over-extended. In summary, I like the stock even if it is an ADS, or foreign company.

Thanks so much for stopping by and visiting! If you have any comments or questions, please feel free to leave them on the blog or email me at bobsadviceforstocks@lycos.com. Please be sure to also visit my Stock Picks Bob's Advice Podcast Site!

Bob