j2 Global Communications (JCOM) Revisiting a Stock Pick
Hello Friends! Thanks so much for stopping by and visiting my blog,
Stock Picks Bob's Advice
. As always, please remember that I am an amateur investor so please remember to consult with your professional investment advisors prior to making any investment decisions based on information on this website.

I was looking through the
list of top % gainers on the NASDAQ
this evening from trading earlier today, and came across j2 Global Communications (JCOM) which closed at $49.40, up $3.76 or 8.24% on the day.
I wanted to write this one up before I crashed for the night, because it really, truly, is an
old
favorite of mine! I do not own any shares or options on this stock. However, I
posted JCOM on Stock Picks Bob's Advice
on May 14, 2003. This was my second selection on the blog (!) the first being St. Jude Medical (STJ) which I recently sold on weakness. Being rather new at the blog, I forgot even to mention the stock price on that date. Looking up for
historic prices of JCOM on Yahoo
, I discovered that JCOM closed at $34.93 on May 14, 2003, or $17.47 adjusted for a 2:1 stock split on September 2, 2003. Thus, I actually have a "gain" on the stock pick price of $31.93 or 182.8% since posting!
But let's take a brief look at this stock and see why it deserves another 'revisit'!
1. What does the company do?
According to the
Yahoo "Profile" on JCOM
, the company
"...provides outsourced and value-added messaging and communications services worldwide. It offers faxing and voicemail solutions; document management solutions; hosted email, email perimeter protection, and email marketing services; call management; and conference calling services."
2. How did the company do in the latest quarter?
Just yesterday, April 25, 2006, JCOM
reported 1st quarter 2006 results
. For the first quarter ended March 31, 2006, revenues grew 30% to $42.0 million from $32.2 million in the same quarter the prior year. Net earnings came in at $12.3 million or $.48/diluted share compared with net earnings the prior year same period of $10.2 million or $.40/diluted share.
The company reaffirmed previous revenue guidance of $43.6 -$44.6 million for second quarter 2006 revenue with "non-GAAP EPS of $.55-$.57/share". (non-GAAP EPS came in at $.52/share the just-reported quarter for comparison). In addition, in a move appreciated by stock investors, the company announced, subject to stockholder approval, a 2:1 stock split. This doesn't really add any real 'value' to a stock, but it is still an indication of confidence by management and is often appreciated by investors who like to psychologically see those numbers of shares grow :).
3. How about longer-term results?
Reviewing the
"5-Yr Restated" financials from Morningstar.com
, we can see the rapid and steady revenue growth of this company from $33.3 million in 2001 to $143.9 million in 2005.
Earnings have been a bit more erratic, with a loss of $(.35)/share reported in 2001, increasing to a gain of $1.42 in 2003, dropping to $1.27 in 2004 and growing to $2.00/share in 2005. The number of shares outstanding has been fairly steady with 23 million reported in 2001 increasing to 25 million shares in the trailing twelve months (TTM).
Free cash flow has been positive and growing with $29 million in 2003, $44 million in 2004 and $55 million in 2005.
The balance sheet as presented on Morningstar looks great with $112.8 million in cash, enough to cover the $18.2 million in current liabilities more than 5 times over, without even including the $14.7 million in other current assets. Thus, the 'current ratio' works out to 7! The company reports a tiny $100,000 in long-term liabilities per Morningstar.
4. How about some valuation numbers on this stock?
Reviewing
Yahoo "Key Statistics" on j2 Global Communications
, we find that this company is a mid-cap sized company with a market cap of $1.23 billion. The trailing p/e isn't bad at 24.65 (imho), and the forward p/e (fye 31-Dec-07) is even nicer at 17.27. Thus, the "5 yr expected" PEG works out to what I would call a dirt-cheap 0.79 level.
According to the
Fidelity.com eresearch website
, JCOM is in the "Internet Software & Services" industrial group. Within this group, JCOM is priced midway in terms of the Price/Sales ratio which works out to 8.1 for JCOM. Leading this group is Salesforce.com (CRM) at 13.5, Ebay (EBAY) at 10.1, followed by JCOM at 8.1, then Symantec (SYMC) at 4.9, VeriSign (VRSN) at 3.9 and Internet Security Systems (ISSX) at 3.1. Thus, JCOM appears to be valued in an average fashion by this ratio.
Looking for some more numbers from Yahoo, we find that there are 24.81 million shares outstanding with 23.05 million of them that float. Currently there are 4.78 million shares out short (as of 3/10/06), up from 4.44 million shares the prior month. This is a relatively large number for this company representing 20% of the float or 9.4 trading days of volume (the short ratio). With the latest strong earnings report, and now the announcement of a stock split, this may panic the short-sellers who may well be scrambling to buy shares to cover those borrowed and already sold. Just my take on it I guess :).
5. What about a chart?
Looking at a
"Point & Figure" chart on JCOM from StockCharts.com
: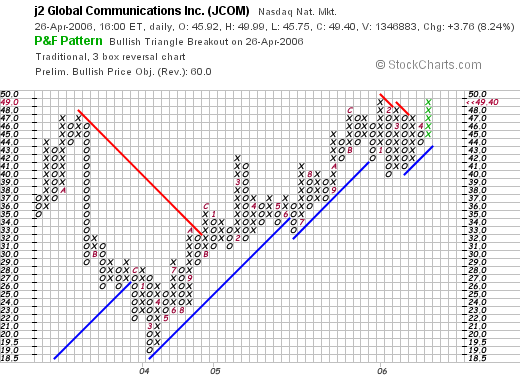 We can see that the stock actually broke down between October, 2003, when it was trading at $47.00 down to a low of $19.00 in February, 2004. However, from that low in early 2004, the company stock has been bullishly been moving higher to the current level of $49.40, higher than the levels reached in late 2003.

6. So in summary, what do I think about this stock now?

Well, quite frankly, I find the company very interesting! I am not in a position to be buying any stocks, but if I were, it would be the kind of stock I would be buying. The stock moved ahead strongly today on the back of a very solid earnings report. They announced a 2:1 stock split, and re-affirmed strong earnings and revenue growth. The Morningstar.com evaluation looks strong for the past several years and free cash flow is positive and growing. The company is flush with cash and has little debt and valuation isn't bad with a p/e in the low 20's and a PEG under 1.0. The Price/Sales ratio is a tad rich, but for the group, nothing special. On top of this there are loads of people betting against this stock and they are likely in a bit of a panic right now as the company stock price charges ahead and a split has been announced. Finally the chart looks fine to me.

Thanks again for stopping by and visiting my blog. If you have any comments or questions, please feel free to leave them on the blog or email me at bobsadviceforstocks@lycos.com. Also, remember to stop by and visit my Stock Picks Bob's Advice Podcast Site.

Bob