A Reader Writes: "I do have a couple of questions for you...."
CLICK HERE FOR MY PODCAST ON PROFITABILITY RATIOS AND OTHER QUESTIONS FROM A READER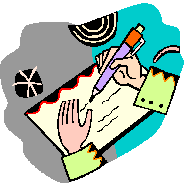 Hello Friends! Thanks so much for stopping by and visiting my blog,
Stock Picks Bob's Advice
. As always, please remember that I am an amateur investor, so please remember to consult with your professional investment advisors prior to making any investment decisions based on information on this website.
If you have any comments or questions, please feel free to drop me a line at bobsadviceforstocks@lycos.com and I shall try my best to answer or comment on your inquiries either here and/or on my podcast. Also, please feel free to leave your comments or questions right on the blog itself!
A few days ago I had a nice letter from William S. who wrote:
"Hi again, Bob-
It's been a little rocky lately, hasn't it? It was interesting to hear you mention that you've been forced to sell a few stocks recently on your recent podcast, and knowing I wasn't the only one. I've had the same problem myself with a few of my more recent purchases. I also try to follow the 8% loss rule, particularly since one of the things I hear from multiple sources of information is that the key to success in the stock market is how you handle your losers. I do have a couple of questions for you, and I'll list them:

1) Where do you go to look for top percentage gainers for NYSE or American Stock exchange stocks? I know the www.nasdaq.com site for nasdaq, but was wondering about the other exchanges.

2) I look at Return on equity (ROE) when examining stocks. Do you? Could you also explain the difference between ROE and ROIC, and how they are each useful?

3) Do you by any chance know where you can find information about historical p/e ratios of stocks or even sectors? I've recently thought this could be useful information in valuating a stock relative to it's sector and history. For example, I know that bank stocks and I think raw material stocks typically have low p/e's, and seeing a very low p/e for a stock can be deceptive if you are not aware of it's typical valuation compared to other sectors.

4) Lastly, can you explain cost basis? For example, if one buys a total of 100 shares of stock at three intervals, say at $22, $20, and $24, when you sell half of those 100 shares at a later date, how do you know which ones you have sold (i.e. the $22 shares or the $24 shares)? Does it just average out and you get a profit on $22?

Thanks so much again for your time and helpfulness. You've got a great thing going here.

-Bill S. in Bloomington, IN"
First of all Bill, thanks so much for writing, for listening to and reading what I write!
I too have been selling a few of my holdings as they hit targeted sale points. I also sold my Hibbett (HIBB) that has been quite good for me as well on the news of poor same store sales. I think that the bias to sell should increase in a downward market, and the willingness to overlook flaws should be emphasized in a market that is otherwise quite strong.
Let me try to respond to your questions in order. The first one is the easiest: 1) "where do I go to look for top percentage gainers?" Most recently I have been going to the
CNNMoney.com website
where you can find the
top % gainers on the NASDAQ
, the
top % gainers on the NYSE
, and the
top % gainers on the AMEX
. I am also aware that USA Today keeps an updated percentage gainers as well that I sometimes refer to if the CNNMoney.com website is down or slow.
2. Your second question is a bit more challenging. You point out that you use Return on Equity (ROE) and asked whether I do. I do not use ROE in picking stocks. You also asked about the difference beteween ROE and ROIC.
I would like to refer you to a book by Pat Dorsey,
The Five Rules for Successful Stock Investing
, which on pp. 86-96, these topics are reviewed. Let me try , in my own amateur way to review what Dorsey clearly explains. (I am paraphrasing from the text which I would recommend you review directly.)
The first number you need to calculate (if you want to derive this information yourself) is Return on Assets (ROA) which is calculated first by determining net margin which is net income divided by sales. Next one needs to know the asset turnover which is sales divided by assets. Multiplying these two together:
Net Margin x Asset turnover = Return on Assets. Or simply put, Net Income/Assets.
Finally, to determine return on equity, simply multiply Return on Assets by the "financial leverage ratio" which defined as Assets/Shareholders' equity.
Or Return on Equity = Return on Assets x Financial Leverage. But since return on assets=Net Margin x Asset Turnover, Return on Equity (ROE) = Net margin x Asset turnover x Financial leverage.
Insofar as Return on Invested Capital (ROIC) is concerned, which according to Dorsey, "...measures the return on all capital invested in the firm regardless of the source of the capital."
The formula:
ROIC = Net operating profit after taxes (NOPAT)/Invested Capital.
Invested Capital is defined as Total Assets - Non-interest bearing current liabilities (usually accounts payable and other current assets) - Excess cash (cash not needed for day-to-day business needs).
Quite frankly, since I don't use these two statistics in my simple analysis of stocks, although I am sure that having this information is helpful for those that wish to get a more accurate picture of a company's finances, I am not qualified to tell you how each is useful.
Again quoting Dorsey, "Return on invested capital is a sophisticated way of analyzing return on capital that adjusts for some peculiarities of ROA and ROE. Although you needn't worry about calculating it for yourself--it's pretty complicated--it's worth knowing how to interpret it because it's overall a better measure of profitability that ROA and ROE."
Dorsey adds, "Essentially, ROIC improves on ROA and ROE because it puts debt and equity financing on an equal footing: It removes the debt-related distortion that can make highly leveraged companies look very profitable when using ROE. It also uses a different definition of profits that ROE and ROA, both of which use net income. ROIC uses operating profits
after
taxes, but
before
interest expenses. Again, the goal is to remove any effects caused by a company's financing decisions--does it use debt or equity?--so that we can focus as closely as possible on the profitability of the core business."
Dorsey summarizes it best on p. 94, when he states: "What does all this mean to you if you hear someone talking about ROIC? Simply that you should interprest ROIC just as you would ROA and ROE--a higher return on invested capital is preferable to a lower one." I don't think I could have put that any better :).
I hope that explains your question. I am not an accountant and find digging through financial statements challenging at best.
It is my belief that simpler information such as earnings growth, free cash flow, and a simple view of the balance sheet is adequate for a successful investment program. However, the ability to measure profitability and return cannot be minimized. But these, imho, are static measurements. It is the dynamic picture of revenue and profit growth that I believe is so important in driving stock prices higher.
You asked about historical p/e's of stocks.
I found an answer on
SF Gate newspaper
where the same question was discussed:
"Q: Where can I find a chart showing a specific company's historical P/E ratios?

A: Some investors use a stock's P/E as a timing tool. They buy when a stock is trading near the low end of its historical range, and sell when it approaches the high end.

You can use Big Charts (www.bigcharts.com) to see a company's historical P/E ratios going back 10 years. Select either Interactive or Java Charting on Big Chart's home page. Then select P/E Ratio from the Lower Indicators drop- down menu. You can read the P/E ratios right off the screen if you use the Java charts."
Indeed I checked Big Charts and found that if you use the JAVA chart and use the pull down menu on the lower left you can insert p/e ratios on the charts. Let me know if you have a problem with this.
Finally you had a question about "cost basis". Quite frankly, I simply open up my Fidelity Account online and under "cost basis" read the number they give me. But that probably isn't going to satisfy your curiosity. I found a better
answer on Smart Money from July 2, 1999
. Basically, as I understand it, there are three methods. When I read off the Fidelity account, they are using the standard method of "first in first out" in determining the cost basis for a stock. The three methods:
"FIFO
If you don't tell your broker what method you want to use, you'll wind up using FIFO. With this method you'll simply sell the first shares that you ever bought. But if your fund has done well, this might not be the best choice. That's because your earliest shares probably have the greatest taxable appreciation. On the other hand, this choice might make sense if only some of your shares qualify for the long-term capital gains break. In that case, you'd want to pinpoint your oldest shares.

Specific ID
This method allows you to cherry pick the shares you want to sell. This is good because it allows you to sell your highest-cost shares first, thus reducing your tax bill. Or you can sell your highest-cost, short-term shares to offset a short-term loss.

When using this method, you need records detailing your acquisition date and per-share cost. (If you're not one for keeping records, relax. Your broker should be able to provide you with transaction records, although you might have to pay for replacement copies.) You also need written confirmation from your broker detailing the shares you requested to sell. If you can't get it -- and for some brokers it's a nicety gone by the wayside -- you have to have some sort of proof that you gave instructions. For more on this subject, see CPA Bill Bischoff's latest tax column.

Single-Category Average Basis
With this method you simply add up the total cost of all of the shares that you own and then divide it by your total number of shares. This will give you an average presale basis. But be warned. This method might not save you much on your tax bill, so be sure to run the numbers before you commit to this method. And once you start using it, there's no turning back.

(A final note. Truth is, there might be another method available to you known as the double-category average basis. We didn't mention it here because it's not very popular, and in most circumstances you'd be better off using the Specific ID method."
Quite frankly, I am not sure if tax laws have changed since 1999 affecting these strategies so I certainly would recommend, as I always do, that you consult with your professional advisor/accountant/ tax person regarding these kinds of questions.
Bill, you have asked me a series of quite challenging questions. I hope these answers suffice.
By the way, the Morningstar site is quite helpful with current Return on Assets (ROA) and Return on Equity (ROE)statistics which for example for Quality Systems (QSII), can be found
here
.
Also, Return on Equity (ROE) and Return on Assets (ROA) are both listed on Yahoo "Key Statistics" and maybe I should start mentioning these numbers as I review stocks. By looking at these statistics, we shall all gradually become more comfortable in assessing the true value of each stock reviewed.
Bob
Posted by bobsadviceforstocks at 10:12 PM CDT |
Post Comment
|
Permalink
Updated: Tuesday, 23 May 2006 11:35 PM CDT