"Revisiting a Stock Pick" Toro (TTC)
CLICK HERE FOR MY PODCAST ON TORO (TTC)
Hello Friends! Thanks so much for stopping by and visiting my blog,
Stock Picks Bob's Advice
. As always, please remember that I am an amateur investor, so please consult with your professional investment advisors prior to making any investment decisions based on information on this website.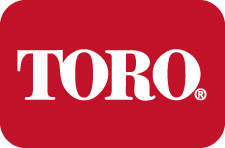 As I noted in my previous entry, I sold 1/6th of my position of Healthways (HWAY) at a gain, entitling me to add a new position since I am under my 25 position, self-impoosed maximum number of holdings in my trading portfolio. With that in mind, I took a look at the
list of top % gainers on the NYSE
and found The Toro Company (TTC) which closed at $47.89, up $1.70 or 3.68%. Before the close of trading I purchased 120 shares of Toro (TTC) at $48.27.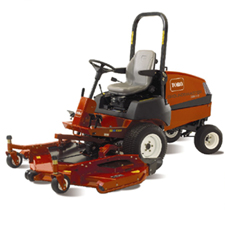 I first
posted Toro (TTC) on Stock Picks Bob's Advice
on March 15, 2004, when it was trading at $58.96. TTC had a 2:1 split on 4/13/05, giving my stock pick an effective price of $29.48. Thus, with today's close, my Toro pick had an appreciation of $18.41 or 62.4%. Let's take another look at this stock and I will share with you why I picked the stock today to add to my portfolio.
1. What exactly does this company do?
According to the
Yahoo "Profile" on Toro
, the company
"...engages in the design, manufacture, and marketing of turf maintenance equipment, turf and micro irrigation systems, landscaping equipment, and residential yard products worldwide."
2. How did they do the latest quarter?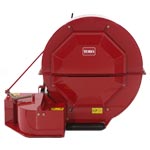 It was the
announcement of 2nd quarter 2006 results
this morning that pushed the stock higher! Today (5/25/06) Toro reported sales of $659 million, up from $628.4 million for the quarter ended May 5, 2006. Net earnings came in at $70.1 million, up from $62 million, and earnings per diluted share of $1.56, up from $1.33/diluted share the prior year. Earnings/share beat
expectations
by $.06/share, but revenue actually came in a bit shy of expectations of $669 million.
3. How about longer-term financial results?
Reviewing the
Morningstar.com "5-Yr Restated" financials on Toro
, we find a pretty picture of steady revenue growth from $1.35 billion in 2001 to $1.78 billion in 2005 and $1.80 billion in the trailing twelve months (TTM).
Earnings have also grown steadily except for a dip from $.97/share in 2001 to $.68/share in 2002. Since 2002, they have increased to $2.45/share in 2005 and $2.54/share in the TTM.
The company paid $.12/share in dividends between 2001 and 2004 and raised the dividend to $.24/share in 2005 and has paid $.27/share in the TTM. Interestingly, the company has been
reducing
the number of outstanding shares from 51 million in 2001 to 45 million in 2005 and 43 million in the TTM. Of the many stocks I have reviewed on this blog, very few have been consistently reducing shares outstanding which imho is a very bullish indicator.
Free cash flow also looks very nice with $73 million in 2003, increasing to $134 million in 2004 and $137 million in 2005.
The balance sheet shows Toro with $19.7 million in cash and $697.1 million in other current assets. Added together, this $716.8 million in total current assets, when balanced against the $403.8 million in current liabilities, yields a current ratio of 1.78. As I often point out, a current ratio of 1.5 higher is considered 'healthy.' In addition, the company has another $185.3 million in long-term liabilities. The current assets can easily cover both the short-term and long-term liabilities combined.
4. What about some valuation numbers on this stock?
Examining the
"Key Statistics" on Yahoo on Toro (TTC)
, we find that this company is a mid-cap stock with a market capitalization of $2.04 billion. The trailing p/e is a very moderate 18.74, with a forward (fye 31-Oct-07) p/e of 14.51. The (5 yr expected) PEG is only 1.29. I consider PEG ratios between 1.0 and 1.5 to be 'reasonable'.
According to the
Fidelity.com eresearch website
, Toro is in the "Small Tools & Accessories" industrial group. Within this group, Toro appears reasonably priced with a Price/Sales ratio of only 1.1. Topping this group is Simpson Manufacturing (SSD) with a Price/Sales ratio of 2.1, this is followed by Stanley Works (SWK) at 1.2, then Toro (TTC) at 1.1. At the bottom of the group is Black & Decker (BDK) at 1, and Snap-On (SNA) at 1.
As suggested by a loyal reader, let's start taking a look at the
profitability
of a company. Using the Return on Equity (ROE) ratio, and comparing it to other stocks in the same group, we find Black & Decker (BDK) with a ROE of 32.6%, Toro (TTC) is next at 29.2%, Simpson (SSD) follows at 19.6%, Stanley Works (SWK) at 17.9% and Snap-On (SNA) is at the bottom of this group with a Return on Equity of 9.7%. Thus by this measure, Toro appears to be relatively more profitable compared to similar stocks in the same industrial group.
Going back to Yahoo for some more numbers, we find that there are 42.63 million shares outstanding with 41.45 million that float. Of these shares, 5% of the float or 2.07 million shares were out short as of 4/10/06. This worked out to 8.8 trading days (the short ratio) and is significant imho. With the stock moving higher today on good news, if there still were a lot of shares out short, they are feeling the 'squeeze'.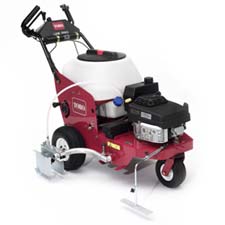 As I noted previously, the company pays a small dividend with an indicated rate of $.36/share or 0.80%. The last stock split, as already noted, was a 2:1 split on 4/13/05.
5. What does the chart look like?
Inspecting the
Toro (TTC) "Point & Figure" chart from StockCharts.com
, we can see a simply gorgeous chart with the stock trading sideways in most of 2001 between $8.50 and $11.50, and then in January, 2002, breaking out to higher levels near $15. The stock has subsequently continued moving higher and appears to have pulled back only slightly from the high near $53, to the current level of $47.89. This chart is one of the strongest on the blog imho.


6. Summary: So what do I think about this company?

Well you know that I like this stock because I just bought some shares :). Now seriously, the stock made a nice move higher today on an earnings report that beat expectations (except for the revenue which was a shade light), and the company also raised revenue guidance slightly. The five year Morningstar page shows steady revenue and earnings growth, growth in the dividend recently, and an actually falling number of shares outstanding. The free cash has been growing and the balance sheet looks solid.

Valuation-wise, the p/e and PEG are reasonable, the Price/Sales ratio is near the bottom of its industrial group, and its profitability, as measured by Return on Equity (ROE) is near the top of its group. In addition, there are lots of shares out short which are waiting to be "squeezed" and the chart is gorgeous. I liked this stock enough to buy shares :).

Thanks so much for stopping by! If you have any comments or questions, please feel free to leave them on the blog or email me at bobsadviceforstocks@lycos.com.

Please be sure to visit my Stock Picks Bob's Advice Podcast Site.

Bob
Posted by bobsadviceforstocks at 1:40 PM CDT |
Post Comment
|
Permalink
Updated: Thursday, 25 May 2006 11:17 PM CDT