A Reader Writes "HELX....Since then the stock has gone down. Any ideas?"
Hello Friends! Thanks so much for stopping by and visiting my blog,
Stock Picks Bob's Advice
. As always, please remember that I am an amateur investor, so please remember to consult with your professional investment advisors prior to making any investment decisions based on information on this website.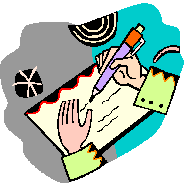 Earlier today I had a nice letter from Marie B. who wrote:
"I bought Cal Dive, 200 shares at 36.00. It went up to around 45.

Then I decided to buy some more and when I started to, it had a name change to Helx.

I bought 1,000 shares at 39.80.

Then there was an announcement that Cal Dive, a wholly owned subsidiary of Helx was coming out with an IPO.
I said What??

How can an established company with issued stock, making good money, change the name and then come out with an IPO?

The logic of this has been figured every which way, by me, and I can't figure it out. It seems to me all the gravy is going to go to new stockholders, while I originally bought it for the earnings.
Now Cal Dive = Helx is call an energy solution company.
Since then the stock has gone down.
Any ideas?

Marie B."
First of all Marie, thank you so much for writing. I would hate to say that 'your guess is as good as mine' for an answer, but maybe I can shed some insight on your excellent question.
Before I do, I want to emphasize one thing about my investment approach. While I am concerned about things management does, the most important driving factor in my investment decision process is the price of the stock itself. If indeed you had reached a 30% gain (which you were close to if not there), I personally would begin selling shares and not averaging up. Then if the stock had dropped to break-even, I would have sold the whole thing kit-and-kaboodle! But that is my approach, and yours might be even better. I do like the idea of making a small investment and then if the stock appreciates a certain amount, making my "full" investment. However, that's not what I do around here :).
I found most of the information regarding your question (by the way if you read my last post you will see that I have now sold out of my remaining shares of Helix) on the Company Website. On February 27, 2006, Cal Dive (CDIS)
announced
the name change from Cal Dive (CDIS) to Helix Energy Solutions Group (HELX). As they reported in the news release:
"The choice of an appropriate new name has perplexed us for many months; however, we believe that the acquisition of Helix RDS last year brought us a perfect answer. A helix is of course a spiral, but, more interestingly, a double helix is the natural shape that defines the structure of DNA, a basic building block of all of us. The two strands of the double helix are anti - parallel, which means that they run in opposite directions.

"The clear analogy for us is that we regard it as entirely natural for our strategy to have the two strands of energy service and production. These strands have also proven to be counter cyclical, as service activity lags changes in the commodity prices which drive production returns.

"Therefore, our new name will be HELIX ENERGY SOLUTIONS and we pledge to continue to focus on both high quality service provision and value adding oil and gas production, as a partner and operator.

"While we take the name of one subsidiary, we will on pass 'Cal Dive' to our Shelf services business unit. We may then sell a minority stake in it via an initial public offering later this year. This press release does not constitute on offer of any securities for sale. The proceeds from such a sale would be used to help finance a planned investment program in service assets that are more core to our strategy, e.g., production facilities or even a second Q4000-type vessel.

"We look forward to the support of all our stakeholders as this 'twist' of fate unfolds. In return we will strive daily to be as successful as 'Cal Dive' has always been."
The very next day the company
announced
an outstanding 4th quarter 2005 result with revenue climbing to $264 million from $163 million the prior year. Diluted earnings more than doubled from $.32/share in the fourth quarter of 2004 to $.69/share in the same quarter in 2005. What more could an investor want?
On May 2, 2006, the company now named Helix (HELX)
announced 1st quarter 2006 results
. These were also outstanding with revenue growing from $159.6 million to $291.6 million in 2006. Earnings came in at $.67/share, up sharply for the first quarter 2006, from $.32/share in the same quarter in 2005. In addition the company raised the lower end of earnings guidance for the full year 2006 to $2.70 to $3.30/diluted share. What else could an investor want?
As you noted, the company essentially spun off some of its ownership of the now Cal Dive subsidiary through an IPO of stock. This was not an IPO for the entire company but rather for an interest in one of its now sibsidiaries: Cal Dive. As noted in the
report
,
"Helix Energy Solutions Announces Filing for Initial Public Offering of a Minority Stake in Its Subsidiary, Cal Dive International, Inc.

HOUSTON, May 31 /PRNewswire-FirstCall/ -- Helix Energy Solutions Group, Inc. (Nasdaq: HELX) announced today that Cal Dive International, Inc. (a wholly-owned subsidiary) filed with the Securities and Exchange Commission a Form S-1 for its planned initial public offering (IPO) of a minority interest in Cal Dive's common stock.

The offering will be made only by means of a prospectus. Once available, preliminary prospectuses may be obtained from Cal Dive International, Inc., 400 North Sam Houston Parkway E, Houston, Texas 77060 or by calling (281) 618-0400."
The news story explained:
" About Cal Dive International, Inc.

Cal Dive International, Inc., a wholly-owned subsidiary of Helix Energy Solutions, is a marine contractor that provides diving, pipelay and pipe burial services to the offshore oil and natural gas industry.

About Helix Energy Solutions

Helix Energy Solutions is an energy services company that provides innovative solutions to the oil and gas industry worldwide for marginal field development, alternative development plans, field life extension and abandonment, with service lines including diving services, shelf and deepwater construction, robotics, well operations, well engineering and subsurface consulting services, platform ownership and oil and gas production."
So indeed this is all very confusing. And I don't think the "street" much liked it either. Anyhow, I don't think much about all of this accounting stuff. If the stock price indicates I should sell shares, I do so whether on good or bad news. However, sometimes, if you see something which seems
peculiar
or
confusing
, you might just want to back out of an investment. This particular maneuver doesn't sound too bad to me. It appears that the company wants to spin-off the CalDive subsidiary to the public and use the funds to enhance the Helix Energy portion of the company. I suppose they view the development of oil and natural gas assets, if I am understanding this properly, of more potential than the CalDive underwater work. Just my guess.
Let's take a quick look at the chart and see
when
the company started showing technical weakness in the price. Looking at the
Helix Energy Solutions "Point & Figure" chart from StockCharts.com
, we can see that the stock price actually started showing weakness way back in January, 2006, and then in May, 2006, even before the IPO announcement, the company stock price was struggling.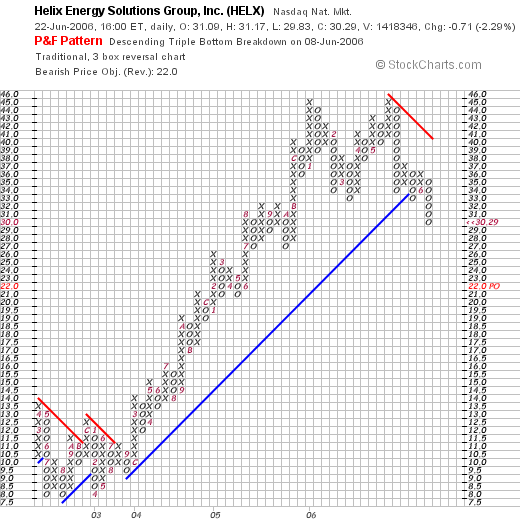 But is this really due to the stock or is it just the lousy market banging up this stock?

Let's take a look at another oil service stock: Schlumberger (SLB) and I think you will see some similarity in the "Point & Figure" chart from StockCharts.com on SLB: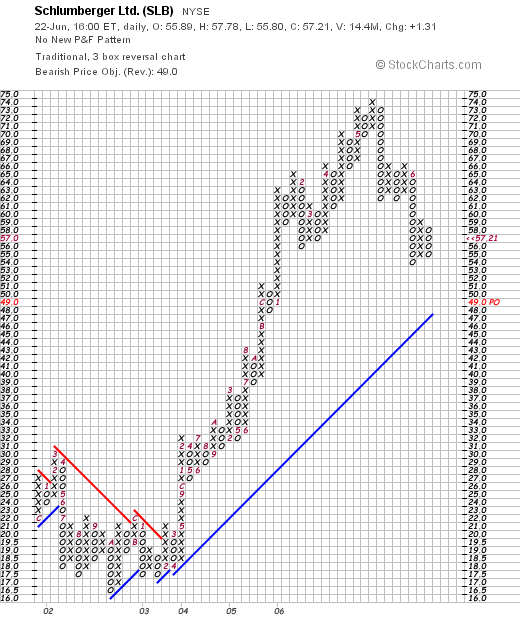 Or to finish up with this point, let's take a look at another oil service firm, Baker Hughes (BHI), which has a "Pont & Figure" chart on BHI:

I think you see my point.

All of the stocks in this industrial group, and indeed in the entire market started breaking down in May. So while we can be annoyed and confused and perplexed about all of the dealings of the Management of this company, there are larger forces afoot called the stock market that were bearing down on this stock like so many others.

Getting back to my original point about responding to the price of stocks and not what the meaning of all of the news really is. I just am not good enough to tell if the accounting strategy and spin-offs are good for the investors or not.

I do know when I am losing or making money however :).

Thanks so much for stopping by, visiting and writing a letter!!! Your input and participation is greatly appreciated.

Please be sure to send your comments and questions to bobsadviceforstocks@lycos.com. Let me know your name (first name and location is adequate) and how you use my blog, etc. Also, be sure to stop by and visit my Stock Picks Bob's Advice Podcast Site.

Bob