"Revisiting a Stock Pick" Hologic (HOLX)
Hello Friends! Thanks so much for stopping by and visiting my blog, Stock Picks Bob's Advice. As always, please remember that I am an amateur investor, so please remember to consult with your professional investment advisors prior to making any investment decisions based on information on this website. I apologize for not doing a lot of posting the last couple of weeks. I am still working at building a new blog website but with the market correction, I frankly have not been motivated to look for new stocks....but have been posting my sales as they arise.

With the market climbing once again today (two days in a row!) I figured I would be able to find a stock or two that I liked. In fact, Hologic (HOLX), an old favorite of mine, was on the list of top % gainers, and the last price I have for it is $48.34, up $3.47 or 7.73% on the day. It is near the close of trading and probably is the closing price. I don't have any shares of HOLX in my Trading Account but my son does own literally 20 shares and my stock club also has purchased shares in Hologic.
I first posted Hologic on Stock Picks Bob's Advice on April 27, 2005, when the stock was trading at $35.85. HOLX had a 2:1 stock split on December 1, 2005, making my effective stock pick 'price' actually $17.93. With today's closing stock price of $48.34, this represents an appreciation of $30.41 or 170% since posting the stock just a little over a year ago. And to think I didn't buy any shares for myself! At least I talked my stock club into this stock and bought a few shares for my son's account!
Let's take a closer look at this company. First of all what they do. According to the Yahoo Profile on Hologic, this company
" ...engages in the development, manufacture, and supply of diagnostic and medical imaging systems for serving the healthcare needs of women. It focuses on mammography and bone densitometry."
Next, what about the latest quarterly report? Actually, it was the third quarter 2006 earnings report release that sparked today's rally in the stock. Revenue for the third quarter ended June 24, 2006, came in at $119.7 million, a 62% increase over the $74.1 million reported in the same quarter last year. Net income increased 46% to $12.0 million or $.25/diluted share up from $8.2 million or $.18/diluted share in the same quarter last year.
How about longer-term results? If we check the Morningstar.com "5-Yr Restated" financials on HOLX, we can see that revenue has been steadily increasing from $180.2 million in 2001 to $287.7 million in 2005 and $341.2 million in the trailing twelve months (TTM). Earnings during this period have increased from a loss of $(.67)/share in 2001 to a profit of $.01/share in 2002, $.63/share in 2005 and $.75/share in the TTM. The company has been increasing its number of shares outstanding from 31 million in 2001 to 43 million in 2005 and 46 million shares outstanding in the TTM. I would rather see a stable number of shares all things being considered, however, with the solid growth in revenue in earnings, the company has been growing its financial results faster than its outstanding shares!
Free cash flow has been a bit erratic but has increased from a negative $(4) million in 2003 to $37 million in 2005 and $17 million in the TTM.
The balance sheet looks solid with $108.3 million in cash, more than enough to cover the combined $65.4 million in current liabilities and the $5.3 million in long-term liabilities combined. Calculating the 'current ratio' gives us a total of $256.1 million, which when divided by the $65.4 million in current liabilities, yields a current ratio of 3.92. (1.5 or higher is the minimum for good financial health as a rule).
And how about some updated statistics/valuation numbers on this company? Looking at the Yahoo "Key Statistics" on Hologic, we find that the company is a mid-cap stock with a market capitalization of $2.20 billion. The trailing p/e is certainly rich at 65.01, and the forward p/e (fye 24-Sep-07) isn't much better at 40.48. The PEG, however, suggests a more reasonable valuation of the p/e, that since due to the rapid growth in earnings, the PEG is estimated at 1.32 (5 yr expected).
Reviewing the Fidelity.com eresearch website, we find the Hologic is in the "Medical Appliances/Equipment" industrial group, and is in fact the most richly valued of the group in terms of the Price/Sales ratio. HOLX leads this group with a Price/Sales ratio of 6.2. Following Hologic is Medtronic (MDT) at 5.1, St Jude (STJ) and Zimmer Holdings (ZMH) both at 4.2, Biomet (BMET) at 3.9 and Edwards Lifesciences (EW) with a Price/Sales ratio of 2.9.
Insofar as profitability, using the 'return on equity' (ROE) as a guide, we find that Hologic is only average in this measure. Leading the group is Biomet with a ROE of 25.9%, Medtronic at 23.8%, Zimmer at 16.6%, then Hologic at 15.1%, St Jude at 14.4% and Edwards Lifesciences at 13.8%.
Finishing up the statistics from Yahoo, we find that there are 45.59 million shares outstanding and 45.1 million that float. Currently there are 6.56 million shares out short representing 14.5% of the float or a significant 6.9 trading days of volume. (I use 3 days as my arbitrary cut-off for significance.)
No cash dividend is paid and as I noted above, the company last split its stock on 12/1/05 when it declared a 2:1 stock split.
And what does the chart look like? Taking a look at the "Point & Figure" chart on Hologic from StockChart.com: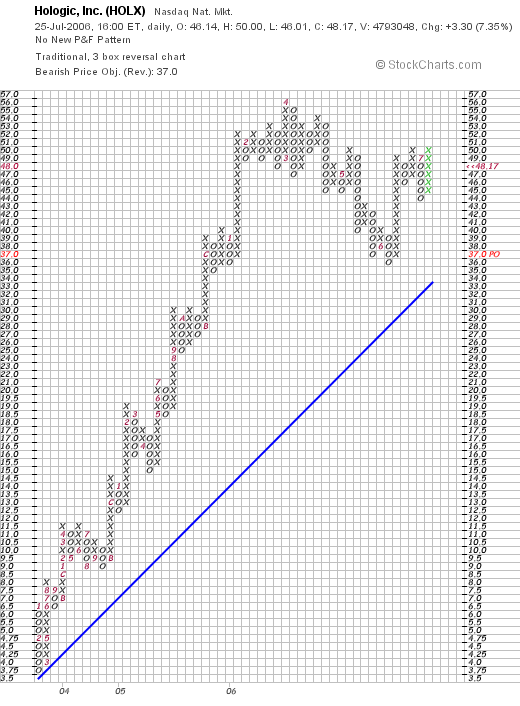 We can see a beautiful graph with an almost perfectly ascending price progression until May, 2006, when the stock sold off down to almost its support level. The stock appears to be appreciating once again.
So what do i think? I think the company reported a terrific quarter, has an outstanding Morningstar.com report (except for the very mild dilution of shares), and has a nice chart. Valuation, however, appears a bit rich and the stock thus appears to be "priced to perfection." Hopefull the company will continue to deliver perfect results. Certainly, the company's digital mammographer is selling well and this type of cancer detection may have some advantages over prior diagnostic procedures. with the p/e in the 60's and even the forward p/e in the 40's, fortunately we have a PEG just over 1.2. Even as measured by the Price/Sales ratio, the stock price appears rich. And profitability is not quite so phenomenal either. Only the rapid growth in earnings will continue to drive the stock higher.
Anyhow, that's the pick for this afternoon! A great performance from last year. Hopefull, for my son and my stock club, the stock will continue to perform well. Valuation, however, is a bit rich for what you are getting imho.
Thanks again for stopping by! If yhou have any comments or questions please feel free to leave them on the blog or email me at bobsadviceforstocks@lycos.com. Also, please be sure to stop by and visit my Stock Picks Bob's Advice Podcast Website!
Bob
Posted by bobsadviceforstocks at 3:10 PM CDT |
Post Comment
|
Permalink
Updated: Tuesday, 25 July 2006 5:30 PM CDT