August 4, 2006 Anaren (ANEN)
Hello Friends! Thanks so much for stopping by and visiting my blog, Stock Picks Bob's Advice. As always, please remember that I am an amateur investor, so please remember to consult with your professional investment advisors prior to making any investment decisions based on information on this website.

Looking through the list of top % gainers on the NASDAQ this afternoon, I came across Anaren Microwave (ANEN) which closed at $19.22, up $1.55 or 8.77% on the day. I do not own any shares nor do I have any options on this stock.
According to the Yahoo "Profile" on Anaren, the company
"... engages in the design, development, and manufacture of microwave and radio frequency components, assemblies, and subsystems for wireless communications, satellite communications, and defense electronics markets."
This certainly is pretty high-tech stuff, and I don't think I can use my Peter Lynch strategy to pick stocks. But the numbers were pretty compelling so let's take a closer look at this company!
Like so many stocks on the move this time of year, the company moved sharply higher on the back of an earnings report. Yesterday, after the close of trading, Anaren announced 4th quarter 2006 results. For the quarter ended June 30, 2006, net sales came in at a record $29.1 million, up 21% over the $24.1 million in the same quarter the prior year. Net income worked out to $3.7 million or $.20/diluted share, up from $2.6 million or $.14/diluted share in 2005.
How about longer-term results?
If we review the Morningstar.com "5-Yr Restated" financials on ANEN, we can see that revenue actually dipped from $85 million in 2001 to $71 million in 2002 before resuming its climb to $94 million in 2005 and $100 million in the trailing twelve months (TTM).
Earnings also dipped from $.52/share in 2001 to $.16/share in 2003, before climbing to $.37/share in 2005 and $.56/share in the TTM.
I find it interesting and provocative to see that the outstanding shares which were 22 million in 2001, increase to 23 million in 2002, but then started declining....dropping to 20 million shares in 2005 and 17 million in the TTM. It is fairly rare to see a company retiring shares instead of increasing its float, but for the investor, this means a lower number of shares to spread the same earnings over, and thus pressure to the upside on earnings growth.
Free cash flow has been a bit erratic, with $8 million in 2003 reported, increasing to $11 million in 2004, then to a negative $(1) million in 2005 but a positive $9 million in the TTM.
The balance sheet, as reported on Morningstar, looks solid. $75.5 million in cash is reported, enough to easily pay off both the $10 million in current liabilities and the $6.5 million in long-term liabilities combined more than 4 times over. In fact, if we add in the $40.6 million in other current assets to the $75.5 million in cash, we have a sum of $116.1 million, which when compared to the $10 million in current liabilities yields a current ratio of 11.6, the highest current ratio on any stock I have reviewed as far as I can remember. This company appears from this exam to be quite solvent.
What about some valuation numbers?
Looking at the Yahoo "Key Statistics" on Anaren, we can see that this is a small cap stock with a market capitalization of only $330.37 million. The trailing p/e is a moderate 30.95, but the forward p/e is only 21.60 (fye 30-Jun-07), and the PEG (5 yr expected) isn't too bad at 1.38.
Checking the Fidelity.com eresearch website on Anaren, Fidelity has assigned them to the "Scientific/Tech Instruments" industrial group. In regards to the Price/Sales ratio, Anaren is relatively cheap with a ratio of 3.1. Topping this group is Garmin (GRMN) at 8.4, SiRF Technology (SIRF) at 5.9, Flir Systems (FLIR) at 3.8, Applied Biosystems (ABI) at 3.3, then Anaren at 3.1, and Beckman Coulter (BEC) at the cheapest ratio of 1.4.
Unfortunately, looking at profitability with a review of the 'return on equity' (ROE), ANEN is also at the bottom of the list with a ROE of 6.5%. Topping the list is Garmin (GRMN) at 30.8%, Flir at 24.7%, Applied Biosystems at 19.5%, Beckman Coulter at 11.4% and SiRF at 7%.
Finishing up with Yahoo, ANEN has only 17.19 million shares outstanding with 16.33 million that float. As of 7/11/06, there were 758,560 shares out short representing 4.60% of the float or 5.9 trading days of average volume (the short ratio). No cash dividends and no stock splits are reported.
What about the chart?
Reviewing the "Point & Figure" chart on ANEN from StockCharts.com, we can see that the company has been moving higher from its lows of around $7 from October, 2002. The company did sell-off in 2004 down to a low of $9.50, but since April, 2005, the stock has been moving steadily higher to the current level of around $19.22, a little under the highs of $24.00 in May, 2006. The chart looks relatively strong to me without appearing over-extended.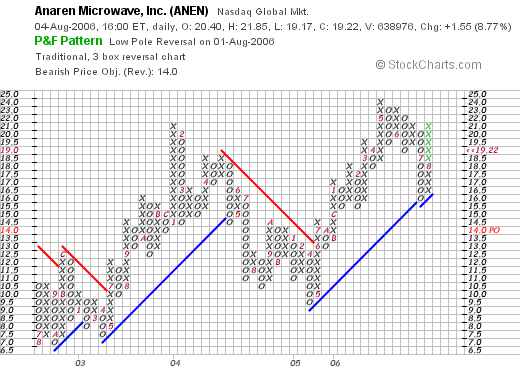 So what do I think? Well, the stock moved nicely higher today on the back of a terrific earnings report. Looking at Morningstar.com, this report is part of a longer trend of earnings and revenue growth. Free cash flow is positive recently, the company is reducing its outstanding shares, and the balance sheet is gorgeous. The p/e is reasonable imho with a PEG under 1.5. The Price/Sales isn't bad, but the profitability as measured by ROE is a bit low. Finally, the chart looks nice.
I don't really understand the business that this company is in from an intuitive perspective. However, if I were in the market to be buying a stock, this is the sort of company I would be purchasing!
Thanks so much for stopping by! Please remember to drop me a line at bobsadviceforstocks@lycos.com if you have any comments or questions. Certainly feel free to leave a comment right on the blog. Also, be sure and visit my Stock Picks Bob's Advice podcast site! You can listen to me rant as well as read my rants whenever you like!
Bob