"Revisiting a Stock Pick" NVE Corporation (NVEC)
Hello Friends! Thanks so much for stopping by and visiting my blog, Stock Picks Bob's Advice! As always, please remember that I am an amateur investor, so please remember to consult with your professional investment advisors prior to making any investment decisions based on information on this website.
I didn't manage to make any stock 'picks' last week and am anxious to find some stocks that are provocative enough to find a place on this website. Looking through the list of top % gainers on the NASDAQ this afternoon, I came across an old favorite of mine, NVE Corporation (NVEC) which had a nice day in the market.


I first posted NVEC on Stock Picks Bob's Advice on June 23, 2004, when the stock was trading at $36.61. NVEC closed today at $34.01, up $5.40 or 18.87% on the day. The stock is actually lower than it was when I first posted it by $(2.60) or (7.1)%. After the initial posting of this stock, the price of the stock actually took a nosedive (!) and is only now reaching the previous price levels.
Let's take a closer look at this company and I will explain why I still like this stock after it failed to cooperate at my first post over two years ago:
1. What exactly does this company do?
According to the Yahoo "Profile" on NVEC, the company

"... engages in the development and sale of devices using spintronics, a nanotechnology, which utilizes electron spin rather than electron charge to acquire, store, and transmit information. Its products include magnetic sensors to acquire precise data, such as the position of a robot arm, and couplers to transmit data between electronic systems at a high speed. The company provides standard sensors that detect the presence of a magnet or metal to determine position or speed; custom sensors primarily for medical devices; and couplers that use semiconductor input stages, primarily for factory and industrial networks."

Please don't ask me to explain the above hi-tech explanation :). I am not really a Peter Lynch investor! I pick stocks not on the basis of what I know about their product but what I know and can glean about their corporate performance.
2. How did they do in the latest quarter?
On July 19, 2006, NVE Corporation reported 1st quarter 2007 results. Product sales climbed 71% to $3.05 million from the prior year first quarter results of revenue of $1.78 million. Total sales increased 20% to $3.64 million from $3.03 million. Net income was up over 100% at $891,806 or $.19/share up from net income of $412,649 or $.09/diluted share the prior year same period.
3. How about longer-term results?
If we review the Morningstar.com "5-Yr Restated" financials on NVEC, we can see that revenue has grown nicely from $7 million in 2002 to $12.2 million in 2006 and $12.8 million in the trailing twelve months (TTM).

Except for a dip in earnings between 2004 and 2005, earnings per share have grown steadily from a loss of $(.62)/share in 2002 to $.39/share in 2006 and $.49/share in the trailing twelve months (TTM). This is a small company with 4 million shares outstanding in 2004 increasing to 5 million in the TTM.

Free cash flow which was $-0- in 2004, increased to $3 million in 2006. The balance sheet appears solid on Morningstar, with $2.5 milliion in cash, enough to pay off the $700,000 in current liabilities. No long-term liabilities are even reported on the Morningstar report.

Calculating the 'current ratio', adding the $2.5 million in cash to the $5.9 million in other current assets gives us total current assets of $8.4 million, which when compared to the current liabilities of $.7 million yields a current ratio of 12. Generally ratios of 1.5 or higher are considered financially 'healthy'.
4. What about some 'valuation' numbers?
Reviewing the Yahoo "Key Statistics" on NVE Corporation, we can see that this is a really small small-cap stock with a market capitalization of only $156.99 million. (At $100 million in market cap or less, I like to refer to these tiny companis as 'micro'-cap stocks).

The trailing p/e is rich at 69.69. There is no forward p/e and no PEG to assess valuation. I suspect this company is below the radar of most analysts.

Review the Fidelity.com eresearch website for more valuation comparisons on NVEC, we find that this company is in the "Semiconductor-Specialized" industrial group. Within this group, NVEC is the richest in valuation relative to the Price/Sales ratio with a ratio of 10.5. This is followed by Linear Technology (LLTC) at 10.1, Altera (ALTR) at 6.6, Xilinx (XLNX) at 4.4, Nvidia (NVDA) at 4.4, and ATI Technologies (ATYT) at 2.4.

NVEC is in the middle of the group in terms of profitability when measured by the Return on Equity (ROE). Topping the group is Nvidia at 23.1%, Altera at 20.9%, Linear Technology at 20.2%, then NVE Corp at 14.2%, Xilinx at 13.2% and ATI Technologies at the bottom of the pack at a negative (3.3)%.

Returning to Yahoo for a few additional valuation numbers, we find that there are 4.62 million shares outstanding and 4.25 million that float. Of these shares, 1.02 million shares or 22.70% of the float were out short as of 8/10/06. The sharp upward rise in the stock price today might well represent a short squeeze in which the large number of short sellers might be in a buying panic as the stock rises and paradoxically increases their losses. No dividend is paid and the last stock split was actually a reverse stock split of 1:5 on 11/22/02.
5. What does the chart look like?
Reviewing the "Point & Figure" chart from StockCharts.com on NVEC, we can see that the stock has mad a "u-shaped" chart with the stock declining from $37 level in late 2004 and bottoming at around $11.50 in May, 2005. The stock recently came out of this trough after breaking through resistance at $17 in July, 2006, and appears to be moving strongly higher now.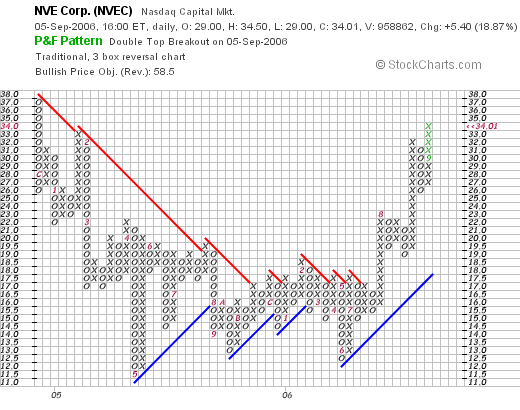 6. Summary: So what do I think about this stock?
In summary, this stock had a strong recent quarter. I cannot completely explain today's move except that a move higher may well have resulted in a panic among the short-sellers trying to cover their positions. The Morningstar.com financials look nice. Valuation, however, is a bit rich with a p/e in the 60's and a Price/Sales ratio at the top of its group. Technically, the stock looks strong with the stock price moving higher into near new-high territory. I don't have any shares of this stock, but if I were in a position to be buying stock, this is the kind of stock I would be adding to my portfolio.
Thanks so much for stopping by and visiting my blog! If you have any comments or questions, please feel free to email me at bobsadviceforstocks@lycos.com and be sure to listen to my Stock Picks Podcast!
Bob