Harris Corporation (HRS)
Hello Friends! Thanks so much for stopping by and visiting my blog, Stock Picks Bob's Advice! As always, please remember that I am an amateur investor, so please remember to consult with your professional investment advisors prior to making any investment decisions based on information on this website.

I would like to try to briefly present a stock this afternoon that made the list of top % gainers on the NYSE. As I write, Harris Corp. (HRS), is trading at $44.25, up $1.28 or 2.98% on the day. I do not own any shares or have any options on this company. I do think it deserves a place on this blog!
According to the Yahoo "Profile" on Harris, the company "...through its subsidiaries, provides communications products, systems, and services to government and commercial customers. It operates in four segments: Government Communications Systems, RF Communications, Microwave Communications, and Broadcast Communications."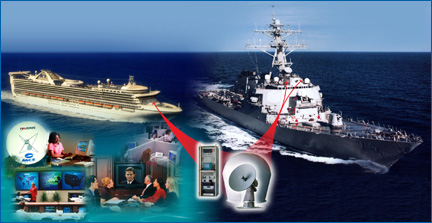 What drove the stock higher today was an announcement that due to a positive settlement between Harris and the IRS, the company was raising guidance by $.08 for the year ending in June, 2007, from $2.60 to $2.70 to $2.65 to $2.75/share.
On July 26, 2006, Harris reported 4th quarter 2006 results. Revenue increased 21% to $992 million, up from $822 milliion in the same quarter last year. GAAP net income climbed by 39% to $85.1 million or $.61/diluted share. At that same announcement, the company raised guidance for full 2007 from $2.50 to $2.60 to $2.60 to $2.70/share. As I just noted above, the company today raised guidance once more! Besides raising guidance for the 2007 year, the company 'beat the street' reporting results ahead of expectations of $965 million in revenue and $.60/share in earnings. This is what I have referred to elsewhere as my trifecta-plus in a quarterly report: increasing revenue, increasing earnings, beating expectations AND raising guidance! Not much an investor could ask for imho.
Reviewing the Morningstar.com "5-Yr Restated" financials, we can see the steady revenue growth from $1.8 billion in 2002 to $3.5 billion in 2006. Earnings, after dipping from $.62/share in 2002 to $.45/share in 2003, have steadily increased to $1.46 in 2005 and $1.71 in 2006. The company has also steadily increased its dividend from $.10/share in 2002 to $.24/share in 2005 and $.32/share in 2006. Meanwhile, the shares outstanding have been virtually unchanged with 132 million shares in 2003, 133 million in 2006 and 134 million in the trailing twelve months (TTM).
Free cash flow has been positive at $223 million in 2004 and $232 million in 2006.
The balance sheet on Morningstar.com looks solid with $293.9 million in cash and $1,134.5 million in other current assets. When combined and compared to the $752.1 million in current liabilities, yields a current ratio of 1.90.
In addition, the company has another $728.1 million in long-term liabilities.
Looking at Yahoo "Key Statistics" on HRS, we can see that this is a large cap stock with a market capitalization of $5.94 billion. The trailing p/e is a moderate 25.98, and the forward p/e is estimated (fye 30-Jun-08) at 14.65. The PEG, with the rapid growth anticipated, is estimated at 0.99 making this valuation very reasonable imho.
According to the Fidelity.com eresearch website, HRS is in the "Communications Equipment" industrial group. Harris is reasonably priced per this site, with a Price/Sales ratio of 1.8. Leading this group is Qualcomm (QCOM) with a ratio of 9.2, followed by Adtran (ADTN) at 3.4, HRS at 1.8, Nokia (NOK) at 1.7, Motorola (MOT) at 1.5 and ADC Telecom (ADCT) at 1.3.
Relative to profitability, as measured by the return on equity (ROE), HRS is towards the bottom of the pack with an ROE of 15.2%. Leading the group is Nokia at 35.4%, Motorola at 30.1%, Adtran at 19.5%, Qualcomm at 19.3%, then HRS at 15.2% and ADC Telecom at 5.8%.
Per Yahoo, there are 133.86 million shares outstanding with 132.83 million that float. As of 8/10/06, there were 3.09 million shares out short representing 2.30% of the float or 3.3 average trading days of volume (the short ratio). The company, as noted, pays a small dividend of $.44/share (est.) for a 1% yield. The company had a 2:1 stock split last year on March 31, 2005.
How about the chart? If we examine a Point & Figure chart from StockCharts.com on Harris, we can see that the stock price, after climbing to $19 from $13 between July, 2001, and June, 2002, then fell to a low of $12 in December, 2002. Since that time, after breaking through resistance at about $15.50, the stock has moved very strongly higher to a recent high of $49 in February, 2006. The stock has consolidated somewhat the past several months and is currently at the $44 level. The stock chart looks strong to me!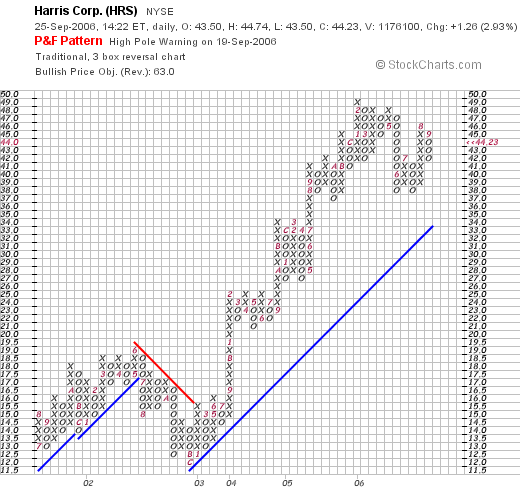 In conclusion, the stock moved higher today in a steady fashion after guidance was raised again on next year's results. The company had a great recent quarter, beating expectations and raising guidance in addition to reporting solid growth in both revenue and earnings. Longer-term, the company has demonstrated a rather consistent growth in revenue with a slightly less consistent growth in earnings (although the last several years have been solid.) As an additional 'plus' the company even pays a dividend and has been increasing it each year as well. All of this on a steady number of shares outstanding.
Free cash flow is positive and the balance sheet is solid. Valuation-wise the p/e is mildly high, but with the steady growth the forward p/e is in the teens and the PEG sits at 0.99. The price/sales is average, and Return on Equity is a bit low for its group. Finally the chart looks solid.
All-in-all, I like this stock. I haven't had lots of success with defense contractors and I put this company in that group, but the numbers look nice, valuation is reasonable, and the dividend growth is also attractive. If I were in the market to be buying a stock, this is the kind of stock I would be buying today!
Thanks so much for stopping by. If you have any comments or questions, please feel free to drop me a line at bobsadviceforstocks@lycos.com or just leave them on the blog. Also, please stop by and visit my Stock Picks Bob's Advice podcast site, where you can download an mp3 and hear me talk about many of the same stocks I write about right here!
Bob