A Reader Writes "....I was wondering if you could help me...?"
Hello Friends! Thanks so much for stopping by and visiting my blog, Stock Picks Bob's Advice! As always please remember that I am an amateur investor, so please remember to consult with your professional investment advisors priot to making any investment decisions based on information on this website.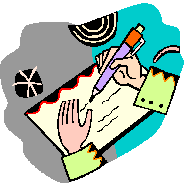 As I do with each blog entry, I encourage you to drop me a line with your comments and questions at bobsadviceforstocks@lycos.com. And I mean it! I enjoy hearing from readers and try to answer and comment on as many of the emails as possible.
Earlier today, I saw that Eric P. had written me a note with a few comments and questions:
"Hey Bob!

Well, I am sort of new to your website, but I believe it has been a great resource to me to help research and learn stocks. Though recently I have been looking at this one Escala Group Inc. (ESCL), and I was wondering if you could help me try to figure out if this would be a good purchase or not. Also, I have been looking through your website, and I was wondering do you have an actually blog or article of how you research your stocks or how you filter through so many stocks? And do you have any tips to help me in my searches!

Thanks so much, and keep up the great work!

Eric"
First of all, thanks so much for writing. I cannot tell you whether ESCL would be a good purchase or not for you. I don't know your particular situation and I am not really qualified to do that. However, I can tell you a little about how the stock looks from my perspective.
I cannot go into my usual detail, but let's check it out. A couple of points, first of all Escala Group (ESCL) is a tiny company with a stock price significantly under $10. I try like crazy to avoid these stocks. With my tight 8% loss limit, a $5 stock can only drop $.40 before hitting a sale. And these little companies are quite volatile.
Furthermore, the company just a few days ago, on October 2, 2006, received notification from the NASDAQ that it risked delisting as it was late in filing its annual report for its year ended June 30, 2006. Apparently, Escala is investigating the Company's dealings with Afinsa Bienes Tangibles, S.A. "its majority shareholder". For me, this is much too much smoke occluding my view of the company's results. This is not a company that I would be interested in pursuing at this time on this blog.
It is true, on Escala's behalf, that the company does have a terrific Morningstar.com "5-Yr Restated" financials page. They do have a record of rapid growth recently both in terms of revenue, reported earnings, free cash flow, and a good balance sheet. Thus, if some of the questions on the results, delisting issues, are cleared up, this stock may well turn out to be a great investment! However, for me, that's a lot of ifs and buts. A bit too speculative for me both in terms of the share price, and the dark clouds overhanging the financial results.
Regarding your question of a blog on my strategy, I have done this on several occasions. Recently, I wrote up my strategy on November 21, 2005, I also had some additional comments on November 4, 2005. You also might enjoy my comments on June 17, 2005. Also check out comments on June 2, 2004. Also visit my Stock Picks Podcast Site and look through my topics to find my Investment Strategy Podcast.
In general, I write about my strategy throughout my many entries. Read a few and I think you will catch on!
How do I filter stocks? I hate to say it, but I do it manually. I literally do it like I say I do. I check the top % gainers list and look through it to see what stocks are over $10. Then I check Morningstar, the latest quarter, etc. Read my posts and I think it will be obvious.
Thanks so much for writing! Please let me know if I have answered your questions adequately. If not or if you or anyone else has questions or comments, please feel to enter them right here on the blog or email me at bobsadviceforstocks@lycos.com.
Bob