Bitstream (BITS)
Hello Friends! Thanks so much for stopping by and visiting my blog, Stock Picks Bob's Advice! As always, please remember that I am an amateur investor, so please remember to consult with your professional investment advisors prior to making any investment decisions based on information on this website.

I wanted to try to write a brief entry this evening. I have been away from blogging and shall be away for a bit again! However, if I can, I would like to get this stock posted as it deserves a place here on the blog.
Bitstream (BITS) had a great day today, closing at $9.61, up $1.52 or 18.79% on the day. This was enough for the stock to make the list of top % gainers on the NASDAQ. I do not own any shares nor do I have any options on this stock.
According to the Yahoo "Profile" on BITS, this stock
"...together with its subsidiaries, engages in the development and sale of software products in the areas of fonts and font technology, browsing technology, and publishing technology in the United States and internationally."
What drove the stock higher today, was the announcement of 3rd quarter 2006 results, yesterday, after the close of trading. Revenue for the quarter ended September 30, 2006, increased 35% to $5.15 million, from $3.83 million in the same quarter in 2005. Net income for the three months over 200% to $953,000 or $.09/diluted share, up from $312,000 or $.03/diluted share in the previous year same period.
Reviewing the Morningstar.com "5-Yr Restated" financials on BITS, we can see the steady increase in revenue from $8 million in 2001 to $15.7 million in 2005 and $18 million in the trailing twelve months (TTM). Earnings were negative at $(.43)/share in 2001, turned positive at $.11 in 2005 and grew to $.28/share in the TTM.
The number of shares has been fairly stable with 8 million in 2001 and 9 million in the TTM. Free cash flow has been improving with $(2) million in 2003, $0 million in 2004, $1 million in 2005 and $3 million in the TTM.
The balance sheet looks solid with $7.9 million in current assets, enough to pay off the $3.3 million in current liabilities and the $.2 million in long-term liabilities combined. In addition, the company has $2.6 million in other current assets, which yields a current ratio of a bit over 3.
Looking at Yahoo "Key Statistics" on BITS shows us how tiny this company is with a market cap of only $87.70 million. The trailing p/e is shown at 36.54, no PEG is reported, and the Price/Sales is 4.10. There are 9.13 million shares outstanding with 7.4 million that float. As of 10/10/06, there were only 153,300 shares out short representing 2% of the float or 0.6 trading days of volume. No dividends are paid and no stock splits are reported on Yahoo.
Looking at a StockCharts.com "Point & Figure" chart on BITS, we can see that this stock has really gone nowhere between late 2001 until late 2005, when it appeared to start a new move higher in January, 2006, when it moved from $2.50 to $8.00 in March, 2006. The chart appears encouraging to me without appearing ahead of itself.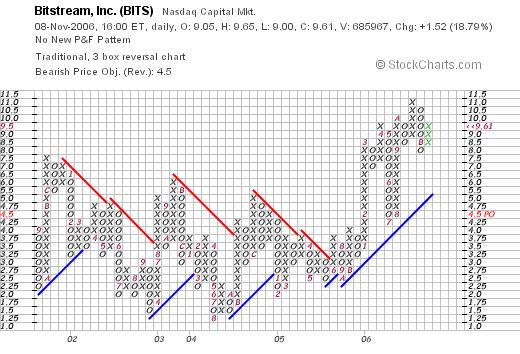 To summarize, Bitstream moved sharply higher today on great news. This is a tiny company, a true 'micro-cap' which shows excellent fundamentals and a great earnings report and an attractive technical picture. Thanks for visiting! If you have any comments or questions, please feel free to drop me a line at bobsadviceforstocks@lycos.com and be sure to visit my Stock Picks Podcast Site (which I also need to update!) where you can listen to me discuss many of the same stocks and ideas on the blog.
Bob