"Weekend Trading Portfolio Analysis" Ventana Medical Systems (VMSI)

Hello Friends! Thanks so much for stopping by and visiting my blog, Stock Picks Bob's Advice! Please remember that I am an amateur investor, so please remember to consult with your professional investment advisors prior to making any investment decisions based on information on this website.
I try to accomplish many different things on this website. I hope that I accomplish at least a few of these goals. For one thing I have been trying to identify stocks that may represent potential investments for me. I write up these stocks and discuss the reasons why I find them attractive. On a regular basis I review these stocks, usually on weekends, and try to find out how they turned out. For full disclosure purposes, as often as possible, I have tried to let you know whether I own any shares of the stocks and what my actual trading portfolio looks like. Over the past couple of years I have also been trying to go through my list of actual stocks in my trading portfolio on a regular basis. Going alphabetically, last month I reviewed Meridian Bioscience (VIVO). Going through my list, I am now up to Ventana Medical Systems (VMSI) another stock in my actual list of holdings.
Ventana Medical Systems (VMSI) is an old favorite of mine here on the blog. I first posted Ventana on Stock Picks Bob's Advice on December 23, 2003, when the stock was trading at $39.80. Ventana had a 2:1 stock split March 15, 2005 making my effective pick price actually $19.90. VMSI closed at $43.63 on November 10, 2006, giving my pick an effective appreciation of $23.73 or 119.2% since posting.
I revisited Ventana on January 13, 2005, when the stock was trading at $64.36. Adjusted for the split that occurred two months later, this was a pick price of $32.18. With the stock at $43.63, this represents a gain of $11.45 or 35.6% since I revisited this stock a second time on the blog!
But the point of this entry is to review my actual holding! I currently own 188 shares of Ventana (VMSI) that were purchased April 16, 2004, after my first entry on VMSI, but before my second post. I have a basis of $23.47/share on this position, with an unrealized gain of 85.90%.
As is my custom, I have sold portions of this stock as it has appreciated, selling at a 30, 60, and 90% appreciation target. Thus, on the upside, my next targeted sale of 1/6th of my holding, or about 31 shares, will be at 2.20 x $23.47 = $51.63. On the other hand, if the stock declines to 50% of my highest sale point (a 90% gain) or at a 45% appreciation level, I shall be selling ALL of my remaining shares. This works out to 1.45 x $23.47 = $34.03.
Let's take another look at this company and see if it still deserves a spot on this blog and a place in my trading portfolio.
First of all what do they do?
According to the Yahoo "Profile" on Ventana, the company
"... engages in the development, manufacture, and marketing of instrument-reagent systems that automate slide staining in anatomical pathology and drug discovery laboratories worldwide. Its clinical systems are used in anatomical pathology labs in analyzing human tissue to assist in the diagnosis and treatment of cancer and infectious diseases."
And the latest quarter?
On October 20, 2006, Ventana reported 3rd quarter 2006 results. For the quarter ending September 30, 2006, sales climbed 16% to $59 million, net income came in at $7.8 million, up over 100% from the $3.6 million in the same quarter last year. On a per share basis this worked out to $.22/share, up from $.10/diluted share last year. These were strong results. The company maintained guidance for 2006 and 2007.
How about longer-term results?
Reviewing the Morningstar.com "5-Yr Restated" financials on VMSI, we can see the beautiful progression of revenue from $87.8 million in 2001 to $199.1 million in 2005 and $218.1 million in the trailing twelve months (TTM).
Earnings have steadily increased as well with $.05/share in 2001, increasing to $.69/share in 2005 and $.72/share in the TTM.
Shares outstanding have increased slightly from 32 million in 2001 to 34 million in 2005 and 37 million in the TTM. Free cash flow has b edn positive and steady at $17 million in 2003, $21 million in 2004, $24 million in 2005 and $16 million in the TTM.
The balance sheet appears solid with $52.7 million in cash and $69.2 million in other current assets which can easily cover both the $45.4 million in current liabilities and the $2.6 million in long-term liabilities combined.
How about valuation?
Reviewing Yahoo "Key Statistics" on VMSI, we find that this is a mid-cap stock with a market capitalization of $1.62 billion. The trailing p/e is a very rich 51.57, the forward p/e is a bit better at 36.36, and the PEG ratio is also rich at 1.81.
According to the Fidelity.com eresearch website, Ventana is in the "Medical Instruments/Supplies" industrial group. Within this group, Ventana tops its group with a Price/Sales ratio of 7, followed by Cytyc (CYTC) at 5.5, Stryker (SYK) at 4, Boston Scientific (BSX) at 3.3, Becton Dickinson (BDX) at 3.2 and Baxter (BAX) at 3.
In terms of Return on Equity (ROE), Baxter leads at 22.6%, Becton Dickinson at 20.4%, Stryker at 20.3%, Cytyc at 20.1% and Ventana at 18.7%. Further back is Boston Scientific at a negative (36.2)%.
Finishing up with Yahoo, there are 37.03 million shares outstanding with 32.55 million that float. Of these shares 2.69 million are out short representing 8.3% of the float or 5.9 trading days of volume (the short ratio). Using my 3 day rule of short interest, this appears significant and in light of recent good news (being included in a S&P index) we may well be observing a bit of a squeeze on the shorts.
No dividends are paid and the last stock split, as I have noted above, was a 2:1 split March 15, 2005.
What about a chart?
Looking at the "Point & Figure" chart on Ventana from StockCharts.com, we can see a very steady increase from late 2004 until August, 2006, with the stock rising from $16.50 to $48. The stock chart, however, broke down in September, 2006, dropping to a low of $37. However, the stock price is recovering and if it can get through the $46 level, should once again be above resistance. But the chart certainly gives one a lot of pause. I suppose that may be contributing to the short interest as well.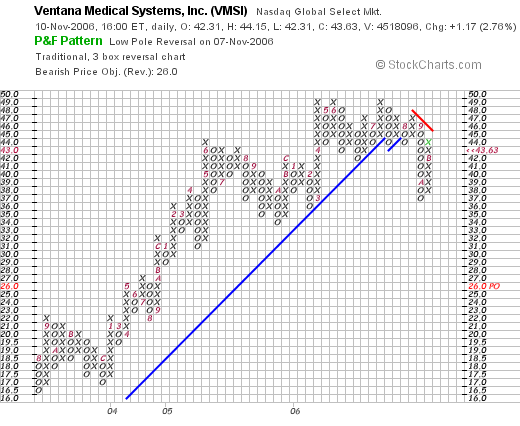 So what do I think about this stock?
Well certainly, the stock has been kind to me and until recently has shown rather incredible stock price strength. Most recently, the stock price has been benefiting from its recent addition to the Standard & Poors MidCap 400, replacing Texas Regional Bancshares which is being acquired. More recently, the stock price was under pressure after Ventana became involved in an acquisition contest for Australian Vision Systems company. Danaher eventually became the successful acquirer squeezing out another favorite of mine, Cytyc (CYTC). With this acquisition out of the way, the stock has recovered and has been appreciating in price recently.
Overall, I like this company and have done well owning shares. However, the Price/Sales, the Price/Earnings, and the PEG are all rather rich in price. This is certainly no screaming bargain. However, the consistency of earnings and revenue growth is impressive, and unless the stock price declines hitting a sale point, I shall be sitting tight.
Thanks again for visiting! If you have any comments or questions, please feel free to email me at bobsadviceforstocks@lycos.com. Also, please be sure to stop by and visit my. Have a great week trading!
Bob