Dress Barn (DBRN)
CLICK HERE FOR MY PODCAST ON THIS ENTRY!
Hello Friends! Thanks so much for stopping by and visiting my blog, Stock Picks Bob's Advice! As always, please remember that I am an amateur investor, so please remember to consult with your professional investment advisors prior to making any investment decisions based on information on this website.

O.K., I was going to call it a night and get some sleep but there was something that I had been intending to get around to all afternoon and just hadn't. And that was writing a bit about Dress Barn (DBRN), a stock that I don't own any shares or options in, but a stock which made a great move today in a great trading environment.
According to the Yahoo "Profile" on DBRN, the company "...and its subsidiaries operate a chain of women's apparel specialty stores in the United States. It offers casual fashion apparel and sportswear, dresses, suits, special occasion clothing, jewelry, hosiery, handbags, and shoes. The company sells its products under the brands 'dressbarn' and 'maurices'. As of July 29, 2006, it operated 1,339 stores in 48 states and the District of Columbia, consisting of 575 combo stores, 173 dressbarn stores, 45 dressbarn woman stores, and 546 maurices stores."
It is late, so I don't want to write up a real detailed review, but let me get to the facts and you can do some more research if you like what your read. First of all, I came across DBRN because it hit the list of top % gainers on the NASDAQ, my first place to look for names. DBRN closed at $24.46, up $3.96 or 19.32% on the day.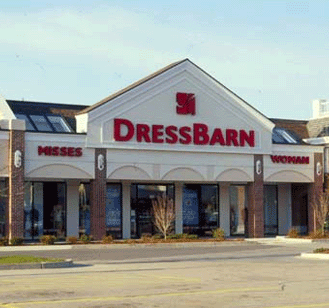 As is frequently the case, what drove the stock higher today was an earnings announcement. In particular, the company, after the close of trading yesterday, announced results for the 1st quarter 2007, ended October 28, 2006. Here's the low-down on the report: net sales increased 12% to $358.4 million compared with last year's $318.9 million. Comparable store sales, the so-called "same-store sales" results showed a solid increase of 7%. Net earnings climbed 35% to $27.4 million or $.40/diluted share, up from $20.4 million or $.32/diluted share in the same period last year.
As part of what I call an outstanding earnings report, the company raised guidance for the full year 2007 to $1.30 to $1.35, from prior company guidance of $1.25 to $1.30. The company also suggested that comparable store sales would show growth at a rate of 4%. Going along with this picture, the company also announced after the close yesterday that the November sales for the company grew 9% overall with comparable sales for the month increasing by 4%.
Another part of a solid earnings report is to consider what the expectations were for earnings and whether a company failed to meet, met, or exceeded those expectations. As would be expected, companies that beat expectations often see a rather strong upward move in their stock prices. In this case, while DBRN reported quarterly earnings of $.40/share, analysts at Thomson First Call were expecting $.37/share. And revenue, which came in at $358.4 milion, exceeded expectations as well of $352 million. So this quarterly report, did what I call a "trifecta-plus", a term which I have been using to describe a report in which the company grows revenue, increases earnings, beats expectations AND raises guidance! There isn't much more a company could do...except maybe raise their dividend or announce a stock buy-back....which would also add excitement to an investment!
Let me also go ahead and share with you some of the facts reported on the Morningstar.com "5-Yr Restated" financials on Dress Barn. Revenue, which did drop from $717 million in 2002 to $707 million in 2003, has since been increasing steadily to $1,000 million in 2005 and $1,300 million in 2006. Earnings, which also dropped from $.49/share in 2002 to $.11/share in 2003, turned back around and increased to $.51/share in 2004, and up to $1.15/share in 2006. The company does not pay a dividend. But an interesting point on the Morningstar.com page, is that the number of shares has been decreasing from 72 million in 2002 to 62 million in the trailing twelve months (TTM).
Free cash flow has been positive and increasing the past few years with $58 million in 2004, $106 million in 2005, and $164 million in 2006.
The balance sheet looks solid on Morningstar with $152.9 million in cash and $196.5 million in other current assets reported. This total of $349.4 million in current assets, easily covers the $227.5 million in current liabilities. When calculated, the current ratio works out to a healthy 1.54. The company has an additional $210.2 million in long-term liabilities, which, with the growing free cash flow, does not appear to be a significant burden.
Taking a look at Yahoo "Key Statistics" on DBRN, we find that this is a mid-cap stock with a market capitalization of $1.51 billion. The trailing p/e is a reasonable 21.29 (imho), with a forward (fye 29-Jul-08) p/e of 16.53. The PEG (5 yr expected) comes in at a very nice .98. (Generally PEG ratios between 1.0 and 1.5 are reasonable imho.) I just realized that my Fidelity.com eresearch website has changed its reporting somewhat, so now we can see that the Price/Sales is at 0.92, below the industry average of 1.03. The company has a Return on Equity (ROE) of 21.18%, slightly below the average of 22.87%, but at the 78th percentile for its industry. Thus, valuation is reasonable while profitability is relatively high for its group.
Returning to Yahoo, we find that there are 61.78 million shares outstanding with 45.76 million that float. Of these, there were 4.16 million shares out short as of 11/10/06, giving the company a "short ratio" of 5.7 days. This is greater than my cut-off of 3 days for significance, and may be fueling the price rise today on the back of positive news.
No dividends are paid, and the company last split with a 2:1 in April of 2006.
Looking at the "Point & Figure" chart on Dress Barn from StockCharts.com, we see what appears to me to be a beautiful graphy, with the company bottoming at $5.00/share in September, 2001, only to start moving higher, to a recent high of $28 in May, 2006. The company pulled back recently to $17 in September, 2006, only to resume its ascent topped off by its strong move higher today to the $24.44 level.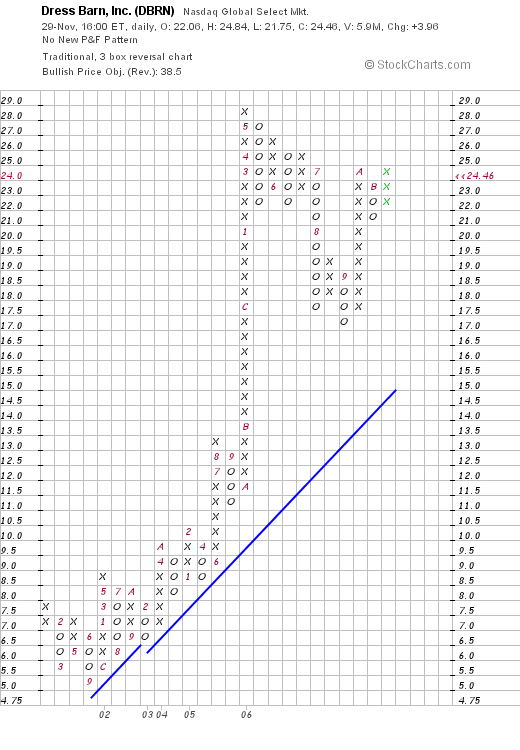 So what do I think of this stock? Well, I like it. In fact, if I were in the market to be buying some shares, I probably wouldn't hesitate to add this one to my portfolio. Let me explain. The company made a nice move higher today, likely with short-sellers scrambline to cover. They did this on the back of a strong earnings report which beat expectations. The company also announced raised guidance for the rest of the year. This is what I like to see in a stock!
The Morningstar.com report is quite impressive with a steady growth in both revenue and earnings the past four years. In addition, the company has even been buying back shares, increasing free cash flow, and sports a solid balance sheet. Valuation appears reasonable with a PEG under 1.0, a Price/Sales relatively low and a ROE relatively high. Finally, the chart shows almost uninterrupted price appreciation since 2001. The company has been a bit volatile recently, but the numbers really look nice on this one.
Anyhow, I guess I can get to sleep now! I just wanted to write this up before I crashed for the night! Thanks so much for stopping by and visiting! If you have any comments or questions, of course please feel free to leave them on the blog or email me at bobsadviceforstocks@lycos.com. Also, be sure and visit my Stock Picks Podcast Site where I talk about lots of the stocks I write about here on the blog.
Bob
Posted by bobsadviceforstocks at 12:11 AM CST |
Post Comment
|
Permalink
Updated: Saturday, 9 December 2006 6:13 PM CST