Medifast (MED)
Hello Friends! Thanks so much for stopping by and visiting my blog, Stock Picks Bob's Advice! As always, please remember that I am an amateur investor, so please remember to consult with your professional investment advisors prior to making any investment decisions based on information on this website.

I was going through the list of top % gainers on the NYSE today and came across a name which I have noticed showing up on this list more than once: Medifast (MED). I do not own any shares nor do I have any options on this stock.
As I write, Medifast is trading at $12.35, up $.74 or 6.37% on the day. Let's take a brief look at this stock and I will share with you my thinking about why it deserves to be on this blog.
According to the Yahoo "Profile" on MED, the company "...through its subsidiaries, engages in the production, distribution, and sale of weight and disease management products, and other consumable health and diet products in the United States. Its products also include meal replacement and sports nutrition products."
Medifast announced 3rd quarter 2006 results on November 14, 2006. For the quarter ended september 30, 2006, they had revenue of $19.6 million, a 79% increase over the $11 million reported in the same quarter the prior year. Net income came in at $1.5 million or $.11/diluted share, vs. $607,000 or $.05/diluted share the prior year. The company announced guidance for full year 2006 at $70-$72 million in revenue and $.38 to $.40/share. This stock has at least one analyst who had forecast $.09/share on $17 million in revenue. The company beat these expectations handily.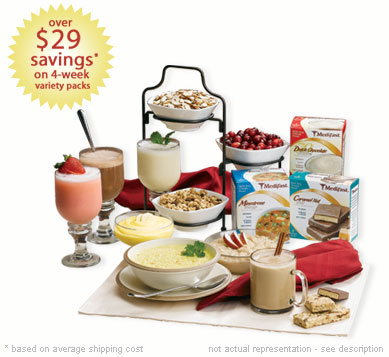 Looking longer-term at the Morningstar.com "5-Yr Restated" financials on MED, we can see the nice picture of steady revenue growth, with $5 million in revenue in 2001, growing to $40 million in 2005 and $60 million in the trailing twelve months (TTM).
Earnings during this period have been a little less consistent with $.07/share in 2001, increasing to $.30/share in 2002, dropping to $.14/share in 2004, and increasing since then to $.19/share in 2005 and $.32/share in the TTM.
The company has been increasing its shares outstanding with 9 million in 2003, increasing to 12 million in 2005 and 14 million in the TTM.
Free cash flow has been small but improving with $(1) million in 2003, $-0- in 2004, $2 million in 2005 and $2 million in the TTM.
The balance sheet, per Morningstar.com, appears solid with $5.3 million in cash and $11.4 million in other current assets. This total of $16.7 million, when compared to a $4.6 million in current liabilities, yields a current ratio of over 3.0. The company has enough current assets to pay off their current liabilities of $4.6 milllion AND their long-term liabilities of $3.7 million combined.
Looking at Yahoo "Key Statistics" for some valuation numbers on Medifast, we can see that this is a small cap stock with a market capitalization of only $167.82 million. The trailing p/e is a tad rich at 30.67, with a forward p/e estimated (fye 31-Dec-07) at 22.53. Thus, with the rapid growth in earnings expected, the 5 yr expected PEG works out to a reasonable 1.49.
According to the Fidelity.com eresearch website, MED has a Price/Sales (TTM) of 2.48, compared to an industry average of 1.94, putting it at the 78th percentile in its industrial group.
Their Return on Equity (ROE) (ttm), is at 19.92% which is below the industry average of 31.24%, but still puts it near the top of its group at the 74th percentile.
Returning to Yahoo, we find that there are only 13.55 million shares outstanding and 11.17 million that float. As of 11/10/06, there were 1.06 million shares out short, representing 9.9% of the float or 4.1 trading days of volume. This short interest was down from the prior month, but with the strong earnings report out this month, the appreciation in the stock price might be contributed to by the covering of the short positions of the short-sellers.
No dividend is paid, and no stock split was reported on Yahoo.
Reviewing a "Point & Figure" chart on Medifast from StockCharts.com, we can see that this is a very volatile stock which reached a high of $18 in November, 2003, only to fall back to $2.75/share in February, 2005. The stock rebounded to a new high of $21 in June, 2006, and then recently pulled way back to the $8.50 level which it bounced off of twice in September and November, 2006. The stock is once again moving higher, but if we are to use the "resistance" lines on the chart, I would like to see the stock trading above $15 to feel comfortable that it is once again technically looking good.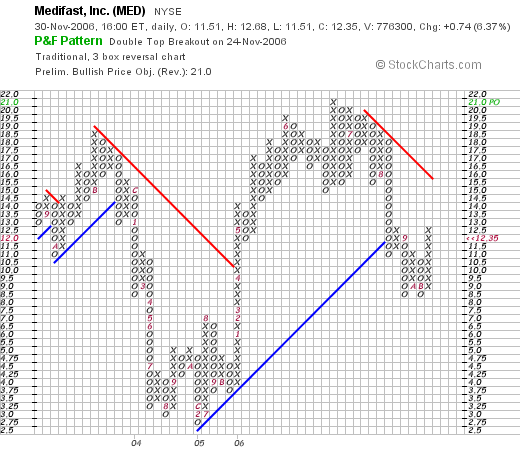 This is a very small company which is trading in a very volatile fashion. The latest quarterly report was quite strong and actually the company has been growing nicely the past several years. Valuation appears fairly reasonable for the fast growth that this company has been reporting. And technically, the chart looks volatile but not over-extended. A little small and a little speculative, but then again, that adds a little interest to this blog and it might fill a spot in somebody's portfolio. I just am not in a position to be adding any stocks to my own holdings!
Thanks so much for stopping by and visiting. Please feel free to drop me a line at bobsadviceforstocks@lycos.com if you have any comments or questions or just leave them right on the blog. Also, if you get a chance, be sure and visit my Stock Picks Podcast Site, where I also talk about some of the stocks I write up.
Bob