Greif (GEF) "Revisiting a Stock Pick"
Hello Friends! Thanks so much for stopping by and visiting my blog, Stock Picks Bob's Advice! As always, please remember that I am an amateur investor, so please remember to consult with your professional investment advisors prior to making any investment decisions based on information on this website.

I was looking through the list of top % gainers on the NYSE and saw an "old favorite" of mine Greif (GEF) on the list. GEF closed at $115.75, up $6.01 or 5.48% on the day. I do not currently own any shares or options on this stock. I did own some shares for a few months, took my (8)% loss or so, and sold my shares. That is another story!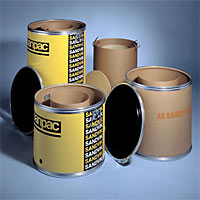 I first wrote up Greif on April 5, 2005, on Stock Picks Bob's Advice when the stock was trading at $74.06. With today's close at $115.75, this represents a gain of $41.69 or 56.3% since posting about a year-and-a-half ago! Usually I bemoan the fact that 'only if I had purchased some shares...etc.'. In this particular case, I did purchase some shares.
In fact I did purchase 120 shares for my trading account on April 4, 2005, at a cost basis of $72.34. Unfortunately, this was a case of very bad timing, as the stock declined rather steadily to $65.42 where I sold my shares on June 3, 2005. I had taken a loss of $(6.92)/share or (9.2)%, and using my (8)% loss limit, out the shares went. Most of the time, these sales have worked well for me. But in this case, my stock picked rebounded and moved sharply higher without me :(. This only shows the limitations of any trading strategy. Overall, I am quite content with my disciplined approach, but there are times like this that I look back....well you know the feeling!
Anyhow, let me show you why I think that Greif still deserves a spot on the blog!
First of all, what does the company do?
According to the Yahoo "Profile" on Greif (GEF), the company

"...and its subsidiaries engage in the manufacture and sale of industrial packaging products, and containerboard and corrugated products worldwide. The company operates in three segments: Industrial Packaging and Services; Paper, Packaging, and Services; and Timber."
Was there any news to explain today's price jump?
Greif (GEF) is still apparently moving higher from the effect of last week's earnings report.
What was the latest earnings report?
On December 6, 2006, Greif reported 4th quarter 2006 results. For the quarter ended October 31, 2006, net sales climbed 195 to $735.6 million from $619.7 million in the fourth quarter of 2005. For the quarter, GEF reported GAAP net income of $41.7 million or $1.41 per diluted Class A share, vs. $22.0 million or $.75/diluted class A share in the same quarter in 2005.
How about longer-term?
Reviewing the Morningstar.com "5-yr Restated" financials on Greif, we can see the steady increase in revenue from $1.5 billion in 2001 to $2.4 billion in 2005 and $2.5 billion in the trailing twelve months.

Earnings, however, do not show the same steady rise. In fact, earnings dropped from $3.14/share in 2001 to a low of $.34/share in 2003 before turning sharply around to $1.66/share in 2004, $3.56/share in 2005 and $4.17/share in the TTM.

The company does pay a dividend and has been increasing it, with $.54/share paid in 2001, increasing to $.56/share in 2002, $.60/share in 2004, $.80/share in 2005 and $1.08/share in the TTM.

Nicely, the company shows 28 million shares outstanding in 2001, and has decreased this to 23 million in the TTM.

Free cash flow has been strongly positive with $34 million in 2003, increasing to $103 million in 2005 and $128 million in the TTM.

The balance sheet, as reported by Morningstar, looks adequate with $167.7 million in cash and $577.5 million in other current assets. This combined $745.2 million in current assets, when compared against the $447.6 million in current liabilities yields a strong current ratio of 1.66. The company does have an additional $786.6 million in long-term debt, but with the solid free cash flow, this doesn't appear to be much of a problem.
What about some valuation numbers?
Reviewing Yahoo "Key Statistics" on GEF, we can see that this company is a mid cap stock with a market capitalization of $2.68 billion. The trailing p/e is a moderate 27.91, but the forward p/e (fye 31-Oct-07) is estimated at a much more reasonable 17.46. With the rapid growth in earnings anticipated, the '5 yr expected' PEG is reported at a very nice 1.13.

The Fidelity.com eresearch website suggests that valuation is also reasonable with a Price/Sales (TTM) ratio of .96, with an industry average of .95, the company is sitting at the 69th percentile of its industrial group.

Besides being a 'good value' by the above measure, Fidelity also suggests it is one of the more profitable firms in its industrial group with a Return on Equity (ROE) (TTM) of 17.95%, compared to an industry average of 10.27%. This puts GEF at the 70th percentile of its group.

Returning to Yahoo, we find that there are only 23.11 million shares outstanding with 14.02 million that float. Pertinently, as of 11/10/06, there were 720,030 shares out short, which with an average trading volume of only 97,229 shares, works out to a 'short ratio' of 8 trading days. With my own peculiar 3 day rule for significance, we may well be witnessing some pressure on the short-sellers who may be feeling a bit of a squeeze as they scramble to buy shares to cover their previously sold shares in light of the sharp rise of the stock price on good news. That is just a hunch, but it probably has a bullish effect on the stock price currently.

As I noted above, the company is paying a dividend with the forward dividend rate being $1.44/share with a yield of 1.30%. No stock splits are reported on Yahoo.
What does the chart look like?
Simply Gorgeous! Take a look at the "point and figure" chart on Greif (GEF) from StockCharts.com. The weekly chart shows the stock trading as low as $18.50 in May, 2003, only to climb quickly to $74 in April, 2005, (unfortunately exactly where I entered the stock). The stock had a small "shake-out" of investors (including me!) to a level of $54 in August, 2005. The stock has been steadily increasing since to its current level of about $118.

Summary: What do I think?
Certainly, the company made a nice move the last few days. The earnings report appears solid. The Morningstar.com report also looks nice with steady revenue growth, and after turning-around the earnings results, steady earnings growth the past few years as well. The company even pays a nice dividend and has been growing that as well. In fact, the company has been buying back shares and has fewer shares than a few years ago!

Valuation-wise, the stock price, although much higher than six months ago, still appears reasonably valued, with an average Price/Sales, a high Return on Equity, a PEG just over 1.1, and a forward p/e in the teens. There are even a lot of short-sellers, who likely feel the current rise is unsustainable. But until the eventual pull-back, they are feeling the heat and likely adding to the upward price pressure.

Only if I also hadn't been shaken out :(. Anyhow, it still is an interesting stock and deserves your awareness even if it doesn't have my own ownership!
Thanks again for stopping by! If you have any comments or questions, please feel free to leave them on the blog or email me at bobsadviceforstocks@lycos.com. If you get a chance, drop by and visit my Stock Picks Podcast Website where I discuss many of the same stocks and issues that I cover here on the blog. Have a great week investing!
Bob