InfraSource Services Inc (IFS)
Hello Friends! Thanks so much for stopping by and visiting my blog, Stock Picks Bob's Advice! As always please remember that I am an amateur investor, so please remember to consult with your professional investment advisors prior to making any investment decision based on information on this website.
It is getting rather late and I intend to be up early walking, so let me try, if I can, be as brief as possible about this stock. I was looking through the top % gainers list this afternoon, looking to see if I could come up with a new name. I have been revisiting lots of my past picks and I wanted to try to find some name I hadn't looked at previously, yet a stock that met the criteria that I set up for my blog. I believe I found one with Infrasourc (IFS). Let's briefly look at this stock and I will try to tell you why!

First of all, Infrasource (IFS) closed at $22.64, up $1.14 or 5.30% on the day. That was enough, even in today's strong market, to make the top % gainers list on the NYSE. I do not own any shares of IFS nor do I have any options.
According to the Yahoo "Profile" on the stock, the company "...operates as a specialty contractor in the United States. It operates in two segments, Infrastructure Construction Services and Telecommunication Services. The Infrastructure Construction Services segment provides design, engineering, procurement, construction, testing, and maintenance services for utility infrastructure. The company offers its services to electric power utilities, natural gas utilities, telecommunication customers, and government entities, as well as heavy industrial companies, such as petrochemical, processing, and refining businesses."
I couldn't find any particular news to explain today's move.
On November 1, 2006, IFS reported their 3rd quarter 2006 results. Revenue for the quarter ended September 30, 2006, came in at $275.9 million, up 22% from the $226.6 million reported in the same period last year. Net income was $10.8 million or $.27/diluted share, up sharply from the $6.6 million or $.16/diluted share reported in the same quarter in 2005. They beat expectations as analysts had expected a profit of $.23/share on revenue of $270 million, 'according to a poll by Thomson Financial.'
For a longer-term view, we can review the Morningstar.com "5-Yr Restated" financials for IFS, which shows that from 2001 to 2003, revenue actually declined sharply from $609 million to $135 million, however, this turned around in 2004 and by 2005, revenue came in at $866 million with $977 million reported in the trailing twelve months (TTM).
Earnings were $.34/share in 2005 and $.60/share in the TTM.
Morningstar shows 39 million shares in 2005 and 40 million in the TTM.
Free cash flow which was $(3) million in 2004, $(11) million in 2005, turned positive at $61 million in the TTM.
The balance sheet appears solid with $15.8 million in cash and $275.3 million in other current assets, which easily covers both the $165.1 million in current liabilities and the $95.9 million in long-term liabilities combined. The 'current ratio' works out to be just under 2.
Checking Yahoo "Key Statistics" on IFS, we can see that this is a mid-cap stock with a market capitalization of $906.69 million. The trailing p/e is a bit rich at 37.18 and the forward p/e (fye 31-Dec-07) is estimated at 25.44. However, the '5 yr expected' PEG also is a bit rich at 2.41.
Yahoo reports 40.05 million shares outstanding with 25.57 million that float. As of 11/10/06, there were 1.15 million shares out short, working out to 3% of the float or 4.4 trading days of volume. No dividend is paid and no stock splits are reported.
Looking at the "point and figure" chart on InfraSource from StockCharts.com, we can see a very nice graph going back to May, 2004, when the stock bottomed at $8.00. Since then, the stock has moved steadily higher and is currently pushing into new highs in the $22 range. At least for the last two or so years, the chart looks strong.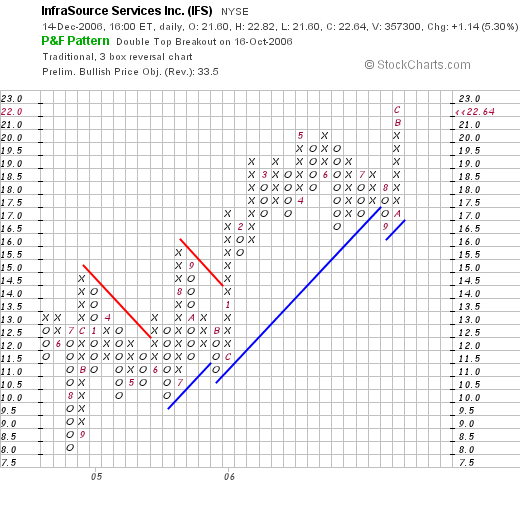 To summarize, this is a mid-cap stock that moved higher today. They had a great recent quarter and the company has been growing strongly the past few years turning itself around from a poor financial performance to strong results. Earnings have been growing nicely, the company beat expectations on its latest quarterly report, they have turned from negative cash flow to strongly positive free cash flow and the balance sheet looks nice.
This is an interesting company to consider. If I were in the market to be buying stocks today, this is the kind of stock I would be buying. Of course, I am waiting for my own "buy signal" that would be generated by a partial sale of one of my existing holdings at a targeted gain....and I don't have that yet. Meanwhile, I shall be adding this to my "vocabulary" and shall be ready to pick it up should it be on the top % gainers list again and I have 'permission' to buy!
Thanks again for stopping by. This was a bit abbreviated, but I wanted to get it recorded as I think it deserves attention. Have a great weekend!
Bob
Posted by bobsadviceforstocks at 11:42 PM CST |
Post Comment
|
Permalink
Updated: Thursday, 14 December 2006 11:43 PM CST