Buckle (BKE) "Revisiting a Stock Pick"
Hello Friends! Thanks so much for stopping by and visiting my blog, Stock Picks Bob's Advice! As always, please remember that I am an amateur investor, so please remember to consult with your professional investment advisors prior to making any investment decisions based on information on this website.

Stocks sold off yesterday. Profit-taking, I guess, before the Christmas Holiday. But that didn't stop me from looking around the list of top % gainers on the NYSE where I found an old favorite of mine, Buckle (BKE), which closed at $50.90, up $1.20 or 2.41% on the day.
One of my practices here on the blog, is to avoid repeating too many stock picks without waiting a reasonable time. For me, I try to wait about a year before reposting a stock that makes the top % list of gainers again. I first posted Buckle on Stock Picks Bob's Advice on April 8, 2005, a little more than a year and a half ago when the stock was trading at $35.60. With Friday's close at $50.90, this represents an appreciation of $15.30 or 43.0% since posting.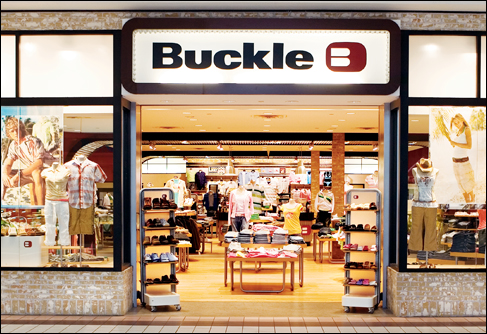 Let's take another look at this stock and I will show you why I believe it still deserves a spot on this blog!
What exactly does this company do?
According to the Yahoo "Profile" on Buckle, the company

"...operates as a retailer of casual apparel, footwear, and accessories for young men and women in the United States. It offers a selection of casual apparel, including denims, other casual bottoms, tops, sportswear, outerwear, accessories, and footwear. As of April 11, 2006, the company operated 341 stores at 4 downtown locations, 11 strip centers, 16 lifestyle centers, and 310 shopping malls in 38 states."
Is there any recent news to help explain the latest move higher?
As reported, the company recently announced a special $3 dividend to shareholders and a 3:2 stock split. Both of these are certainly bullish for the stock. Also, on November 30, 2006, the company announced sames-store sales growth of 4.2% for November. This was a reasonable figure for a retail firm, but more significantly, an improvement from the same-store sales decline of (1.5)% for the year to date.

How did the company do in the latest quarter?
On November 16, 2006, Buckle reported 3rd quarter 2006 results. As reported revenue rose 4% to $143.1 million from $138.1 million last year. Net income came in at $17.7 million or $.89/share, up from $16.6 million or $.82/share last year. Analysts had forecast $.76/share per Thomson Financial, thus the company beat expectations. While this same store sales report is of GREAT concern to me (!), the news that November sales were up 4.2% as I noted above, hopefully suggests that the company is turning around its fortunes!
How about longer-term results?
Reviewing the Morningstar.com '5-Yr Restated" financials, we can see that revenue has been steadily increasing from $387.6 million in 2002 to $501 million in 2006 and $508 million in the trailing twelve months (TTM).

Earnings, except for a dip between 2002 and 2003 when earnings dropped from $1.51/share to $1.47, have been increasing steadily to $2.54/share in 2006 and $2.64 in the TTM.

The company apparently initiated dividends in 2004 at $.20/share, and has increased that dividend steadily to $.61/share in 2006 and $.71/share in the TTM. And this does not count the one-time cash dividend recently announced.

The number of shares outstanding has been very stable with 21 million shares in 2002, dropping to 20 million in 2006 and 19 million in the TTM. The ability of a company to lower the number of shares through presumed share buybacks is a good indicator of its financial health. This can be contrasted by a company that is frequently issuing shares to maintain enough cash to continue operations.

Free cash flow has been positive and growing with $38 million in 2004 increasing to $51 million in 2006 and $59 million in the trailing twelve months.

The financial health of BKE also comes through on the balance sheet wherre the company reports $141.4 million in cash, enough to pay off both the $45.8 million of current liabilities and the $32.5 million in long-term liabilities combined almost two times over! (We can now see how the company is able to pay a special cash dividend, although we can debate whether this is indeed the best use of the cash instead of investing in its own operation.)

Calculating the current ratio, we combine the cash and other current assets, divide by the current liabilities and get a figure of 5.56. Generally, figures over 1.5 suggest reasonable financial health. This is a company that is rich in current assets.
What about some valuation numbers?
Reviewing the Yahoo "Key Statistics" on BKE, we find that this is a mid cap stock with a market capitalization of $980.94 million. The trailing p/e is a reasonable 19.25, with a forward p/e estimated (fye 28-Jan-08) at 17.20. There isn't a PEG listed on the Yahoo or the Fidelity website.

Looking at the Fidelity.com eresearch website for the Price/Sales (TTM) numbers, we can see that Buckle is a bit rich with a Price/Sales ratio of 1.90, compared with an industry average of 1.06. The company is also a little less than average on Return on Equity (ROE) with Fidelity reporting aq figure of 17.18% for the TTM, slightly below the industry average of 22.25%.

Yahoo reports Buckle with 19.27 million shares outstanding with 8.58 million that float. Of these, as of 11/10/06, there were 461,630 shares out short or 5.10% of the float. This represented 11.4 trading days of volume as of 11/10/06. With the announcement of a 3:2 stock split, and a special cash dividend, these developments could well have squeezed the shorts who may have been scrambling to buy back shares to cover their ill-conceived short-positions (?). As noted above, the company pays a 'forward' dividend of $.80/share yielding 1.6%. The last stock split was a 3:2 split in June, 1998. The upcoming split will be the first in eight years.
What does the chart look like?
If we review the "Point & Figure" chart on Buckle from StockCharts.com, we can see that the company was trading sideways through much of 2001 through 2003 in a range between $13.50 and $23. In June, 2003, the stock broke through resistance at around $17, and has been moving higher since. Recently, the stock broke out of the $42 range to higher levels. The stock does look a bit over-extended short-term, and may well correct short-term back to the $45 level.
Summary: What do I think about this stock?
Let's review some of the information I posted above. First of all, the company just announced a special cash dividend and a 3:2 stock split, both bullish for the price. Their latest quarterly report was good with growth exceeding expectations for earnings. Same-store sales have been anemic with a small negative figure that turned around for November. I would really like to see the company post strong figures for December as well. They are flush with cash and operating in a fashion generating additional positive cash flow. Nicely, they have been buying back shares, increasing shareholder equity. The significant short-interest is also bullish for share price.
Thanks so much for stopping by and visiting! If you have any comments or questions, please feel free to leave them on the blog or email me at bobsadviceforstocks@lycos.com. Also, if you get a chance, please feel free to visit my Stock Picks Bob's Advice Podcast Site. Have a happy holiday season, and be sure to be safe this week wherever you are traveling!
Wishing all of my friends a healthy and prosperous 2007!
Bob