Stantec (SXC)
Hello Friends! Thanks so much for stopping by and visiting my blog, Stock Picks Bob's Advice! As always, please remember that I am an amateur investor, so please remember to consult with your professional investment advisors prior to making any investment decision based on information on this website.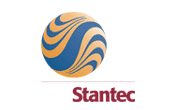 This afternoon, I was looking through the list of top % gainers on the NYSE and came across a name that I had noticed once before on the list a week or two back, Stantec (SXC) which, as I write, is trading at $23.29, up $1.65 or 7.62% on the day. I do not own any shares or options on this company. Let me try to review a few of the things that led me to pick this stock this afternoon for this review.
What does this company do?
According to the Yahoo "Profile" on Stantec, this Edmonton, Alberta-based company

"...provides consulting planning, engineering, architecture, interior design, landscape architecture, surveying and geomatics, environmental sciences, project management, and project economics services for infrastructure and facilities projects in North America."
How did it do in the latest quarter?
On November 2, 2006, Stantec reported 3rd quarter 2006 results. Gross revenue for the quarter ended September 30, 2006, increased 43.9% to C$210.2 million from C$146.1 million in the same period in 2005. Diluted earnings increased 12.5% to C$.36 vs $.32 in the same 2005 quarter. Apparently the company has issued some additional shares causing some dilution of earnings. As the report relates, "Earnings per share reflect an additional 5.9 million average number of shares outstanding compared to the third quarter of 2005."
What about longer-term results?
Checking the Morningstar.com "5-Yr Restated" financials on Stantec, we find that revenue, which was $276 million in 2003, increased to $345.9 million in 2004 and $433.5 million in 2005. Earnings per share during this period have increased from $.46/share in 2003 to $.82/share in 2005. Shares outstanding have also increased from 37 million in 2003 to 40 million in 2005 and 45 million in the trailing twelve months (TTM).

Free cash flow, which was a negative $(8) million in 2003 turned positive at $46 million in 2004 and was $33 million in 2005.

The balance sheet on Morningstar.com appears adequate with $24.1 million in cash and $215.6 milllion in other current assets. This is enough to cover both the $134.9 million in current assets in addition to the $105.1 million in long-term debt combined. Calculating the current ratio, we get a figure of 1.78, suggesting adequate current assets to cover current liabilities with assets to spare.
What about some 'valuation' numbers?
Looking at Yahoo "Key Statistics" on SXC, we find that this is a mid cap stock with a market capitalization of $1.04 billion. The trailing p/e is a moderate 23.39, no forward p/e and no PEG is reported.

Yahoo reports the company with a Price/Sales ratio of 1.66.

There are 45.08 million shares outstanding with 42.97 million that float. As of 12/12/06, there were 14,390 shares out short representing 1 day of trading of average volume (the short ratio). No dividend is paid and the stock split 2:1 as recently as May 31, 2006.
What does the chart look like?
Looking at a "Point & Figure" chart on Stantec, we can see a fairly short period of trading but the chart looks adequately strong considering the duration.
Summary: What do I think?
This is an interesting Canadian company in the consulting business with nice numbers being reported. They had a great quarter and the Morningstar.com site shows the fairly steady revenue and earnings growth, the positive free cash flow, and the reasonable balance sheet. Valuation analysis is limited, as I don't have a PEG on the stock nor a forward p/e. Fidelity.com doesn't help me with any ROE or Price/Sales comparison. But the chart is good.

I probably wouldn't be personally jumping in on this stock if I did have the "permission" to add a new position only because of the difficulty getting all of the data I like to have to evaluate a stock. But so many of the other numbers and information is encouraging, that I believe this stock should be in the "vocabulary" of this blog. Perhaps to be acquired at a future date!
Thanks again for stopping by and visitiing! If you have any comments or questions, please feel free to leave them on the blog or email me at bobsadviceforstocks@lycos.com. Also, be sure and visit my Stock Picks Podcast Site.
Bob