Varian Semiconductor Equipment (VSEA)
Hello Friends! Thanks so much for stopping by and visiting my blog, Stock Picks Bob's Advice! As always, please remember that I am an amateur investor, so please remember to consult with your professional investment advisors prior to making any investment decisions based on information on this website.
First of all I would like to apologize for not doing my weekend reviews this past weekend. Things were pretty hectic around my house--I am sure you know how that can be--and one thing led to another....well no excuses, but I didn't get to it! So I shall have to work double-time to get it posted this coming weekend. In fact, today is pretty rushed as well, so let me try, I know how hard it is for me to do this, but try to be brief and get a stock posted.

I was looking through the list of top % gainers on the NASDAQ today and came across Varian Semiconductor (VSEA). I do not own any shares of VSEA nor do I own any options. But it is an interesting stock and deserves a place on the blog. As I write, VSEA is trading at $43.16, up $2.04 or 4.98% on the day.
According to the Yahoo "Profile" on VSEA, the company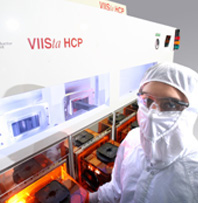 "...engages in the design, manufacture, marketing, and servicing of semiconductor processing equipment used in the fabrication of integrated circuits. It primarily offers ion implantation systems required to build the transistors that are the basis of integrated circuits."
Insofar as the latest quarter is concerned, Varian reported 1st quarter 2007 results on January 25, 2007. The company came in with a very strong quarter with total revenue of $225.6 million, up from $160.9 million last year. Earnings were $37 million or $.66/share, up from $22.3 million or $.39/share last year. The company very importantly imho, beat expectations on both revenue and earnings and then went ahead and raised guidance for the upcoming quarter.
Looking at the Morningstar.com "5-Yr Restated" on Varian, we can see that revenue has improved steadily from $335 million in 2002 to $731 million in 2006. Earnings have increased steadily from $.17/share in 2002 to $1.66/share in 2006. This almost ten-fold increase in earnings accompanied by a more than doubling of the revenue was associated with only a mild increase in shares, about 10% from 50 million in 2002 to 55 million in the trailing twelve months (TTM).
Free cash flow has grown as well from $19 million in 2004 to $129 million in 2006! The balance sheet is equally strong with $413.7 million in cash which by itself is able to easily cover both the $159.2 million in current liabilities and the $24.3 million in long-term liabilities combined. In addition, the company has $309.6 million in other current assets on their balance sheet. This combined $723.3 million, when compared to the $159.2 million in current liabities yields an extremely strong current ratio of over 4!
Looking at a few of the Key Statistics on VSEA from Yahoo, we find that this is a mid-cap stock with a market capitalization of $2.34 billion. The trailing p/e is a reasonable (imho) 22.27, with a forward p/e of 16.37. The PEG (5 yr expected) is a dirt-cheap 0.95. (Generally I find PEG's between 1.0 and 1.5 to be reasonable).
According to the Fidelity.com eresearch website, the company has a reasonable Price/Sales ratio (TTM) of 2.90, compared to an industry average of 3.92. Also from Fidelity, we find that their Return on Equity (TTM) is close to the industry average of 14.78%, with a number of 14.52% for Varian Semiconductor.
Returning to Yahoo, we can see that there are 54.86 million shares outstanding with 54.58 million that float. Of these, 3.84 were out short as of 1/9/07, with a short ratio of 3.6 days. This is a bit over my arbitrary 3 day rule but not by much. No dividends are paid and the last stock split was a 3:2 split on March 1, 2006.
If we examine the VSEA "Point & Figure" chart from StockCharts.com, we can see that the stock has fairly steadily been appreciating in price, except for a bit of a correction in 2004. The stock appears to be behaving strongly without being overextended from its 'base'. Again, I am not a technician, but I believe that the chart simply looks nice :).

In conclusion, I am always a bit concerned about buying into semiconductor-related companies as their business appears to be very cyclical with boom and bust cycles. However, that being said, this particular company has a gorgeous report. Their last quarter did everything right with increasing revenue and earnings, beating expectations, and raising guidance. Furthermore, they have been reporting strong numbers for at least the past five years. Their chart looks great. Valuation is excellent. Free cash flow is spectacular. Their balance sheet is phenomenal. I think I am in love. (Maybe it is just because it is Valentine's Day tomorrow?).
If I were buying stock today, this is the kind of stock I like to find :).
Thanks again for stopping by! If you have any comments or questions, please feel free to leave them on the blog or email me at bobsadviceforstocks@lycos.com. Also, be sure and visit my Stock Picks Podcast Website. If you aren't tired of reading what I write, you can listen to me!
Bob