Arrhythmia Research Technology (HRT) "Revisiting a Stock Pick"
Hello Friends! Thanks so much for stopping by and visiting my blog, Stock Picks Bob's Advice! As always, please remember that I am an amateur investor, so please remember to consult with your professional investment advisors prior top making any investment decisions based on information on this website.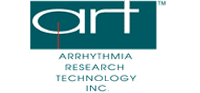 It was a great day in the market with the indices closing at 12,741.86, up 87.01 and the NASDAQ closing at 2,488.38, up 28.50.
Checking the list of top % gainers on the AMEX today, I saw Arrhythmia Research, an old favorite of mine, on the list closing at $30.95, up $1.56 or 5.31% on the day. I do not own any shares of HRT nor do I have any options. (Don't you think that HRT is a great stock for Valentine's Day?)
According to the Yahoo "Profile" on Arrhythmia Research, the company
"...engages in the development and licensing of medical software that acquires data and analyzes electrical impulses of the heart to detect and aid in the treatment of potentially lethal arrhythmias."

I first posted Arrhythmia Research Technology on Stock Picks Bob's Advice on July 11, 2005, when the stock was trading at $14.55. With today's close at $30.95, this represents an appreciation of $16.50 or 113.4% since posting this stock about 1 1/2 years ago!
It is getting a bit late so let's take a quick look at some of the current bits of information on this company: as found on the company's website, HRT reported 3rd quarter 2006 results on November 3, 2006. Revenue for the quarter ended September 30, 2006 increased by 32% to $4.4 millioon from $3.3 million last year. Net income came in at $510,000 or $.19/share, up from net income of $263,000 or $.10/share in the prior year.
If we review the Morningstar.com "5-Yr restated" financials on HRT, we can see the increase in revenue from $7.2 million in 2002 to $12.9 million in 2005 and $15.3 million in the trailing twelve months (TTM). Earnings have been increasing, except for a dip between 2004 and 2005 from $.07/share in 2001 to $.59/share in 2005 and $.68/share in the TTM. The company is reported to have started paying dividends of $.05/share in 2003 and has increased it to $.12/share in the TTM. Since 2001, the number of shares outstanding has been stable (and small) at 3 million.
Free cash flow is positive if not growing at $1 million in the TTM (the same as in 2003). The balance sheet looks fine with $2.6 million in cash, enough to pay off the current liabilities of $1.5 million with over a million left over. No long-term liabilities are even reported. In addition, HRT is reported to have an additional $5.2 million in other current assets.
Checking Yahoo "Key Statistics" on HRT, we can see that this stock is really a 'micro-cap stock' with a market capitalization of only $82.57 million. The trailing p/e is a bit rich at 40.78. No PEG is reported (probably no analysts willing to estimate earnings going out five years on such a small company).
Yahoo reports 2.67 million shares outstanding with 2.05 million that float As of 12/12/06, there were only 175,170 shares out short, representing 7.3% of the float or only 1 trading day of volume (the short ratio).
Yahoo reports the company paying a trailing dividend of $.06/share yielding 0.2%. No stock split is reported.
Checking a "Point & Figure" chart on HRT, we can see that the stock, which bottomed at around $9 in January, 2006, did not climb out of its base until August, 2006, when it broke through resistance at $12 and resumed an upward trend. The stock has been trading strongly higher since that time to its current level of $30.95.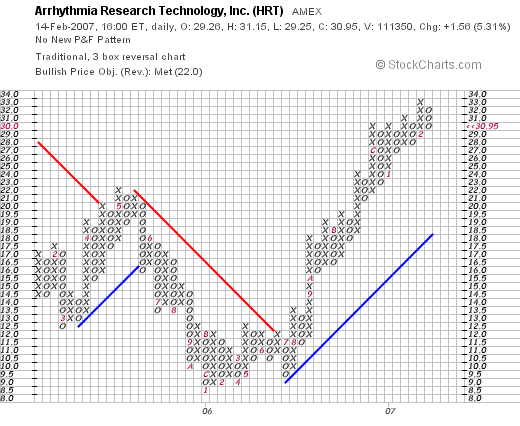 To summarize, Arrhythmia Research Technology (HRT) is a very small company which made a nice move higher today. They have been reporting strong financial results, have a great Morningstar report, have kept their shares outstanding stable, pay an increasing dividend, and have a very solid balance sheet. The company has done well from a 'pick' point of view, and deserves another revisit here on the blog.
Thanks so much for stopping by and visiting! If you have any comments or questions, please feel free to leave them on the blog or email me at bobsadviceforstocks@lycos.com. Also, be sure and visit my Stock Picks Podcast Site where I discuss some of the many stocks I write about here on the website.
Bob
Posted by bobsadviceforstocks at 11:08 PM CST |
Post Comment
|
Permalink
Updated: Wednesday, 14 February 2007 11:16 PM CST