Superior Energy Services (SPN)
Hello Friends! Thanks so much for stopping by and visiting my blog, Stock Picks Bob's Advice! As always, please remember that I am an amateur investor, so please remember to consult with your professional investment advisors prior to making any investment decisions based on information on this website.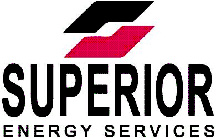 While this bear market correction continues, I still want to use each trading day to identify stocks that are 'high quality' companies which fit into my own trading strategy. While not in the market to be buying anything, and actually close to the sale point on a few stocks on the downside, I plan on continuing to expand my 'vocabulary' of investable companies, so that when the opportunity should arise, I shall be more literate in the investing world and ready to act in a knowledgeable fashion.
Looking through the list of top % gainers on the NYSE this afternoon, I came across Superior Energy Services (SPN), which closed at $32.72, up $1.47 or 4.70% on the day. I do not own any shares nor do I have any options on this company. I do believe that it meets many of the factors I use in selecting stocks and wanted to briefly share it with all of you.
What exactly does this company do?
According to the Yahoo "Profile" on Superior, the company
"...provides oilfield services and equipment focusing on serving the drilling and production-related needs of oil and gas companies primarily in the United States. It operates through five segments: Well Intervention Services, Rental Tools, Marine Services, Other Oilfield Services, and Oil and Gas Operations."
How did they do in the latest quarter?
Just this past Monday, on February 26, 2007, the company reported 4th quarter 2006 results. For the quarter ended December 31, 2006, revenue almost doubled at $319 million compared with $188 million in the same period last year (last year was negatively impacted by Katrina). Net income came in at $62.2 million, up again almost 300% from net income of $16.2 million, or $.76/share up again almost 300% from $.20/diluted share in the same period in 2005.

The company beat expectations, according to Thomson Financial, of earnings of $.71/share on revenue of $298 million.

In addition, the company raised guidance on the upcoming first quarter, announcing an expected increase of 90% from the year ago quarter. With last year's first quarter coming in at $.40/share, this would work out to $.76/share expected. Currently analysts are predicting earnings of $.73/share on revenue of $326.4 million in the first quarter of 2007.
How about longer-term results?
Examining the Morningstar.com "5-Yr Restated" financials on SPN, we can see that while revenue dipped from $449.0 million in 2001 to $443.1 million in 2002, it subsequently steadily increased to $735.3 million in 2005 and $962.7 million in the trailing twelve months (TTM). Earnings also dipped from $.77/share in 2001 to $.30/share in 2002. However, since 2002 earnings have steadily increased to $.85/share in 2005 and $1.75 in the TTM. The company has held its outstanding shares fairly stable, increasing by about 15% from 69 million to 80 million between 2001 and the TTM. In the same period, earnings were up over 100% and revenue also doubled.

Free cash flow has been positive but erratic over the past few years with $50 million in 2003, and $8 million in the TTM.

The balance sheet looks strong with $111.9 million in cash and $344.3 million in other current asssets giving the company a total of $456.2 million in total current assets, which when compared to the $253.8 million in current liabilities yields a current ratio of 1.80.
How about some valuation numbers?
Checking Yahoo "Key Statistics" on Superior Energy Services, we find that this is a mid cap stock with a market capitalization of $2.61 billion. The trailing p/e is a very reasonable 14.13, with a forward p/e (fye 31-Dec-08) estimated at a dirt cheap 8.45. The PEG, (5 yr expected) is estimated at 0.23, which again is a screaming buy, with a reasonable PEG being priced between 1.0 and 1.5 from my experience.

Referring to the Fidelity.com eresearch website, we find that the Price/Sales (TTM) is also reasonable when compared to similar companies coming in at 2.28 when the industry average is higher at 3.05.

In terms of profitability, the Return on Equity (TTM) is nearly at the average with SPN coming in at 29.59%, compared to an industry average essentially the same of 29.99%.

Finishing up with Yahoo, we find that there are 29.83 million shares outstanding with 79.23 million that float. As of 1/9/07, there were 2.37 million shares out short representing 3% of the float or 2.1 trading days of volume. No dividend is paid, and no stock splits are reported on Yahoo.
What does the price chart look like?
Looking at a "Point & Figure" chart on Superior (SPN) from StockCharts.com, we see that this stock has actually very steadily been increasing its share price from a low of $6/share in September, 2002, to a high of $36 in September, 2006. the stock is currently near its high at $32.72.
Summary: What do I think?
Well, I am not a big fan of commodity-driven stocks and this company certainly is subject to the effects of the oil market. However, in light of the fabulous earnings, its recent inclusion in the S&P Midcap 400, the steadiness of its earnings and revenue growth, and the cheapness in terms of p/e, PEG, and even Price/sales, this appears to be a relatively lower risk investment than might be expected. If I were buying a stock, I might well buy shares of this one. Of course, instead of buying anything, I am anxiously awaiting the next drop in the market when I shall probably start to unload shares instead. But that is another discussion entirely!
Thanks so much for stopping by and visiting! If you have any comments or questions, please feel free to leave them right in the blog or email me at bobsadviceforstocks@lycos.com. Also, be sure and visit my Stock Picks Podcast Site where I discuss many of the same stocks I write about on the weblog.
Bob