A Reader Writes "Do you trade stocks according where we are in the current business cycle?"
Hello Friends! Thanks so much for stopping by and visiting my blog, Stock Picks Bob's Advice! As always, please remember that I am an amateur investor, so please remember to consult with your professional investment advisors prior to making any investment decisions based on information on this website.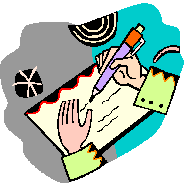 I was delighted to receive an email from Marcus A. L. who had some questions about my investing strategy. Marcus wrote:
"Hello Bob,

I've been reading your extensive web site for over a year now. The 8% rule is wonderful; it take a lot of the emotion out of the trading process. I want to know how do you feel about the trading with business cycle? Do you trade stocks according where we are in the current business cycle? Keep up the great work.

Thanks,

Marcus A L"
First of all Marcus, thanks so much for writing and taking the time to drop me a line. You raise an excellent question about investing, taking into consideration our position in the "business cycle". A lot of thought has gone into this approach. In fact, looking through the internet for an explanation of this, I found this comment from "Tradingonlinemarkets.com":
"As the economy grows and expands the Federal Reserve usually raises interest rates to try to control inflation. When the economy contracts the Federal Reserve will lower interest rates to try to stimulate demand by lowering the costs of borrowing. If you hear that the Federal Open Market Committee (FOMC) has raised or lowered rates, they are actually raising or lowering the federal funds rate for banks. The federal funds rate is the interest rate at which depository institutions lend balances at the Federal Reserve to other depository institutions overnight.

The business cycle has implications for markets and investors. Broadly, a recession often corresponds with a sustained period of weak stock prices, or a bear market. And a healthy, expanding economy that keeps inflation from rising too quickly often corresponds with a bull market, or period of sustained market growth.

Fortunately, there are investment strategies for all parts of the cycle, thanks to the diverse economy we have. Companies that do well when the economy is experiencing good times are called cyclical stocks. Industries that fall under this group include travel and leisure companies, airlines, consumer electronics firms and jewelry makers. Companies that make goods that are necessities, such as food and health care are called non-cyclical stocks. These stocks tend to provide more stability during an economic downturn. During an economic expansion one should invest in cyclical stocks. On the other hand during an economic contraction one should consider investing in non-cyclical stocks."
It is this philosophy that will often drive commentary about different stocks as discussed by analysts on CNBC or elsewhere. They may say we are "late in the cycle" or that "cyclical stocks are best now...." etc. These assessments may well be useful and be profitable advice that should be heeded but that is not how I structure my own activity.
I do not preclude the investment in cyclical stocks. But in practice, I do avoid stocks that I consider tied to commodity prices. Recently I made an exception with Bolt (BTJ) which is clearly moving in tandem with oil prices. Gold stocks will also tend to follow the price of the underlying metal closely.
My approach is to stay with stocks that are generating consistency in their financial results regardless of the point that we may be in the "cycle". However, with my "Zen approach" of allowing stocks that are moving higher to attract my attention, sort of allowing them to come to me rather than me figuring out which stocks to "pick", if those particular stocks are indeed strong relative to the market due to the underlying business cycle, then those stocks may well show up on my blog.
My purchases of stocks are dependent on my own portfolio developing a "signal" to add a new stock by the partial sale of an existing position at an appreciation target--and the simultaneous appearance of an acceptable investment on the top % gainers list. This semi-random selection process will open up new stocks for me to consider.
However, when I do have a "permission slip" to buy a new stock, I always reserve the right to choose which stock to buy when several are eligible. This small "wiggle room" allows me to bias my purchase to stocks I feel may represent the greatest promise by whatever personal prejudice or preference I may hold. I recognize this, and generally bias myself towards names that are already stocks I am familiar with, what I call "part of my vocabulary".
To answer your question, I suppose that if stocks that are doing well are indeed responding to the business cycle, then my system will also pick up those stocks. However, I do not try to anticipate moves in stock groups or sectors; rather, I like to respond to their developing momentum with developing interest on my part.
I hope that answers your question. If you have any other questions or comments, please feel free to leave them on the blog or email me at bobsadviceforstocks@lycos.com. If you get a chance, please feel free to drop by and visit my Stock Picks Podcast Website!
Bob