Cytyc (CYTC) and Angeion (ANGN) "Trading Transparency"
Hello Friends! Thanks so much for stopping by and visiting my blog, Stock Picks Bob's Advice! As always, please remember that I am an amateur investor, so please remember to consult with your professional investment advisers prior to making any investment decisions based on information on this website.
It was another awful day in the market. No two ways about it. The Dow closed down (242.66) to 12,075.96, and the NASDAQ was down (51.72) closing at 2,350.57.
Early on today, in the midst of this eventually dismal trading day, one of my stocks hit a sale point at a gain. Cytyc (CYTC) which closed at $32.60, off $(.08) or (.24)% on the day, actually was up this morning, enough to hit a sale point for me at an appreciation target. I acquired my 225 shares of Cytyc 1/29/04, a bit over 3 years ago, at a cost basis of $14.86. This morning, with Cytyc trading slightly higher, the shares hit a 120% gain for me, and I sold 1/6th of my position, or 37 shares, at $32.73. After it was all done, this represented a gain of $17.87 or 120.3% since purchase.
This sale was my fourth sale of CYTC, having sold 100 shares 3/1/04 at $18.63 (a gain of $3.77 or 25.4%), another 100 shares on 4/2/04 at $22.61 (a gain of $7.75 or 52.3%), and 75 shares on 6/2/04 at $22.79 (a gain of $7.93 or 53.4%). You can see that my disciplined selling at 30, 60, 90, 120% levels was a bit weak. In fact I completely jumped the gun on my third sale which should have been at a 90% appreciation target.
Regardless, with three prior sales I was waiting for a 120% appreciation level, which was indeed reached today, and 1/6th of my remaining position was sold.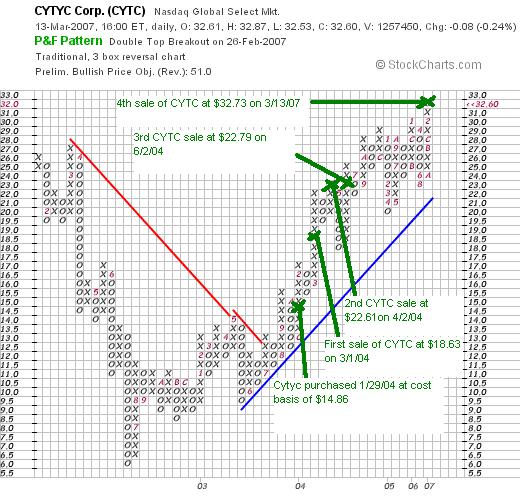 Having 17 positions, which being below my maximum of 25 positions, this sale produced a 'permission slip' to add a new position. I have never been good with a nickel in my pocket and turned to the list of top % gainers where I found Angeion (ANGN) a stock that I have looked at in the past. I went ahead and purchased 300 shares of Angeion (ANGN) at $15.09. ANGN actually sold off a little from there closing at $14.73/share.
Thanks so much for stopping by and visiting! If you have any comments or questions, please feel free to leave them on the blog or email me at bobsadviceforstocks@lycos.com.
Bob