Manitowoc Company (MTW) "Revisiting a Stock Pick"
Hello Friends! Thanks so much for stopping by and visiting my blog, Stock Picks Bob's Advice! As always, please remember that I am an amateur investor, so please remember to consult with your professional investment advisers prior to making any investment decisions based on information on this website.

I was looking through the list of top % gainers on the NYSE today and came across one of my favorite Wisconsin companies, Manitowoc (MTW) which closed at $59.65, up $4.18 or 7.54% on the day. I do not own any shares of Manitowoc, but I have encouraged my Stock Club to buy some shares, and have purchased some shares for my wife's IRA as well as a few shares for a couple of my kids' accounts. I also say 'favorite' because I have blogged about this stock previously. In fact, I first discussed Manitowoc on Stock Picks Bob's Advice on November 22, 2004, when the stock was at $38.29 (actually $19.15 when adjusted for a 2:1 stock split April 11, 2006). I then first "revisited" Manitowoc on Stock Picks on January 11, 2006, when the stock was trading at $58.70 ($29.35 when adjusted for the 2:1 stock split a few months after that post).
Here is the recent "Point and Figure" chart on Manitowoc from StockCharts.com: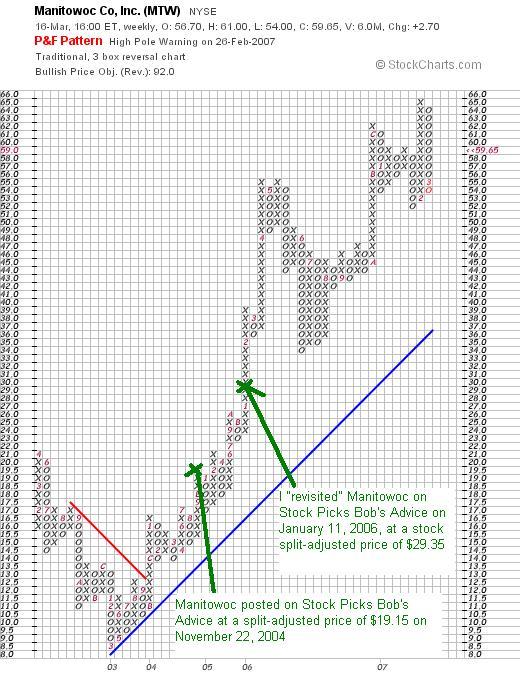 Let's take another look at Manitowoc and I will share with you why I believe it still deserves a place on this blog.
What exactly does this company do?
According to the Yahoo "Profile" on Manitowoc, this company

"...engages in the manufacture and marketing of cranes and related products, foodservice equipment, and marine products in the United States and internationally. It operates through three segments: Cranes and Related Products (Cranes), Foodservice Equipment (Foodservice), and Marine."
How did they do in the latest reported quarter?
On January 30, 2007, Manitowoc (MTW) reported 4th quarter 2006 results. Net sales climbed 32% to $775.2 million from $589.3 million in the 2005 quarter. Net earnings more than doubled to $43.9 million in the 2006 4th quarter compared to $18.2 million in the 4th quarter of 2005. Diluted eps also increased more than 100% to $.69/share, up from $.30/share the prior year. As good as these results were, the stock dropped on an analyst downgrade from Robert Baird. As reported:

"Baird's Robert F. McCarthy cut his rating on the stock to "Neutral" from "Outperform" and price target by $10 to $56, citing a slowing of crane order growth and lower-than-expected food service results in the fourth quarter.

"While cycle-to-cycle financial performance has been impressive and near-term financial prospects appear robust, we believe moderating order growth for the segment that now accounts for 80 percent of operating income makes the stock vulnerable to multiple compression," McCarthy wrote in a note to investors.

Fourth-quarter crane orders were estimated at $705 million, representing a 5 percent increase over the prior year's period, but a 2 percent decrease from the third quarter of 2006, McCarthy said.

Manitowoc officials said the company's foodservice equipment business was hurt by higher commodity costs and weak beverage equipment sales. The unit's operating income slipped to $9.2 million from $10.9 million in the prior-year quarter."

It should be noted that even while the Baird analyst was downgrading the stock, the quarterly report beat expectations of earnings of $.67 (the company came in at $.69/share) on revenue of $761 million (the company came in at $775.2 million).

In fact, business has remained strong for Manitowoc. As reported yesterday after the close of trading, the company raised guidance for fiscal 2007, raising per share guidance from $3.85 to $4.00 to a range of $4.20 to $4.30. Also, the company suggested that reported earnings per share for the first quarter of 2007 will "exceed the average of published Wall Street estimates by approximately 10 percent." This announcement yesterday was the cause of the interest in the stock today even though the rest of the market was selling off!
How about longer-term results?
Reviewing the Morningstar.com "5-Yr Restated" financials, you can see why I like this stock so much and why I believe it has performed so well.

First of all revenue. This has grown steadily from $1.05 billion in 2001 to $2.3 billion in 2005 and $2.7 billion in the trailing twelve months (TTM).

Next earnings. Except for a dip from $.93 in 2001 to a loss of $(.40) in 2002, earnings have steadily grown to $1.07/share in 2005 and $2.25/share in the TTM. The company also pays a dividend which while increased from $.15/share in 2001, to $.32/share in 2002, has been $.14/share from 2003 to the TTM.

During this period, the company has expanded the number of shares from 49 million to 62 million...a slightly greater than 25% increase in shares while revenue climbed over 100% and earnings were also up about 100%. This is an acceptable trade-off imho.

Free cash flow, while dipping from $119 million in 2003, to $14 million in 2004, increased to $52 million in 2005 and $144 million in the trailing twelve months.

The balance sheet appears adequate with $113.5 million in cash and $947.1 million in other current assets giving a total of $1.06 billion in total current assets. When compared to the $835.8 million in current liabilities this yields a satisfactory current ratio of 1.27.
What about some valuation numbers?
Looking at Yahoo "Key Statistics", we find that Manitowoc is a mid cap stock with a market capitalization of $3.71 billion. The company has a nice trailing p/e of 22.53 with a forward p/e (fye 31-Dec-08) of only 12.53. Thus the PEG comes in at a very attractive (to me) 0.90.

According to the Fidelity.com eresearch website, MTW has a Price/Sales ratio of 1.16 compared to an industry average of 1.32. The company, while being cheaper in valuation that the average in its industry is also more profitable, at least as measured by the return on equity (TTM) which comes in at 24.75%, compared to an industry average of 22.82%.

Yahoo reports 62.14 million shares outstanding with 60.05 million that float. There are only 1.21 million shares out short as of 2/12/07, representing 1.4 trading days of volume (less than my 3 day rule for significance in a 'short ratio'), and this represents 2% of the float. The company as noted pays a forward dividend of $.14/share yielding 0.3%. The last stock split, as I noted above, was a 2:1 split last year on April 11, 2006.
What does the chart look like?
If we review the above chart, we can see that since bottoming around $8 in 2003, the stock has literally been on a tear, moving strongly higher. In other words the chart looks great to me.
Summary: What do I think?
This is one great company! And on top of this it is from Wisconsin as well. Boy do I love those Badger-state companies :). Seriously, this is the third time I have written up this stock and it still looks interesting! The latest quarter was strong. The company beat expectations on both earnings and revenue and just yesterday raised guidance for the next quarter and year. The company has been raising its revenue and growing earnings steadily for several years. They even pay a small but steady dividend and the number of shares has grown far slower than the rate of revenue and earnings growth. Free cash flow is positive and growing recently and the balance sheet looks nice.

To top it off, valuation is cheap with a p/e in the low 20's, a forward p/e in the teens, a PEG under 1.0, a Price/Sales lower than average in its group and a ROE higher than average. Finally the chart looks strong! I like this stock a lot and if I were in the market to buy some shares today, this is the kind of stock I would be buying. Meanwhile, it remains in my vocabulary for future consideration as I like to say.
Thanks so much for stopping by and visiting! If you have any comments or questions, please feel free to leave your comments on the blog or email me at bobsadviceforstocks@lycos.com. If you get a chance, you are welcome to drop by my Stock Picks Podcast Site where I from time to time podcast a stock or two that I write up here on the blog!
Bob

Posted by bobsadviceforstocks at 10:19 PM CDT |
Post Comment
|
Permalink
Updated: Friday, 16 March 2007 11:05 PM CDT