Too Much Margin! Rethinking my Portfolio Goal!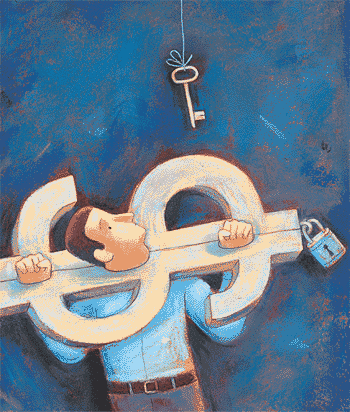 Hello Friends! Thanks so much for stopping by and visiting my blog, Stock Picks Bob's Advice! As always, please remember that I am an amateur investor, so please remember to consult with your professional investment advisers prior to making any investment decisions based on information on this website.
(Illustration from Reader's Digest Canada article on Debt.)
I have written extensively about building portfolios and waiting to develop the cash to add a position. It is time for me to live up to my words.
I am now at 20 positions in my Trading Account. I want to pause to let my cash sales on gains start paying down the margin load rather than adding more margin to the account. Let me explain. Currently my 20 positions have an equity value of $123,214.30. My margin value is a hefty $69,140.72. My net value of my account is at $54,073.58.
There is no doubt in my mind that my strategy overall has thus far been successful. My portfolio is full of unrealized gains. In fact these paper profits total $39,899.05 this morning. Of my 20 positions, only two have unrealized losses: Covance (1.34)%, and Medtox (1.13)%. These are recent purchases. And my net realized gains this year total $3,850.29. I am not hiding losses in my realized trades.
But what I am about is about reducing risk as well as maximizing profit potential. And margin is an anchor around my neck. It provides leverage on the way up as well as magnifying losses in times of correction. My portfolio shall remain at a 25 position goal. But for now, I shall hold at 20 positions and see if my own strategy will gradually pay down my margin.
Wish me luck! I shall report back to you as I make progress (or not) on this. Thanks again for dropping by. If you have any comments or questions, please feel free to leave them on the blog. Or email me at bobsadviceforstocks@lycos.com.
Bob