"Looking Back One Year" A review of stock picks from the week of December 5, 2005

Hello Friends! Thanks so much for stopping by and visiting my blog, Stock Picks Bob's Advice! As always, please remember that I am an amateur investor, so please remember to consult with your professional investment advisers prior to making any investment decisions based on information on this website.
It is another weekend and another opportunity to look back at past stock selections on this blog. As I like to point out on these reviews, my evaluations assume a "buy and hold" strategy on each stock purchase, with equal amounts of money used to purchase each of the stocks held that week. Of course in reality, I purchase only a very small number of stocks that I discuss on this blog. I refer to my actual purchases as part of my "Trading Portfolio". Those purchases are real transactions. The rest of my picks are just stocks that I view as "investable" and they become part of my 'candidates list' or as I refer to them, part of my "vocabulary" of investing!
In practice, I employ a very disciplined portfolio management approach to all of the stocks I own. I do not use a buy and hold strategy at all in reality. I sell my losing stocks quickly and completely and sell my gaining stocks slowly and partially at targeted appreciation points. This difference in strategy would certainly affect any performance (as has been pointed out to me multiple times), and should be taken into consideration when reading these reviews which assume this 'buy and hold' approach which I use for this review simply because it is easier to evaluate performance without a real-time reconstruction of price movement required by a disciplined portfolio strategy.
Well, that's enough of the disclaimers and warnings and explanations :). Let's take a look at the stocks discussed during that week in December, 2005. (I know it is more like a year-and-a-half out and not looking back a year at all. I am pretty sure I started out at a year out :), but then miss a week here and miss a week there and you know how that goes!)

On December 7, 2005, I posted Hurco Companies (HURC) on Stock Picks Bob's Advice when it was trading at $27.33. Hurco closed at $42.77 on April 20, 2007, for a gain of $15.44 or 56.5% since posting.
On February 16, 2007, Hurco reported 1st quarter 2007 results. Sales for the quarter ended January 31, 2007, came in at $26.9 million, up 47% from the year earlier period. Net income came in at $5.4 million or $.84/share, up sharply from the $3.0 million or $.48/share the prior year. Thus,
HURCO (HURC) IS RATED A BUY
Here is the "Point & Figure" chart on Hurco from StockCharts.com: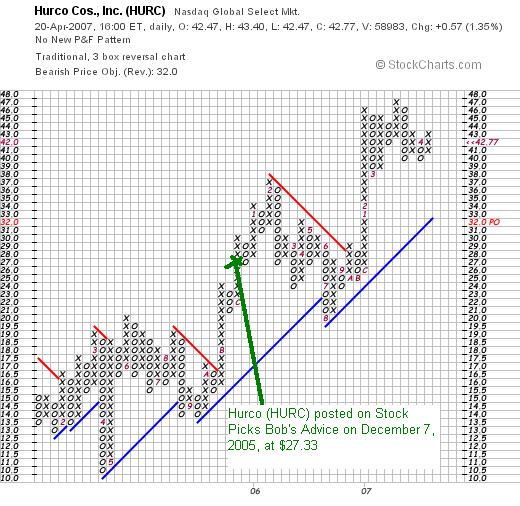 On December 8, 2005, I posted Veritas DGC (VTS) on Stock Picks Bob's Advice when the stock was trading at $37.28. As reported VTS was acquired by Compagnie Generale de Geophysique (GGY). The company related:
" As you know, on September 4 th , Veritas and CGG signed a definite agreement whereby CGG would offer Veritas shareholders the equivalent of $37 in cash plus 1.14 CGG ADS per Veritas share. At the time of the announcement, this represented a 35% premium to Veritas' previous 30-day average share price of $55.69. This agreement was anonymously approved by both CGG's and Veritas' board of directors. We are in the process of filing various documents with the regulatory and stock exchange authorities. On September 25 th , we made our ... filing and expect that the Form F-4 will be filed with the SEC and the ... will be filed with the French AMF in the next two weeks. Other country filings are ongoing."
Trying to reconstruct the current value of the acquisition, with Compagnie Gnrale de Geophysique-Veritas trading at $41.61 on April 20, 2007, this would give the value of that acquisition at $37 + (1.14)($41.61) = $37 + $47.43 = $84.43. This would have meant a gain of $47.15 or 126.5% since posting.
Here is the "Point & Figure" chart on VTS up to the last day of trading as an independent company in January, 2007.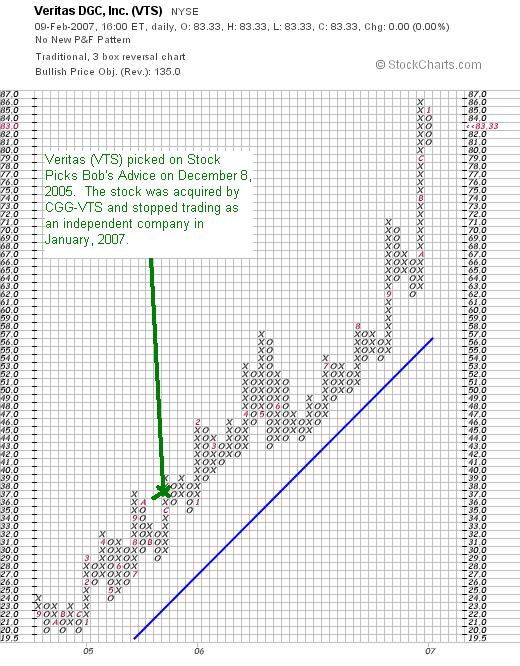 So how did I do with these two "picks" from December, 2005. In a word phenomenal! Hurco was up 56.5% since my post, and VTS climbed 126.5% with an acquisition! This was an average gain of 91.5% on these two stock picks. This is an unusual week even for me. The past couple of reviews have shown negative returns, so do NOT expect this is typical! However, it is nice to have a couple of good picks, isn't it?
Remember that past performance is not a good indicator of future performance and that all investments are subject to losses! (I need a couple of extra disclaimers after a great week picking stocks to review!)
I hope you all have a great weekend! If you have any comments or questions, please feel free to leave them on the blog or email me at bobsadviceforstocks@lycos.com. Also, feel free to drop by and visit my Stock Picks Podcast Website where I talk about some of the many stocks I have looked at here on the blog!
Bob