Amedisys (AMED) "Revisiting a Stock Pick"
Hello Friends! Thanks so much for stopping by and visiting my blog, Stock Picks Bob's Advice! As always, please remember that I am an amateur investor and that you should always consult with your professional investment advisers prior to making any investment decisions based on information on this website.

I was looking through the list of top % gainers on the NASDAQ this afternoon and came across Amedisys (AMED) which is an old favorite of this blog. AMED is currently trading at $33.80, up $2.44 or 7.78% on the day. I do not own any shares of Amedisys nor do I have any options on this stock.
AMEDISYS (AMED) IS RATED A BUY
I say "old favorite" because I have posted twice about this stock previously. I first wrote up Amedisys on Stock Picks Bob's Advice on June 21, 2004, when the stock was trading at $30.74. With the stock splitting 4:3 on December 5, 2006, this represents an adjusted price of $23.06. With the current price at $33.69 (as I write), this is an appreciation of $10.63 or 46.1% since that post.
The following year, on May 3, 2005, I wrote up Amedisys on Stock Picks Bob's Advice at a price of $33.84 (or $25.38 adjusted for the 4:3 stock split). Again, with the stock currently at $33.77 (the stock keeps changing prices as I write :)), this represents an appreciation of $8.39 or 33.1% since that posting two years ago.
Let's take a third look (!) at this company and I shall once again share with you why I believe it still deserves a spot on this blog!
What exactly does this company do?
According to the Yahoo "Profile" on Amedisys (AMED), the company
"...provides home health and hospice services in the United States. Its home health services include nursing services, such as infusion therapy, skilled monitoring, assessments, and patient education; practical nursing services, including performance of technical procedures, administration of medications, and changing of surgical and medical dressings; and physical and occupational therapy."
How did they do in the latest quarter?
As I have found out over and over again, it was the announcement of 1st quarter results this morning, prior to the open of trading, that boosted the share price today. For the quarter ended March 31, 2007, "net service revenue" came in at $153.6 million, up 21% from the first quarter of 2006 and net income was $13.3 million or $.51/diluted share, up sharply from $7.3 million or $.34/diluted share for the same quarter in 2006.

The company beat estimates on both revenue (expected $150.3 million) and earnings (expected $.50) and reaffirmed guidance. With this earnings report, Jefferies & Co. upgraded their opinion on AMED from "Hold" to "Buy". The combined earnings report and upgrade was enough to boost the stock price today.
How about longer-term results?
Reviewing the Morningstar.com "5-Yr Restated" financials on AMED, we find revenue growing steadily from $129 million in 2002 to $382 million in 2005 and $541 million in 2006. Earnings during this period also sharply increased from $.06/share in 2002 to $1.72/share in 2006. It should be noted that the company has indeed expanded the number of shares outstanding significantly from 11 million in 2002 to 26 million in the trailing twelve months (TTM). However, during this time while shares slightly more than doubled, revenue almost quadrupled and earnings were up more than 20-fold.

Free cash flow, while positive, has dropped recently from $24 million in 2004, $23 million in 2005 and $14 million in 2006. The balance sheet, as presented by Morningstar.com, appears solid. The company has $84.2 million in cash and $95.0 million in other current assets. This combined $179.2 million in current assets is more than adequate to cover both the short-term liabilities of $81.9 million and the $17.8 million in long-term liabilities combined. The current ratio works out to a healthy 2.19. (Generally current ratios of 1.25 or higher are considered 'healthy').
What about some valuation numbers on this stock?
Looking at the Yahoo "Key Statistics" on Amedisys, we can see that this is a small cap stock with a market capitalization of $876.02 million. The trailing p/e is a very reasonable 19.73 with a forward p/e (fye 31-Dec-08) estimated at an even nicere 13.99. With the solid growth in earnings anticipated, the PEG ratio works out to a very 'cheap' 0.71. (Generally I view PEG's of 1.0 to 1.5 as being 'reasonable').

Examining the Fidelity.com eresearch website information, we find that the Price/Sales ratio isn't quite as cheap, with a Price/Sales (TTM) of 1.31, compared to an industry average of 1.04. In terms of profitability, the company comes in with a Return on Equity (TTM) of 15.08%, much higher than the industry average reported by Fidelity to be 7.52%.

Finishing up with Yahoo, we find that there are 25.83 million shares outstanding with 25.32 million that float. Of these 4.50 million are out short representing 17.8% of the float or 11.7 trading days of volume. This is a significant level of short interest and with today's trading volume of 1.5 million, almost 4 times the average volume of 393,836 shares, we may well be witnessing a 'short squeeze' driving this stock price higher. There are likely still many shares out short still subject to buying pressure by a climbing stock price.

No dividend is paid, and as I noted earliere in this post, the company split its stock 4:3 on December 5, 2006.
What does the chart look like?
Examining the "Point & Figure" chart from StockCharts.com on AMED, we can see a chart that appears to be plateauing. I am not sure if the stock is more or less 'rolling over' and headed lower, or if the current stock price movement will break out to higher highs. I would like to see this stock trade convincingly into the $36-$37 level or higher to be assured that the stock is indeed on the upward path.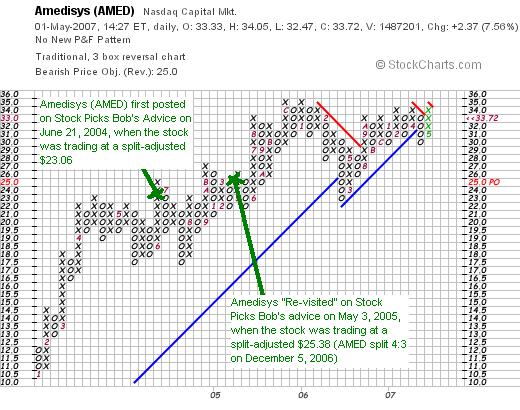 Summary: What do I think about this stock?
Well, I like this stock as it is indeed one of the few stocks that I have had the opportunity of reviewing three times (and not even purchasing any shares!). They reported solid earnings and revenue growth today, beating expectations, they have grown revenue and earnings steadily the last few years. On the downside, they have indeed increased their shares outstanding but have done so at a rate far slower than the growth in revenue and earnings.

Free cash flow is positive, but hasn't been growing recently. The balance sheet on Morningstar appears solid.

Valuation-wise, the p/e is only in the teens and the PEG is under 1.0. The Price/Sales is a bit rich for its group, but the profitability is almost double the average in its industry. Finally, there are lots of short-sellers out there who need to cover their bets against this company and I believe there may literally be over a million shares needing to be covered at this point.

Technically the graph could be stronger. On the other hand, the stock does not appear to be over-extended and with a bit of a price appreciation, could well be building a strong base to expand upon. In conclusion, if I were in the market to be buying a stock, this is the kind of stock I would be purchasing today. In the meanwhile, it shall stay on my list of "purchaseable" stocks, becoming part of my "vocabulary" of stocks.
Thanks again for stopping by and visiting! If you have any comments or questions, please feel free to leave them on the blog or email me at bobsadviceforstocks@lycos.com. If you get a chance be sure and visit my Stock Picks Podcast Website.
Bob