"Looking Back One Year" A review of stock picks from the week of December 26, 2005

Hello Friends! Thanks so much for stopping by and visiting my blog, Stock Picks Bob's Advice! As always, please remember that I am an amateur investor, so please remember to consult with your professional investment advisers prior to making any investment decisions based on information on this website.
There is nothing magical about my process of picking stocks. I do believe that among my picks may be found some of the top performing stocks of the future. That, at least, is my hope. However, in order to identify these stocks it is necessary to recognize mistakes in investing quickly, and thus I suggest that losses are kept to a minimum by selling stocks that perform poorly, and that gaining stocks are maintained and yet their gains are essentially hedged against changing fortunes by small sales at appreciation targets. Again, this is my strategy. Time will tell if it is successful.
As I have written previously, I have been trying each weekend to go back a little more than a year and review the entire week's stock picks to see how they would have turned out if indeed if they were purchased. This evaluation assumes a 'buy and hold' strategy, with equal dollars invested in each of the stocks discussed that particular week. In practice, I advocate and employ a very different strategy of disciplined portfolio management that requires me to sell stocks if they should incur small 8% losses, and also to sell portions of stocks as they appreciate. This different approach would certainly result in a very different performance experience in holding all of these stocks.
On December 27, 2005, I posted Reliv International (RELV) on Stock Picks Bob's Advice at a price of $15.29. Reliv closed at $9.79 on May 18, 2007, for a loss of $(5.50) or (36.0)% since posting. I do not own any shares nor do I have any options on this stock.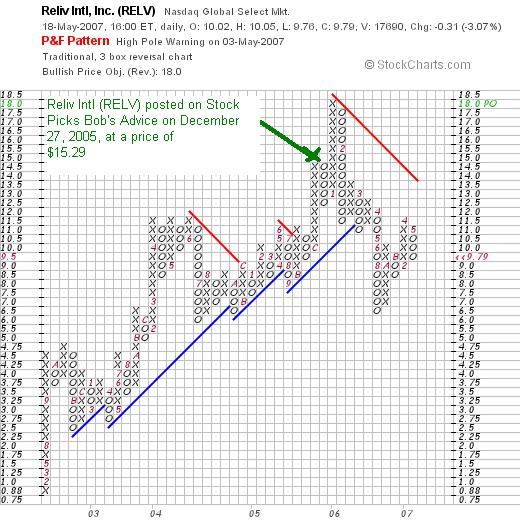 On May 2, 2007, Reliv Intl (RELV) announced 1st quarter 2007 results. Net sales increased 12.1% to $35.0 million from $31.2 million last year. Net income was $2.6 million, up 6.9% over last year's results. Diluted earnings per share increased from $.15/share a year ago to $.16/share this year.
With the satisfactory earnings report, the intact Morningstar.com page, but the weak technical appearance of the price chart,
RELIV INTERNATIONAL (RELV) IS RATED A HOLD
So how did I do during that Christmas week in 2005? Well not exactly glowing. With only one stock picked that week, the average performance was the performance of that only selection which unfortunately recorded a (36.0)% loss. This once again demonstrates the need to manage one's holdings closely regardless of one's belief about the prospects of any particular stock!
Thanks so much for stopping by and visiting! If you have any comments or questions, please feel free to leave them on the blog or email me at bobsadviceforstocks@lycos.com. If you get a chance, be sure and visit my Stock Picks Podcast Website, where you can listen to me discuss many of the same stocks I write about here on this website.
Have a great weekend everyone!
Bob