Bolt (BTJ) "Dealing with a sharp price decline"
Hello Friends! Thanks so much for stopping by and visiting my blog, Stock Picks Bob's Advice! As always, please remember that I am an amateur investor, so please remember to consult with your professional investment advisers prior to making any investment decisions based on information on this website.
Bolt (BTJ) is having a lousy day in an otherwise up market.
In fact, as I write, Bolt is trading at $38.01, down $(3.40) or 8.21% on the day. But why? The Yahoo Message Boards are busy, with apparent short-sellers trying to talk down the share price. The word according to these unconfirmed rumor-mongerers is that BTJ will be listed at a lower level on the IBD 100 listing that comes out each Monday in the Investor's Business Daily. But I don't see any confirmation of that either.
In fact, the latest quarterly report. Bolt's 3rd quarter 2007 results, showed the company with a 51% increase in revenue, and a 118% increase in net income of $.50/diluted share, up from $.23/diluted hsare last year. Now THAT is a great report!
And if we look at a "Point & Figure" chart on BTJ, to get a bit more perspective, we see that the upward move in this stock is far from interrupted.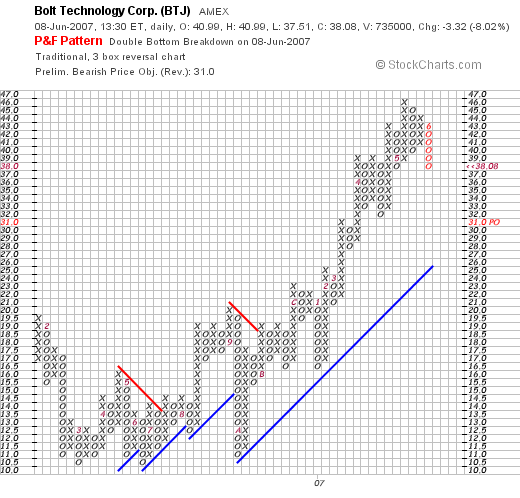 What we do see is that the stock has moved strongly higher (as we know) and that it is rather over-extended from the support line (blue line) below. Similar declines have occurred including a sharp decline from $20 to $11 in September, 2006, a decline from $21 to $17 in January, 2007, and a decline from $38 to $31 in April, 2007. These declines can be identified by the columns of "o's" on the chart indicating declines in the stock price.
In each case thus far, the stock has rebounded.
In any case, I have sold Bolt (BTJ) four times as it has rapidly appreciated in price, at 30, 60, 90 and 120% appreciation levels. Should the stock decline to a 60% appreciation (1.6 x $17.44 = $27.90), then I would unload all of my remaining shares. Bolt has a long way to go to do that and is in fact recovering even as I write.
So with a plan in mind, I can shrug off the message board posters and others who seem to be intent on manipulating the stock price with rumors and inuendos, and instead start to build a great portfolio of great stocks.
Bob