CAM Commerce Solutions (CADA) "A reader suggests a Stock Pick!"
Hello Friends! Thanks so much for stopping by and visiting my blog, Stock Picks Bob's Advice! As always, please remember that I am an amateur investor, so please remember to consult with your professional investment advisers prior to making any investment decisions based on information on this website.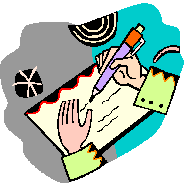 I have had a series of emails from Doug S. who has some great ideas about stocks and helpful insight for me. Usually I come up with the names around here. But I have had other readers who suggested other stocks, including Precision Castparts (PCP) which was suggested by a reader and which eventually became part of my own Trading Portfolio!
Let me share with you what Doug wrote, first on 6/8/07:
"A person who I highly regard put me on to CADA. I have no current position because for the life of me I can't get a grip on this issue. There has been strong insider volume especially by one deep pockets person who just sits back and lets it come to him. They seem to be making a great deal of money and signing up a lot of new clients yet
that hasn't been reflected yet in % comparisons. I really haven't run across anything that resembles this since the likes of Seas Candy and Blue Chip Stamps in the mid seventies which Buffet picked up for Berkshire. Would really appreciate your thoughts. Thanks."
Well I didn't get around to looking at CADA much except what I saw I basically liked.
Doug did eventually take a position in the stock as he wrote on 6/11/07:
"Hi; Started a position(700) today in captioned. Nothing not to like about this(check insider activity). Regards, Doug"
Personally, I do not own any shares of CAM Commerce Solutions (CADA) nor do I have any options. CAM Commerce Solutions (CADA) closed today at $27.65, down ($.24) or (.86%) on the day. Doug does own some shares, so take that into consideration when reading his comments. In any case,
CAM COMMERCE SOLUTIONS (CADA) IS RATED A BUY
Let me share with you what I found out about CADA and I am sure that Doug will have more to add on this in the future.
Before I get to that, let me briefly touch on the subject of 'insider trading'. The theory goes that people on the inside will have a good feel for the business prospects of a company, and that if insiders are buying, this is a 'bullish' signal for the stock.
I found a more formal research paper by Joseph D. Piotroski and Darren T. Roulstone of the University of Chicago on this that concluded:
"Abstract

This paper documents that insiders are both contrarians and possessors of superior information. We find that insider trades are positively related to the firm's future earnings performance (proxy for superior cash flow information), positively related to the firm's book-to-market ratio and inversely related to recent returns (proxies for trading against misvaluation). Each relation has incremental explanatory power, yet information about future cash flow changes explains a smaller portion of insider purchases than do proxies for security misvaluation. The relation between insider trades and future earnings performance is amplified (attenuated) as the benefits (costs) to trading on financial performance information increase."
Thus, there is academic support to this view that insider buying may well be predictive of future earnings and thus price appreciation. So Doug's observations, once again, are on the mark and worthy of consideration!
What exactly does this company do?
According to the Yahoo "Profile" on CADA, the company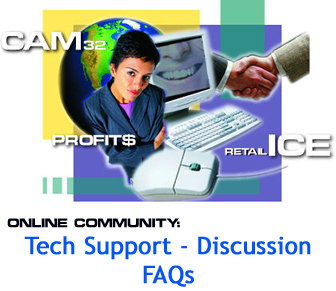 "...engages in the design, development, marketing, installation, and servicing of integrated retailing and payment processing solutions for small to medium size traditional and eCommerce businesses based on its open architecture software. It offers retailing systems and solutions consisting of software, hardware, installation, training, and technical support services, as well as Web hosting services."

How did they do in the latest reported quarter?
On May 2, 2007, CAM reprted 2nd quarter 2007 results. For the quarter ended March 31, 2007, revenue climbed 13% to $7.3 million compared to $6.5 million for the same quarter in 2006. Earnings grew 100% to $854,000 or $.20/share, up from $417,000 or $.10/share in the same period the prior year.

As small as this company is, they announced a dividend and announced that the dividend would be increasing 43% to $.20/share, up from a dividend of $.14/share last year.
What about longer-term results?
Looking at the Morningstar.com "5-Yr Restated" financials, we can see that this is a very small company with revenue of $20 million in 2002, $20 million in 2003, then increasing to $27 million in 2006 and $28 million in the trailing twelve months (TTM).

Earnings, as is often the case in these small companies, has been erratic, with $.09/share in 2002, a loss of $(.04)/share in 2003, $.57/share in 2004, $.44/share in 2005, then increasing to $.64/share in 2006 and $.79/share in the TTM.

The company paid a dividend of $.10/share in 2005, increased it to $.42/share in 2006 and is paying $.45/share in the TTM.

The total number of shares is small and fairly stable with 3 million shares outstanding in 2002, increasing to 4 million in 2004 but staying stable at 4 million in the TTM.

Free cash flow is small but positive with $3 million reported in 2004 and $4 million in 2006 and the TTM.

The balance sheet is solid with $25.3 million in cash which by itself can pay off both the $4.2 million in current liabilities and the -0- in long-term liabilities combined. In fact, calculating the current ratio, we get a total of $28.9 million in current assets, which when compared to the $4.2 million in current liabilities, yields a current ratio of 6.9. Generally, ratios of 1.25 or higher are considered healthy.
What about some valuation numbers on this stock?
This is a very small company with a market capitalization of only $111.87 million. This meets the definition of Micro-cap:

"Micro cap refers to a company with a market capitalization of between $50 million to $300 million."

Continuing with Yahoo "Key Statistics" on CADA, we find that the trailing p/e is a moderate 35.0, there are not forward p/e's nor PEG ratios because of the apparent lack of analysts providing these estimates on this tiny company.

Examining the data from the Fidelity.com eresearch website, we can see that the Price/Sales (TTM) is reasonable at 3.94, compared to the industry average of 5.57. As measured by Return on Equity (TTM), the company is not as profitable as its peers with a ROE (TTM) of 13.3%, compared to an industry average of 25.03%.

In terms of insider transactions, Yahoo reports that in the past 6 months there as been a net of 27,034 shares purchased by insiders. Institutional purchases have also been a net of 111,843 shares added to institutional holdings with this being an 8.3% increase in the total held. Both of tese statistics are bullish for the stock.

Yahoo reports that there are 4.05 million shares outstanding with 2.96 million that float. Currently, as of 5/10/07, there were only 5,850 shares out short representing 0.2% of the float or 1.1 trading days of volume. This doesn't appear significant at these levels.

As noted above, this company does pay what works out to be a significant dividend of $.80/share (going forward) with a forward yield of 2.8%. No stock splits are reported on Yahoo.
What does the chart look like?
Looking at the "Point & Figure" chart on CADA from StockCharts.com, we can see that the stock made a large move higher from April, 2003, when the stock was trading at $3.00/share, to a peak of $20 in May, 2004. The stock then traded in a tight range between $20 and $11, before breaking to the upside in Novembger, 2006, pushing higher to $24, and now once again pushing higher to the $27 level. The chart looks encouraging to me!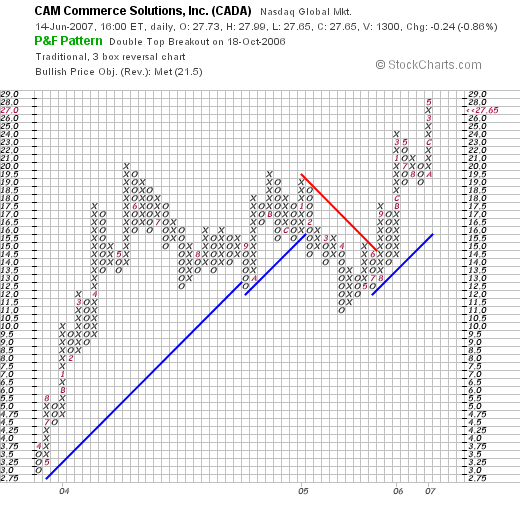 Summary: What do I think?
Well, I believe that Doug S. has picked a great, but tiny stock. Like all small companies, we are often faced with significant volatility. However, the latest quarter was solid, the Morningstar report was solid especially the past few years. The company even pays a dividend and is raising its payment. The number of shares, while small, is stable, and the company is generating free cash flow. The balance sheet, while also showing small numbers, is solid with a great current ratio.

There really isn't much not to like as Doug has stated!

I sure appreciate your contribution Doug and shall be adding this stock to my vocabulary of stocks here on the blog. Maybe one day I shall have the opportunity to actually own some shares!
Thanks so much to Doug and all of you who visit and especially contribute here on this website. You all are really my friends! If you have any comments or questions, please feel free to leave them on the blog or email me at bobsadviceforstocks@lycos.com. Please include your first name and general location. Helps me keep things interesting.
Bob