A Reader Writes; "I have two questions:"
Hello Friends! Thanks so much for stopping by and visiting my blog, Stock Picks Bob's Advice! As always, please remember that I am an amateur investor, so please remember to consult with your professional investment advisers prior to making any investment decisions based on information on this website.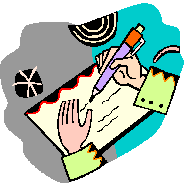 The market sure was just terrible today. If your portfolio is anything like mine, I am sure you incurred some serious losses. I haven't sold anything at this time as I have my sale points all set and a couple of my holdings are now nearing sales. The important thing, however, is that I have anticipated this possibility and have definite price levels at which I shall be parting with these companies.
I had another nice email from a reader today which I wanted to share with you and answer on the blog as it raises some good questions about my own method of selecting stocks.
Vijay wrote:
"Bob,
I am very new to stock market investing, and your blog is one of the more illuminating ones that I have come across. It is one of the very few that I religiously read every day.

In one of your recent posts, you had mentioned that you buy only those qualifying stocks that are in the top % gainers of the day. I have two questions:

1. Is it not ill advised to buy after a stock has already gained big?
2. How far down the list of gainers do you go, and where do you get this list?

Thanks
Vijay"
Vijay, thank you for writing and especially thank you for those kind words. In days like today, any words of encouragement are appreciated.
I do not know if I deserve the credit that you assign me and I am sure there are many other websites that deserve your attention and are equally if not more illuminating. But I shall strive to continue to be informative so that your visits are worthwhile.
Regarding your first question:
"1. Is it not ill advised to buy after a stock has already gained big?"
Certainly if stock price movement were random events then buying after a stock rise might be considered risky because it would be more likely subsequently to be incurring declines. But stock price movements aren't random. They are, from my perspective, the result of many different forces acting upon stocks including earnings, expectations, industry expectations, and the overall market action.
It has been my observation that the stocks that are moving higher in a significant fashion may well include among them stocks that will make very significant moves higher following the initial spike in the stock price. I simply start with this list, and then look carefully at the underlying reasons for that price move. I examine their latest quarterly result, their Morningstar.com results, the price chart and valuation numbers. It is not enough that a stock should have moved higher one day. But it isn't a bad place to start in trying to identify stocks that are likely to move higher in the future. That at least has been my experience.
Your second question:
"2. How far down the list of gainers do you go, and where do you get this list?"
I will go all the way to the bottom of the list, which usually has the 50 top % gainers on the NYSE, NASDAQ and AMEX markets. When I write up my reviews, I generally include a hyperlink to the underlying information unless you are reading my blog on another website where this link is no longer available. I have found the Money.cnn.com website the most helpful. (http://money.cnn.com/data/gainers/nasdaq/?). This is the link for the NASDAQ top gainers. There are many other sources of top % gainers including even USA Today.
I hope this answers your questions adequately. If not, please feel free to comment right on the blog or email me at bobsadviceforstocks@lycos.com.
As your positions decline in price, you will all find it helpful, I believe, to anticipate any degree of price appreciation or price declines with planned sales either to limit losses or to lock-in small gains on appreciating stocks.
Bob