Baldor Electric (BEZ) "Weekend Trading Portfolio Analysis"

Hello Friends! Thanks so much for stopping by and visiting my blog, Stock Picks Bob's Advice! As always, please remember that I am an amater investor, so please remember to consult with your professional investment advisers prior to making any investment decisions based on information on this website.
One of my goals of this blog is to share with you my own experience in investing. As part of this transparency I have been on a regular basis reviewing each of my stock holdings which now number twenty. On July 7, 2007, I reviewed Wolverine World Wide (WWW). Alphabetically, that was the bottom of th list. Starting at the top once more I am at Baldor Electric (BEZ).
Let's take a closer look at Baldor, which being one of the latest additions to my portfolio is teetering on the edge of a sale.

I first wrote up Baldor on Stock Picks Bob's Advice on May 4, 2007, when the stock was trading at $44.01/share. Shortly after writing up Baldor, Doug S., one of my loyal readers on this blog, pointed out that much of the revenue growth was due to acquisitions. My own review of this didn't lead to much concern, and the stock stayed in my portfolio. Currently I own 140 shares of Baldor (BEZ) that were acquired May 22, 2007, at a cost basis of $47.19. BEZ closed at $43.63/share on August 3, 2007, for a loss of $(3.56) or (7.5)% since my purchase. I plan on selling my shares if they decline to an (8)% loss, which for Baldor would mean declining to .92 x $47.19 = $43.41/share. The stock just needs to decline $.25 tomorrow to trigger a sale.
(My ownership of Baldor is confounded by a short purchase and sale....I purchased 140 shares on 5/4/07 and sold them 5/23/07 for a short-term gain of $352.50....these shares were sold because I 'accidentally' (!) purchased shares twice. I then unloaded these shares and purchased Mesa Laboratories instead. I wouldn't be near a sale point if I had been paying attention :(. But regardless of all of that, I shall be selling my BEZ if it hits a sale point on the latest purchase.)
Let's take a closer look at this company and see if the stock still deserves a spot on my blog and a spot in my portfolio!
Since I recently reviewed Baldor, let's take a brief look at the chart, the latest quarterly report, and the Morningstar.com "5-Yr Restated" financials on this company and double-check the data!
First of all the "point & figure" chart on Baldor from StockCharts.com: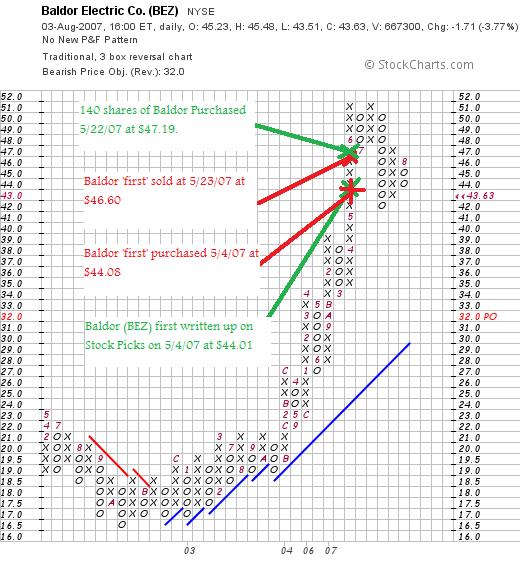 You can see how confusing this picture appears. The second purchase was a mistake. I sold shares shortly thereafter but that gave me a new basis for the shares. Yikes. However, while there has been some profit-taking and the market overall has certainly hasn't helped, the chart appears intact with prices well above the blue 'support line'.
What about that latest quarterly report?
On July 26, 2007, Baldor (BEZ) reported 2nd quarter 2007 results. Net sales increased 139% to $491.6 million from $205.6 million. Net earnings climbed 103% to $25.2 million from $12.4 million the prior year. On a per share basis this worked out to a 42% increase from $.38/share to $.54/share this year. However, the increase would have been even more except that the number of shares climbed almost 50% to 46.6 million from 32.8 million the prior year.
The company was pretty clear that much of the big increase was due to acqusitions, but the fact that they were able to significantly increase their earnings even with more shares outstanding is pretty encouraging to me.
And the longer-term results?
Reviewing the Morningstar.com "5-Yr Restated" financials on Baldor (BEZ), we can see that revenue growth is uninterrupted. Earnings which did dip after 2004, have now strongly rebounded to higher levels than even the $1.10/share in 2004. The company has been paying a dividend, and also increasing that dividend. Free cash flow is positive and growing, and the balance sheet looks fine although the long-term debt is a bit impressive at $1.9 billion.
Even though I am just 25 cents from a sale, the latest quarter looks fine, the chart appears intact, and the Morningstar.com page looks adequate except for the long-term debt, which should be able to be handled with the growing free cash flow.
Thus,
BALDOR ELECTRIC (BEZ) IS RATED A BUY
Thanks so much again for stopping by! If you get a chance, be sure and visit my Stock Picks Podcast Page and I shall make a good effort at posting a new podcast this month. In addition, to review my trading portfolio performance, be sure and visit my Covestor Page for BobsAdvice, and also for all of my picks and a review of my picking performance, stop by and visit my SocialPicks page which summarizes and evaluates my stock picking relative to the world of stock pickers and analysts.
Have a better week trading!
Bob