ICF International (ICFI)
Hello Friends! Thanks so much for stopping by and visiting my blog, Stock Picks Bob's Advice! As always, please remember that I am an amateur investor, so please remember to consult with your financial advisers prior to making any investment decisions based on information on this website.

Earlier today, scanning through the list of top % gainers on the NASDAQ, I came across ICF International (ICFI) which as I write, is trading at $22.70, up $1.05 or 4.85%. The stock is no longer on the list of top gainers, but after reviewing the stock this morning, I feel it deserves a place on the blog. I do not own any shares nor do I have any options on this stock.
ICF INTERNATIONAL (ICFI) IS RATED A BUY
What exactly does this company do?
According to the Yahoo "Profile" on ICFI, the company

"...and its subsidiaries provide management, technology, and policy consulting and implementation services primarily to government, commercial, and international clients. Its services primarily address energy; environment and infrastructure; health, human services, and social programs; and homeland security and defense markets."
Is there any recent news to explain the move today?
This morning, before the open of trading, the company announced two new contracts worth up to 4.5 million Euros under the 'European Commission's Technical Aid to the Commonwealth of Independent States (TACIS)" program.
How did they do in the latest quarter?
On August 9, 2007, the company reported 2nd quarter 2007 results. Revenue came in at $190.2 million for the quarter ended June 30, 2007, a 25.3% increase from the $151.7 million reported last year. Net income was $11.2 million, or $.75/diluted share, up about 25% from the $8.7 million or $.60/diluted share in the preceding quarter, and up sharply from last year's revenue of $56.1 million and a net loss of $(1.4) million or $(.15)/diluted share.

A large portion of the revenue was the $128.6 million received from the New Orleans "The Road Home" contract which was recorded in the second quarter of 2007. The earnings report does note that even minus The Road Home revenue, there would have been a 12.1% increase sequentially and a 10.6% increase year-over-year in the revenue.
What about longer-term results?
Reviewing the Morningstar.com "5-Yr Restated" financials on ICFI, we can see the steady increase in revenue from $143 million in 2002 to $146 million in 2003, then a dip to $139 million in 2004, increasing sharply thereafter to $331 million in 2006 and $564 million in the trailing twelve months (TTM).

Earnings have also been erratic during the earlier years with $.10/share in 2002, increasing to $.30/share in 2004, dropping to $.20/share in 2005 then ramping up to $1.10 in 2006 and $2.50/share in the TTM.

The company has increased its float slightly from 8 million shares in 2002 to 10 million in 2006 and 11 million in the TTM. This 40% increase in shares has been accompanied by a 200% increase in revenue and about a 700% increase in earnings. This is an acceptable dilution in shares outstanding.

Free cash flow which was $2 million in 2004 and only $1 million in 2005, increased to $16 million in 2006 and $47 million in the TTM.

The balance sheet is adequate with $2 million in cash and $151 million in other current assets, which when compared to the $133.4 million in current liabilities, yields a current ratio of 1.15.
What about some valuation numbers?
Looking at the Yahoo "Key Statistics" on ICFI, we can see that this is a small cap stock with a market capitalization of $323.69 million. The trailing p/e is quite cheap at 9.50, with a forward p/e estimated (fye 31-Dec-08) at 13.98. Looking at earnings going forward, the PEG ratio is estimated at 0.49.

Checking the Fidelity.com eresearch website, we can see that ICFI has a Price/Sales (TTM) of 0.63, well below the industry average of 2.70. The company is also more profitable than its peers, with a Return on Equity (TTM) of 20.04%, according to Fidelity, compared to an industry average of only 12.66%.

Finishing up with Yahoo, it is reported that there are only 14.39 million shares outstanding with 13.05 million that float. There are only 204,560 shares out short as of 7/10/07, representing 2.4 trading days of volume (the short ratio) or only 1.5% of the float. According to Yahoo, there are not dividends paid and no stock splits are reported.
What does the chart look like?
Reviewing a "point & figure" chart on ICF International (ICFI) from StockCharts.com, we can see that the stock, which traded as low as $12 in September, 2006, has moved fairly steadily higher to as high as $24/share in May, 2007. The stock has been trading between $18 and $25 since then and overall appears to be moving higher above its support line.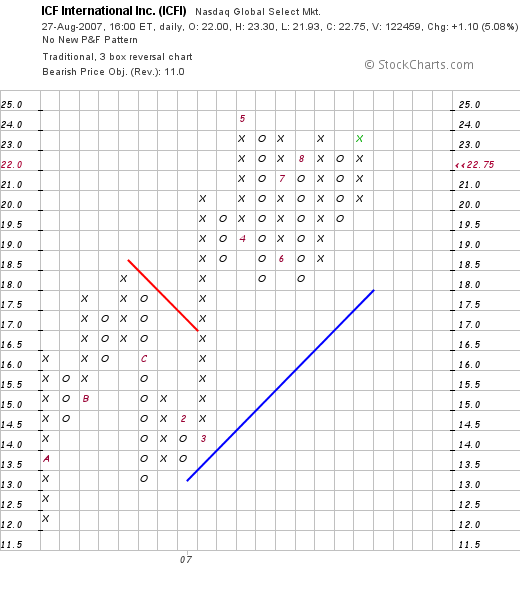 Summary: What do I think about ICFI?
Well needless to say, I like the stock. The recent announcement of European contract is encouraging. There is indeed a large dependence on The Road Home contract which makes up a big part of its business. But the company is still growing it business nicely even without that particular contract.

The latest quarter was strong, the last several years were quite strong, the balance sheet looks nice and valuation is dirt cheap with a p/e in the teens, a PEG well under 1.0, a Price/Sales ratio under its peers and a Return on Equity exceeding other similar enterprises. Finally the chart looks encouraging without appearing overextended.

If I were buying any stock today, this is the kind of stock I would be purchasing and it thus belongs in the blog.
Thanks so much for stopping by and visiting! If you have any comments or questions, please feel free to leave them on the blog or email me at bobsadviceforstocks@lycos.com. Be sure and visit my Stock Picks Podcast Page as well as my Covestor page which tracks my actual trading portfolio, and my Social Picks Page which reviews my past stock picks for this year.
Regards!
Bob