Abercrombie & Fitch (ANF) "Revisiting a Stock Pick"
Hello Friends! Thanks so much for stopping by and visiting my blog, Stock Picks Bob's Advice! As always, please remember that I am an amateur investor, so please remember to consult with your professional investment advisers prior to making any investment decisions based on information on this website.

It is always nice to see an 'old pick' make the lists on the top % gainers and continue to perform well.
Looking through the list of top % gainers this morning, I came across an 'old favorite' of mine, Abercrombie & Fitch (ANF) which as I write is trading at $78.49, up $1.37 or 1.79% on the day. (As sometimes is the case, the stock as the morning went on is no longer on the list as I write, but being the author of this blog, I always reserve the right to write up a stock that made the list as I was researching the stock but then dropped off the list as other stocks moved higher as well :)) I do not own any shares or options on this stock.
I first wrote-up Abercrombie & Fitch on May 28, 2003, as one of the early entries on this website. At that time the stock was trading at $29.07. I then 're-visited' ANF on June 2, 2005, when the stock had appreciated significantly and was trading at $65.12. Let's take a closer look at ANF and I will explain why
ABERCROMBIE & FITCH (ANF) IS RATED A BUY
What exactly does this company do?
According to the Yahoo "Profile" on ANF, the company
"...through its wholly owned subsidiaries, operates as a retailer of casual apparel for men, women, and kids in the United States. Its stores sell casual apparel, such as knit shirts, graphic t-shirts, jeans, and woven shirts; and personal care and other accessories under the Abercrombie & Fitch, abercrombie, Hollister, and RUEHL brands. As of March 23, 2007, the company operated 950 stores located in the United States, Canada, and the United Kingdom. Abercrombie & Fitch Co. also sells its products through Web-based stores, as well through a mail order catalogue."
Is there any news to explain today's move?
Well it is the first Thursday of the month. And retailers usually report "same store sales" results the first Thursday. Same store sales are important because they indicate the underlying health of a retail venture. An outfit that rapidly puts up new 'brick and mortar' locations could well cover-up a poor performance with new places to sell goods. This might work over the short run, but long-term growth depends on existing sites continuing to grow the business--thus the 'same store sales results'.

This mornings, shortly before the open of trading Abercrombie & Fitch announced same store sales for August. They came in with terrific results (imho) of a 6% rise in same store sales with overall total sales climbing a strong 21%. It was this news that drove the stock higher in early trading this morning.
What about the latest quarterly results?
On August 22, 2007, Abercrombie & Fitch announced 2nd quarter 2007 results. For the second quarter ended August 4, 2007, net sales increased 22% to $804.5 million, but during the quarter same store sales actually decreased 2%. (Since the latest month indicates at least a temporary change in this sales pattern, I am willing to overlook this less than satisfactory piece of news.) Net income for the quarter was up 24% to $81.3 million and net income per diluted share increased 22% to $.88/share. On an interesting note, the company announced plans for stores in Italy, France, Germany, Spain, Denmark and Sweden, as well as a flagship store in Tokyo in 2009.

Analysts polled by Thomson Financial had been expecting profit of $.87/share on revenue of $795 million. Thus, while the same store sales decline for the quarter was obviously disappointing, the company did manage to beat expectations for the quarter. However, the company also reduced expectations for the second half to a per-share range of $3.63 to $3.67, with full-year results expected now to be between $5.16 to $5.20/share. This is below analysts according to Thomson Financial who had been expecting full-year results at $5.24/share. Certainly the quarterly report was 'mixed' to say the least.

The reduction in estimates was reported to be related to the quarter's flat same store sales results. One could only hope that with this apparent turn-around in same store sales, if this is repeated again next month, we may well see estimates picking up once more.
What about long-term results?
Reviewing the Morningstar.com "5-Yr Restated" financials on ANF, we can see that the revenue growth has been impressive the last several years with revenue reported at $1.6 billion back in 2003 (the time of my first blog entry), increasing to $3.3 billion in 2007 and $3.4 billion in the trailing twelve months (TTM).

Earnings have also steadily increased from $1.90/share in 2003 to $4.60/share in 2007 and in the TTM. The company is first reported to pay a dividend at $.60/share in 2006 and increased it to $.70/share in 2007.

Nicely, the outstanding shares are reported at 93 million in 2005, decreasing to 87 million in 2006 and 88 million in 2007. It isn't often that we can find relatively rapidly growing companies that manage to retire shares instead of diluting investors with additional shares issues to fuel their growth.

Free cash flow is positive, but the trend downwards is a little bit concerning. The company is reported to have had $239 million in free cash flow in 2005, $197 million in 2006 and $179 million in 2007. The trailing twelve months is reported to show $99 million in free cash flow. This decrease isn't much of a concern as operating cash flow during this period showed a steady increase but the company is spending considerable amounts of money on Capital Spending, presumably for expansion of the retail line.

The balance sheet also looks solid with $74 million in cash and $817 million in other current assets. This total of $891 million in current assets could easily 'pay off' both the $372 million in current liabilities as well as the $368.7 million in long-term liabilities combined. The current ratio works out to a healthy 2.40.
What about some valuation numbers?
Reviewing Yahoo "Key Statistics" on Abercrombie & Fitch (ANF) we find that this is a mid cap stock with a market capitalization of $6.86 billion. The trailing p/e is a reasonable (imho) 16.33 with a forward p/e even nicer (fye 03-Feb-09) of 13.07. With the rapid growth and the reasonable p/e, we end up with a PEG that is also very attractive from a GARP evaluation at 0.96.

Using the Fidelity.com eresearch website, we can see that the Price/Sales (TTM) ratio is a bit rich at 1.91, relative to the industry average of 0.97. In terms of profitability, ANF comes out a little better with a Return on Equity (TTM) of 32.15%, ahead of the industry average of 25.59%.

Finishing up with Yahoo, we see that there are 88.07 million shares outstanding with 80.38 million that float. As of August 10, 2007, there were only 5.18 million shares out short which represent 6% of the float or only 2.3 trading days of volume (the short ratio). Using my own '3 day rule' for significance, this doesn't appear to be a large number of shares out short suggesting less of a possibility of a short squeeze as good results are reported.

As I noted above, the company pays a small dividend of $.70/share yielding 0.9%. The last stock split was a 2:1 split back in June, 1999.
What does the chart look like?
If we review a long-term 'point and figure' chart on ANF, we can see that the stock has relatively steadily appreciated in value since dipping to a low of $15 back in September, 2002. Since last October, the stock has been trading in a relatively broad range between $67 and $85, but appears, nevertheless, to be steadily appreciating in price.
Summary: What do I think about this stock?
Needless to say I like this stock a lot. It has even the Peter Lynch attractiveness of being something 'your daughter found in the mall'! In the midst of the relatively uneven consumer-driven economy, Abercrombie appears to be able to continue to grow its brand with increasing same store sales and has plans to export the brand further to Europe and Japan.

The latest monthly report out today was very encouraging in face of a relatively pessimistic quarterly report just out a few weeks ago. The Morningstar.com report is solid, valuation is excellent and the chart appears to be steadily appreciating without much over-extension of the price move.

Unfortunately, I still don't own any shares :(. And I am not in the market for buying any stock today anyhow. I don't have one of my 'signals' to purchase anything. However, if I were buying a stock, this might well be one I would be buying today. Meanwhile, I shall keep it in my "vocabulary" of 'investable' stocks for future reference!
Thanks so much for visiting! If you have any comments or questions, please feel free to leave them on the blog or email me at bobsadviceforstocks@lycos.com. If you get a chance, be sure and visit my Stock Picks Podcast Website. For further information on the performance of my actual Trading Portfolio, be sure and visit my Covestor Page. If you would like to see a third party evaluation of my stock picks since January, 2007, then drop by and visit my SocialPicks page!
There! I have given you lots of homework already. You too can feel like you are starting school once again. And for all of the students who do read my blog, here is an apple for you for your teacher!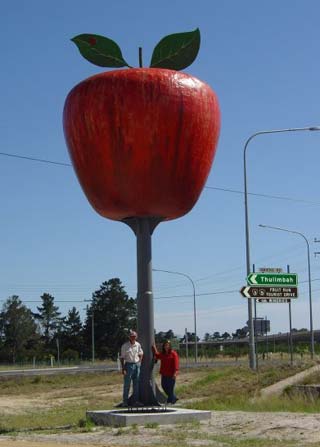 Regards!
Bob
Posted by bobsadviceforstocks at 12:34 PM CDT |
Post Comment
|
Permalink
Updated: Thursday, 6 September 2007 1:54 PM CDT