LKQ Corporation (LKQX)
Hello Friends! Thanks so much for stopping by and visiting my blog, Stock Picks Bob's Advice! As always, please remember that I am an amateur investor, so please remember to consult with your professional investment advisers prior to making any investment decisions based on information on this website.

I was looking through the list of top % gainers on the NASDAQ today and came across a new name that I wanted to share with all of you. LKQ Corporation (LKQX) which as I write is trading at $30.34, up $1.65 on the day for a gain of 5.75%. I do not have any shares or options on this stock.
LKQ CORPORATION (LKQX) IS RATED A BUY
Let's take a closer look at this stock and I will explain to you why I wish to add it to the blog.
What exactly does this company do?
According to the Yahoo "Profile" on LKQ, the company
"...together with its subsidiaries, provides replacement systems, components, and parts to repair light vehicles in the United States. It provides recycled original equipment manufacturer (OEM) products and related services. The company's products include engines, vehicle front end assemblies, doors, transmissions, trunk lids, bumper assemblies, wheels, head and tail lamp assemblies, mirrors, fenders, and axles; and aftermarket products comprising head lamps, tail lamps, grilles, hoods, and mirrors. It also engages in refurbishing and distributing aluminum alloy wheels, head lamps, and tail lamps."
How did they do in the latest quarter?
On July 26, 2007 LKQ (LKQX) announced 2nd quarter 2007 results. For the quarter ended June 30, 2007, revenue increased 19.6% to $233.3 million, up from $195.0 million for the same quarter the prior year. Since the company has been involved with acquisitions, the report notes what is called organic revenue growth of 10.5%.

Net income came in at $14.0 million, up 20.2% from the $11.7 million reported in the same quarter last year. On a per share basis, this was $.25/share for the quarter vs. $.21/share last year.

The company beat expectations of the analysts per Thomson Financial, they had been predicting $.24/share and revenue of $232.8 million. In addition, the company raised guidance for 2007 to a profit of $56 to $58 million or $.99/share. The company had previously predicted a profit of $.97/share. Analysts expect a profit of $.97/share for the year.

A strong earnings reports that beats expectations and find the company raising guidance is about all an investor could hope for in an announcement!
What about longer-term results?
Reviewing the Morningstar.com "5-Yr Restated" financials, we can see that revenue has steadily grown since 2002 when they reported $287 million in revenue through 2006 at $789 million and $871 million in the trailing twelve months (TTM).

Earnings have just as steadily improved from a loss of $(1.00) in 2002 to a profit of $.40/share in 2003, dipping to $.20/share in 2004, then increasing to $.60/share in 2005, $.80/share in 2006 and $.90/share in the TTM.

Shares outstanding have increased somewhat from 42 million in 2005 to 53 million in 2006.

Free cash flow has been positive and generally increasing with $-0- reported in 2004, $11 million in 2005, $16 million in 2006 and $15 million in the TTM.

The balance sheet appears solid with $9 million in cash and $218 million in other current assets. This is plenty to cover the $66.1 million in current liabilities resulting in a current ratio of 3.43. In addition, the company reported another $142.7 million in long-term liabilities.
How about valuation?
Referring to the Yahoo "Key Statistics" on LKQ Corp, we find that this is a mid-cap stock with a market capitalization of $1.59 billion. The trailing p/e is a tad rich at 32.92, with a forward p/e of 23.15. The PEG ratio is still acceptable at 1.49.

Valuation-wise, the stock is a bit richly priced with a Price/Sales (TTM) ratio of 1.76 compared to the industry average of 0.89 per Fidelity.com eresearch website.

The company is also a little less profitable than its peers with a Return on Equity (TTM) of 12.28% compared to the industry average of 15.70%.

Finishing up with Yahoo, we can see that there are 53.70 million shares outstanding with 45.61 million that float. As of August 10, 2007, there were 8.03 million shares out short representing 7.9 trading days of volume (the short ratio). This is in excess of my '3 day rule' and may well be a significant factor in any subsequent price rise pending release of positive news.

No dividends are paid and the last stock split was a 2:1 stock split a year ago on January 17, 2006.
What does the chart look like?
Checking a "point & figure" chart from StockCharts.com on LKQ Corp., we can see an incredibly strong price move from as long ago as July, 2004, when the stock briefly dipped down to the $7.00 level. After breaking through resistance in December, 2004, at $10.00, the stock has moved steadily higher to the current range of $30.05. The graph certainly looks good to me!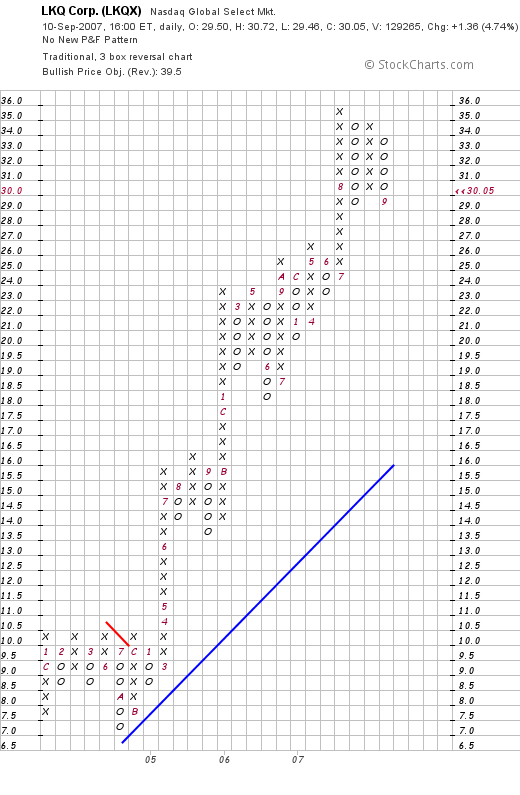 Summary: What do I think?
This is a very intriguing stock. I do not own any shares but if I were buying anything today, this is the kind of stock I would be purchasing! They had a terrific quarter that beat expectations, they have been growing their company steadily for the last 4 years or so, and valuation is o.k. at least insofar as p/e and PEG goes. In addition, there are a lot of shares out short on the stock leading to some pent up buying demand down the road assuming they can continue to report good news.

On the negative side, the Price/Sales and the Return on Equity figures were indeed a bit anemic. However, with the strong price chart, and even the 'Peter Lynch' factor of rebuilt auto parts being a recession play (?) (don't you think people will tend to repair their old cars rather than buying new ones if the economy is weak?), this stock is worth a place in the blog.
Thanks again for stopping by and visiting! If you have any comments or questions, please feel free to place them right on the website. If you would like, you are more than welcome to email me at bobsadviceforstocks@lycos.com. Of course, I shall do my best to remove any spam from comments, but as long as the comment is pertaining to the entry, you needn't worry about agreeing with me :).
If you get a chance, be sure and visit my Stock Picks Podcast Website. Also, consider stopping by and visiting my Covestor Page where Covestor evaluates and reports on the performance of my actual Trading Portfolio (since June, 2007), and my SocialPicks page where SocialPicks evaluates my stock picking of all of my selections since about January, 2007.
Now THAT should keep you busy! Have a great day everyone!
Bob