ICO Inc. (ICOC)
Hello Friends! Thanks so much for stopping by and visiting my blog, Stock Picks Bob's Advice! As always, please remember that I am an amateur investor, so please remember to consult with your professional investment advisers prior to making any investment decisions based on information on this website.

It was a nice change today seeing the market open lower and fight back all day to close on the upside at 13,442.5 up 17.64 on the Dow, and 2,602.18, up 1.12 on the Nasdaq. I will take any of these gains! Next week will likely also be a bit volatile with the Fed meeting on Tuesday and finding out what Bernanke and company have decided to do about interest rates.
Earlier today I was scanning the list of top % gainers on the Nasdaq and came across a new name for me ICO Inc. (ICOC) which closed today at $13.74, up $.21 or 1.55% on the day. (The stock was on the top % gainers list earlier in the day when I examined the company, later in the day the stock dropped off the list but still closed up.) I do not own any shares or options of this stock, but was impressed enough to purchase 50 shares for one of my children in their custodial account an
ICO INC. (ICOC) IS RATED A BUY
Let me review this company with all of you and share with you why I think this company deserves your consideration.
What exactly does this company do?
According to the Yahoo "Profile" on ICOC, the company

"...together with its subsidiaries, manufactures specialty resins and concentrates, and provides specialized polymers processing services. It offers specialty resins in powder form, which are used in the manufacture of household items, such as toys, household furniture, and trash receptacles; automobile parts; agricultural products, such as fertilizer and water tanks; paint; and metal and fabric coatings. The company also provides toll processing services, including ambient grinding, jet milling, compounding, and ancillary services for polymer resins produced in pellet form and other materials. Its concentrate products are primarily used by third parties to produce plastic films."
How did they do in the latest quarter?
On August 7, 2007, ICO, Inc. reported 3rd quarter 2007 financial results. For the quarter ended June 30, 2007, revenue came in at $113.4 million, up $30.9 million or 38% from the prior year results. Operating income for the quarter came in at $9.0 million, up 51% from last year's results. Income from continuing operations came in at $5.6 million, up 37% from last year's $3.5 million or $.20/diluted share up over 50% from the $.13/diluted share last year.
What about longer-term results?
Reviewing the Morningstar.com "5-Yr Restated" financials on ICOC, we can see that revenue came in at $181 million in 2002 and has been steadily increasing to $324 million in 2006 and $382 million in the trailing twelve months (TTM). Earnings dipped from $1.10/share in 2002 to a loss of $(2.00)/share in 2003, breaking even at $.00/share in 2004 then increasing to $.10/share in 2005, $.40/share in 2006 and $.60/share in the TTM. During this time the outstanding shares increased by about 10% from 24 million in 2002 to 26 million in 2006. During this same time period, revenue essentially doubled.

Free cash flow which was $(1) million in 2004 and 2005, turned positive at $5 million in 2006 and $9 million in the TTM.

The balance sheet looks solid with $4 million in cash and $141 million in other current assets for a total of $145 million in current assets. When compared to the $96.3 million in current liabilities, this yields an acceptable current ratio of 1.51.
What about valuation?
Checking Yahoo "Key Statistics" on ICOC, we can see that this is a small cap stock with a market capitalization of only $360.51 million. The trailing p/e is a reasonable 23.02, with a forward p/e of only 17.62. There is no PEG ratio but certainly with the current earnings growth of over 30% and the current p/e of 23, the PEG might well be close to or under 1.0 (assuming growth persisted the next five years.) As is not unusual in these small cap stocks, there likely are no analysts making 5-yr earnings predictions which are required to calculate a PEG.

Using the Fidelity.com eresearch website, we can see that ICOC has a Price/Sales (TTM) ratio of 0.92, well under the industry average of 2.00. In addition, the company is more profitable than similar companies in the same industry as they are reported to have a Return on Equity (TTM) of 27.44%, double the industry average of 13.88%.

Finishing up with Yahoo, we can see that there are only 26.24 million shares outstanding with 24.24 million of them that float. As of 8/10/07, there were 203.5 thousand shares out short representing a short ratio of only 0.6 trading days of volume. No dividend is paid, and the last stock dividend was a reverse 1:5 split on June 16, 1993.
What about the chart?
If we review the "Point & Figure" chart on ICO Inc. from StockCharts.com, we can see a very strong price chart dating back to October, 2003, when the stock was trading as low as $.75/share. since then the stock has been moving steadily higher bouncing off the support line time after time to move higher. This is, from my amateur perspective, a very strong price chart.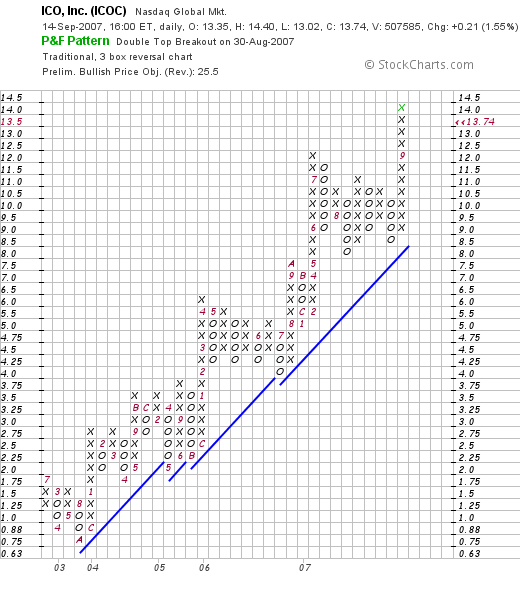 Summary: What do I think?
Well, I really like this stock. It isn't that I like Polymers :), but seriously, I like the numbers, I like the price chart, and I like the latest quarter's earnings. No matter what they do. That is what makes me interested in a stock. It is rather small, and may well trade more unpredictably than a larger cap stock, but I don't see much that I don't like.

In fact I liked this stock enough to buy 50 shares for one of my kids. But I didn't buy any for my own Trading Portfolio. I just don't have a buy signal :). But then again, that's a whole different story! Anyhow, it is worth a place in the blog, and it shall be part of my "trading vocabulary" of stocks that I believe should be considered when those buying opportunities arise.
Thanks again for visiting! If you have any comments or questions, please feel free to leave them on the blog or email me at bobsadviceforstocks@lycos.com. If you get a chance, be sure and visit my Stock Picks Podcast Website, where you can download some mp3's and hear me talk about some of the stocks I write about. In addition, check out my Covestor Page where my actual trading portfolio is monitored and analyzed by that website, and my SocialPicks page where my stock picks for the last 9 months have been evaluated and my performance measured by the SocialPicks people!
Have a great weekend everyone!
Bob