"Looking Back One Year" A review of stock picks from the week of March 27, 2006

Hello Friends! Thanks so much for stopping by and visiting my blog, Stock Picks Bob's Advice! I am truly grateful for all of you who take the time to visit and read what I write. I have written this line so many times, I am afraid that some may think it isn't sincere. Don't worry. It is! As always, please do remember that I am an amateur investor, so please consult with your professional investment advisers prior to making any investment decision based on information on this website.
It is the weekend once again (!) and that means it is time for a 'weekend review'. I use these review to help me find out about some of the past stock picks on this blog and see whether my 'system' is working. These reviews assume a buy and hold strategy for performance review. In reality, I utilize an active portfolio management strategy involving monitoring each stock in my own Trading Portfolio closely, selling weak stocks on small losses completely and selling strong stocks slowly and partially at targeted appreciation levels. This difference in strategy would certainly affect performance results; for the ease of evaluation, I continue to review past stock selections with a 'buy and hold' assumption.
Last weekend I reviewed the picks from March 20, 2006. I am actually about 18 months out from these reviews instead of the "one year", but this happened, as you might guess, from times in which I, the amateur blogger that I am, missed reviews. I apologize for these absences but still strive to continue to post on as regular a basis as possible. Let's take a look at the stock picks from the next week, the week of March 27, 2006.

On March 27, 2006, I posted Candela Laser (CLZR) on Stock Picks Bob's Advice when the stock was trading at $20.68. CLZR closed at $7.45 on September 14, 2006, for a loss of $(13.23) or (64.0)% since posting.

On August 21, 2007, Candela reported 4th quarter results. Revenue for the quarter ended June 30, 2007, declined to $39.0 million from $41.3 million the prior year. Earnings for the quarter came in at a loss of $(727,000) or $(.03)/share compared with net income of $2.4 million or $.10/share the prior year. Except for the poor quarterly report, the Morningstar.com "5-Yr Restated" financials is intact.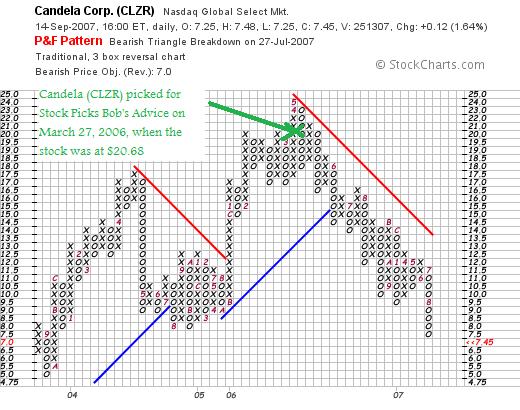 With the very weak quarterly report, and the weak stock chart,
CANDELA (CLZR) IS RATED A SELL
On March 28, 2006, I posted TALX Corporation (TALX) on Stock Picks Bob's Advice when the stock was trading at $28.26. As was announced, Equifax (EFX) acquired TALX Corporation for $35.50/share (or .861 shares of Equifax Stock). Assuming a sale at $35.50/share (I would not recommend taking the Equifax shares unless Equifax 'fitted' into my own investing strategy), this represented a gain of $7.24 or 25.6% since posting.
Since TALX is no longer traded, I shall not be following this stock further (obviously) and also do not have any buy or sell recommendations on this issue (double obviously!).

On March 30, 2006, I posted NS Group (NSS) on Stock Picks Bob's Advice when the stock was trading at $47.09. On September 11, 2006, NS Group announced that it had entered into an agreement with IPSCO to be acquired for $66.00/share. This was completed by December 4, 2006.
This acquisition represents an appreciation of $18.10 or 37.8% since being posted on the blog.

Finally, on March 31, 2006, I posted Kendle International (KNDL) on Stock Picks Bob's Advice when the stock was trading at $33.20. KNDL closed at $40.65 on September 14, 2007, for a gain of $8.45 or 25.5% since posting.
On August 1, 2007, Kendle reported 2nd quarter 2007 results. Net service revenues for the quarter June 30, 2007, came in at $97.8 million, up 58% over 2nd quarter 2007. Net income came in at $.29/share. This was unchanged from 2nd quarter 2006 results of $.29/share. However, adjusting for acquisition costs (from the Charles River Lab Acquisition), the amount worked out to $.34/share. The company also lowered guidance for 2007 to earnings in the range of $1.32 to $1.52 (an $.18 reduction from previous guidance). The company explained that this represented "The write-off of financing fees results from the debt payments made in July with the proceeds from the convertible note offering." With two explanations in one announcement, in spite of the fabulous revenue growth, and with the strong stock chart, but being an amateur, I cannot really assess the clarity of these results, and thus
KENDLE (KNDL) IS RATED A HOLD
So how did I do with these four stock picks? First of all, I do not think it is coincidental that we have two out of four of these stock picks being acquired. I suspect that acquiring companies are probably looking at all of the same fundamentals that I examine---steady revenue growth, solid earnings, positive, free cash flow, and a healthy balance sheet. Of course, they are able to examine more of the important details with far great comprehension and clarity than I could possible accomplish. But it is interesting, isn't it?
Anyhow, one of my stocks, CLZR imploded with a big loss. The other three showed solid gains. The average performance for these four stocks was a gain of 6.2%.
Thanks again for visiting! Please remember that past performance is no guarantee of future performance. And of course that I am an amateur.
If you get a chance, be sure and visit my Stock Picks Podcast Page where you can download some mp3's of me discussing some of my stocks from the blog. In addition, check out my Covestor Page to find out how my actual trading portfolio has been doing. Unfortunately, that goes back only the last three months. In addition, for anevaluation of my stock picks from at least the beginning of 2007, visit my SocialPicks Page where that website has been monitoring and measuring the accuracy of my picking on this blog!
Have a great weekend everyone. May we all get through the Bernanke-Tuesday upcoming without an excess of price volatility!
Bob
Posted by bobsadviceforstocks at 12:17 PM CDT |
Post Comment
|
Permalink
Updated: Sunday, 16 September 2007 12:53 PM CDT