Apogee Enterprises Inc. (APOG)
Hello Friends! Thanks so much for stopping by and visiting my blog, Stock Picks Bob's Advice! As always, please rmeember that I am an amateur investor, so please remember to consult with your professional investment advisers prior to making any investment decisions based on information on this website.
APOGEE ENTERPRISES (APOG) IS RATED A BUY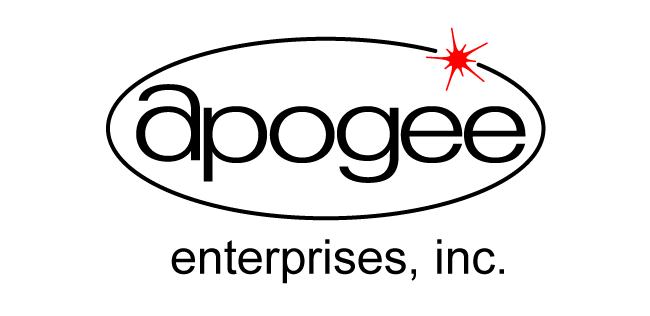 I was looking through the lists of top % gainers this morning and came across this small glass-products company, Apogee Enterprises (APOG) that deserves a spot on this blog. I do not own any shares or options on this company. (I should point out that by the time I got around to writing up this stock, the company was no longer on the top % gainers list, but having been there earlier, and being the author of this blog :), I would like to share this stock with you in any case! APOG as I write is trading at $25.76, up $1.18 or 4.8% on the day.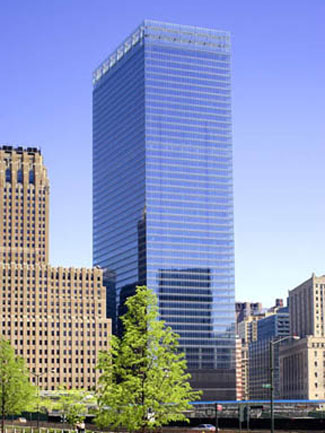 What exactly does this company do?
According to the Yahoo "Profile" on Apogee, the company
"... through its subsidiaries, engages in the design and development of glass products, services, and systems. The company operates in two segments, Architectural Products and Services, and Large-Scale Optical Technologies."
How did they do in the latest quarter?
As is so often the case on this blog, it was the announcement of 2nd quarter 2008 earnings after the close of trading yesterday that caused the stock to move higher this morning. Revenue for the quarter came in at $217.7 million, up 20% over the prior year period. Earnings came in at $.39/share, up from $.26/share last year. In addition, the company raised guidance for fiscal 2008 to $1.43 to $1.53/share, up from prior guidance of $1.37 to $1.47/share.

Analysts, according to Thomson Financial surveys, had been expecting second quarter profit of $.36/share. Thus the company beat expectations with this report.
How about longer-term results?
Reviewing the Morningstar.com "5-Yr Restated" financials, we can see that the company, after a dip in revenue from $538 million in 2003 to $490.8 million in 2004, has been steadily growing revenue to $779 million in 2007 and $802 million in the trailing twelve months (TTM). Earnings also dipped from $1.10 in 2003 to a loss of $(.20)/share in 2004. However, since 2004 earnings have been positive and growing to $1.10/share in 2007 and $1.40 in the TTM. Meanwhile, outstanding shares have been stable with 27 million reported in 2006 and increasing only to 28 million in the TTM.

Free cash flow has been positive but not growing, with $11 million reported in 2005, $8 million in 2007 and $6 million in the TTM. Overall operating cash flow has been growing solidly, but capital spending has also been keeping pase increasing from $20 million in 2005 to $47 million in the TTM. This has kept a lid on the free cash flow growth.

The balance sheet appears solid to me with $4 million in cash reported on the Morningstar.com page, with $225 million in other current assets. When compared to the $133.8 million in current liabilities, the current ratio works out to an acceptable 1.71. In addition, the company has a moderate amount of long-term liabilities reported at $83.1 million.
How about some valuation numbers?
According to the Yahoo "Key Statistics", this company is a small cap stock with a market capitalization of only $749.43 million. The trailing p/e is a very reasonable (imho) 19.10, with a forward p/e (fye 03-Mar-09) of only 14.89. With the strong growth expected, the PEG (5-Yr expected) is estimated at only 0.87.

The Fidelity.com eresearch website reports that the Price/Sales (TTM) is at 0.87, with an industry average of 0.75. According to Fidelity, the company has a Return on Equity (TTM) of 15.82%, compared to the industry average of 107.56%. (this isn't a typo!)

Finishing up with Yahoo, there are 28.90 million shares outstanding with 28.06 million that float. As of 8/10/07, there were 2.70 million shares out short representing 7.3 trading days of average volume (the short ratio), or 9.6% of the float. This is a significant number imho, using my own '3-day rule'. With the strong earnings report, this relatively thinly traded stock may well find short-sellers scrambling to cover their 'negative bets'.

The company even pays a small dividend with $.27/yr paid yielding 1.105. The last stock split was a 2:1 stock split in February, 2007.
What does the chart look like?
Looking at the "point & figure" chart from StockCharts.com on Apogee (APOG), we can see the stock dipping from $14 in July, 2002, to a low of $7.50 in February, 2003. This was the same time the numbers 'turned around' as you recall on the Morningstar.com page. After this low, the stock has esssentially steadily been moving higher with a recent peak of $30 in July, 2007. The stock pulled back to the $22 level in September, 2007, and is now pushing higher at the $25.74 level. The chart looks strong to me.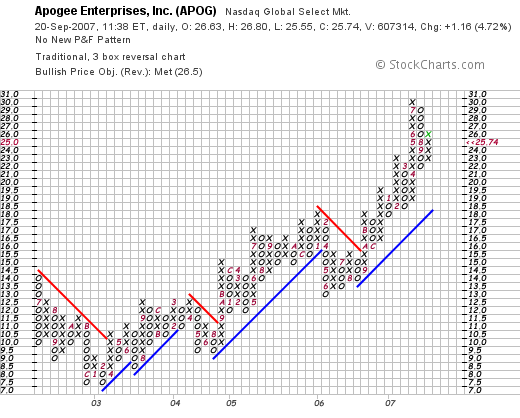 Summary: What do I think?
Well, needless to say I like this stock. I especially get a 'kick' out of stocks from the humble midwest :). Seriously, they reported solid earnings that beat expectations and raised guidance simultaneously. They have a 3-4 year record of positive financial results, a stable # of shares, and positive free cash flow with a solid balance sheet. They have a reasonable p/e with a PEG under 1.0. Price/Sales and ROE are a bit under the industry average. Finally, there are a significant number of short-sellers out there.

The company even pays a small dividend and has a habit of frequently splitting its stock! I don't have any 'permission slip' to be buying any stocks, but this is my kind of small company! I shall keep it in my vocabulary and if the time is right, you never know when I may be able to make this one a holding!
Thanks again for visiting! If you have any comments or questions, please feel free to leave them on the blog or email me at bobsadviceforstocks@lycos.com. Be sure and visit my Stock Picks Podcast Website where I talk about a few of the many stocks I write about here on the blog. Also, if you are interested, stop by my Covestor Page which has been reviewing my own trading portfolio performance for the past three months, or my SocialPicks Page which has been looking at all of my stock picks this past year.
Regards and have a great day trading and investing!
Bob
Posted by bobsadviceforstocks at 9:56 AM CDT |
Post Comment
|
Permalink
Updated: Thursday, 20 September 2007 11:05 AM CDT