Bolt Technology (BTJ) "Trading Transparency"
Hello Friends! Thanks so much for stopping by and visiting my blog, Stock Picks Bob's Advice! As always, please remember that I am an amateur investor, so please remember to consult with your professional investment advisers prior to making any investment decisions based on information on this website.
A few moments ago I sold my remaining 129 shares of Bolt (BTJ) at $32.78/share. These shares had been purchased 1/12/07 at a cost basis of $17.44, so I had a gain of $15.34 or 88% since purchase. This was a sale on a decline and no matter how I would like to spin this (!) I shall be 'sitting on my hands' with the proceeds of this sale, waiting for something more positive, like a sale of a portion of a holding, before adding another position.
Why did I sell? (I can already see the emails showing up in my mailbox!) As part of my own trading strategy, I sell stocks on declines on one of four reasons. Either there is some fundamental information out there that indicates that a sale is simply a wise thing to do (see Starbucks sale today), or if after an initial purchase the stock declines 8% (See ICOC sale yesterday). Other declines include after one partial sale at a 30% gain, I move the selling point up from an 8% loss to 'break-even'. After multiple sales, I will sell the remaining shares if a stock should decline to 50% of its highest % gain. In this particular case, I had sold portions of Bolt (BTJ) five times this year. First at 30%, then 60%, 90%, 120% and 180% appreciation points. Thus with a decline to under a 90% appreciation, much like my experience with Jones Soda (JSDA), I had a signal to sell my remaining shares.
I have been trying very hard to ignore this signal. I like this stock a lot. But even after trying to bounce back after closing yesterday under a 90% gain for me, the stock sold off once more to under a 90% appreciation level, and I didn't want to ignore the signal that my own stock holding was generating.
Let's take a look at the "point & figure" chart on BTJ from StockCharts.com: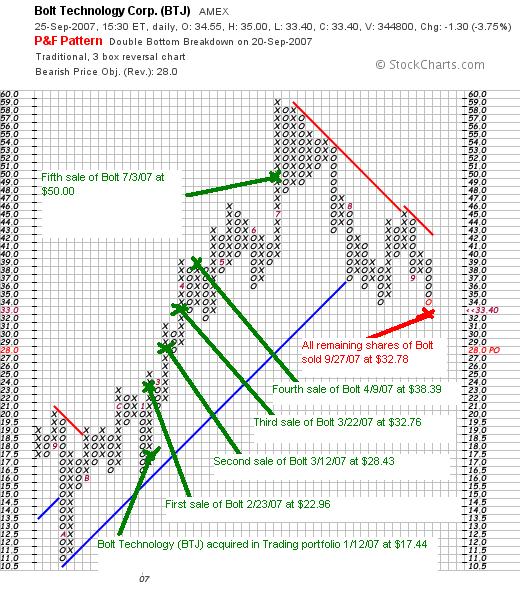 With my own sale of Bolt, yet without any fundamental change in the outlook for this company, I am reducing my rating:
BOLT TECHNOLOGY (BTJ) IS RATED A HOLD
Thanks so much for stopping by and visiting my blog! If you have any comments or questions, please feel free to leave them right on the website or email me at bobsadviceforstocks@lycos.com. If you get a chance, be sure and visit my Stock Picks Podcast Website, or my Covestor Page where my Trading Portfolio is monitored and evaluated, or my SocialPicks Page where all of my picks are reviewed as of early 2007.
My latest investing experiment is the Prosper.com person-to-person loan plan. I only have $200 invested in that program but you are encouraged to least explore the Prosper.com website and see how intriguing this E-Bay style loan system is. (Full disclosure, I do receive a small payment for referrals that I generate...but I would tell you about this anyhow.) Be sure you understand the risks over at Prosper.com as well prior to investing any money in loans there.
Have a great day. I hope to get something up on Copart later today if I get a chance!
Bob