A Reader Writes "Trigger Points...%price increase?"
Hello Friends! Thanks so much for stopping by and visiting my blog, Stock Picks Bob's Advice! As always, please remember that I am an amateur investor, so please remember to consult with your professional investment advisors prior to making any investment decisions based on information on this website.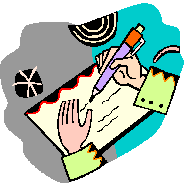 I received another great letter from Doug S. today and thought I would comment right on the blog. If you have any comments or questions, please always remember you can leave comments on the blog or email me at bobsadviceforstocks@lycos.com.
Doug S. wrote:
"Bob: Back to an old topic for a second. As previously discussed mine
is earnings/revenue announcement, your's % price increase. How did you
original choose that and are there any rules/principals you developed
to further refine before you buy? Thanks"
Once again, thank you for writing Doug! You have been a loyal reader and writer of questions of comments for quite awhile now. I appreciate your enthusiasm and home that my continued blogging is helpful for you.
I have written about stock selection before on this blog, but I am quite happy to revisit this topic because there are so many different readers who stop by and many probably don't have the faintest idea about what I am doing and why I am doing it :). (Sometimes I also am wondering about the same thing!)
Selection of a stock for inclusion in the blog as part of what I call my "investing vocabulary" is the same technique that I utilize for selecting stocks to purchase. Some years back when the NASDAQ and the high-tech bubble was expanding, I noticed that simply looking at stocks that were making large gains was a useful method of selecting stocks to trade over the short-term. However, with the implosion of this bubble, this wasn't useful by itself, but it made me aware that this factor, when in conjunction with other fundamental findings on the stocks selected, might well be a good initial screen.
I start with the top % gainers lists. This is the CNNMoney.com site where the gainers are listed, and which I frequently use. If you click on the individual NYSE, NASDAQ, or AMEX links, you will get the individual lists for those exchanges. But this is just the starting place for my search. I try to avoid stocks that are much below $10 in this screening process.
My next step is generally to take a look at the Morningstar.com "5-Yr Restated financials" page. Using CPRT as an example, this page gives me a large supply of information that I utilize for making my decisions. In a nutshell, I am looking for a quality investment (aren't we all?). For me, quality is about consistency in reporting improved financial numbers. In other words, a stock that steadily grows its revenues, increases earnings, maintains a steady # of shares, has positive free cash flow that hopefully is increasing, and has a balance sheet where there are lots of assets and relatively less liabilities. Especially current assets over current liabilities.
Early on in the blog history, I was looking for perfection. I have become more realistic and look for near-perfection but am willing to tolerate a few 'blemishes' on these financial records. But not many!
If this page passes muster, I check over to the latest earnings report. As you mention, you are attracted to stocks with strong earnings/revenue reports. I am looking for stocks moving higher, but their latest quarterly report is critical in this review. Again, using Copart (CPRT), we can find their latest earnings report here on Yahoo. What am I looking for? Simple stuff really. Because I don't really understand complex financial statements. I am looking for increasing revenue, and increasing earnings. Hopefully, I can find something about expectations. I like it when results beat expectations. Hopefully for both earnings and revenue. Here you can see that Copart handily beat expectations. I have occasionally called this a 'trifecta' or 'trifecta plus'. Just silly terms that I made up using some horse-racing talk. (I don't really know much about horses either!)
Next step I take a look at valuation. Using Yahoo again, here is the page on "Key Statistics" on Copart. I prefer to see low p/e's (usually in the 20's or lower), I like to see a reasonable PEG (1.0 to 1.5). And sometimes we can find stocks with lots of short interest on this sheet, which for me is a short ratio of greater than three days. I have been using Fidelity.com for valuation numbers which you can find here for Copart. And here for profitability numbers. In general, these are ancillary numbers that do not determine my decision as much as the Morningstar page and the latest quarter earnings report.
Finally, I like to look at a "point & figure" chart. I developed a 'taste' for these charts in my stock club meetings where we had a broker from Piper Jaffrey (Bob A.), who would often present these charts to us. Perhaps it is an acquired taste, but I like looking at them.
Here is the chart for Copart. In no ways am I an accomplished technician or chartist. Quite to the contrary. Simply put, I like to see a chart which looks like the price is moving higher. That is, there appears to be a trend which is yet unbroken of increasing price as we move from left to right across the chart :). That is about how sophisticated I am :).
Topping off my process is a little bit of Peter Lynch. Maybe it is just a 'gut check' or some sort of Gestalt process. But that is what I do.
I do not necessarily think this is better than what you are doing. But I am trying to make some reason out of chaos, to develop rules for stock selection, and stock sales. Reasons for buying and reasons for selling stocks. Reasons for sitting on my hands and reasons for replacing positions.
Thanks again for writing! I hope this is helpful in explaining my own thought processes. You might visit websites where methods are proprietary. Maybe those writers are smarter and will be rich with their secret recipes. My desire is to be transparent. To be explaining everything so that I can learn and bounce my ideas and thoughts off of all of you readers. Hopefully, I shall be successful in doing this and shall continue to refine my own approach to stock market investment strategy.
Bob
Posted by bobsadviceforstocks at 1:49 PM CDT |
Post Comment
|
Permalink
Updated: Thursday, 27 September 2007 5:47 PM CDT