Copart (CPRT) "Revisiting a Stock Pick"
Hello Friends! Thanks so much for stopping by and visiting my blog, Stock Picks Bob's Advice! As always, please remember that I am an amateur investor, so please remember to consult with your professional investment advisers prior to making any decisions based on information on this website.
Last Thursday I reported on my purchase of shares of Copart (CPRT) and promised I would try to get a bit more of a review on the blog than the brief comments after the purchase. As I reported in that entry, I do own shares and infact purchased 210 shares on 9/27/07 at a price of $33.68. Copart is not a new name for me. In fact, I wrote up Copart on 5/26/04 when the stock was trading at $23.02. Copart (CPRT) closed at $34.39 on 9/28/07, for a gain of $11.37 or 49.4% since posting this stock three years ago.
Let me go through some of the data underlying my decision to purchase shares and explain why
COPART (CPRT) IS RATED A BUY
What exactly does this company do?
According to the Yahoo "Profile" on CPRT, the company

"...provides salvage vehicle sale services primarily in the United States. It offers vehicle suppliers, primarily insurance companies, with a range of services to process and sell salvage vehicles over the Internet through its virtual bidding Internet auction-style sales technology."
How did they do in the latest quarter?
On September 26, 2007, after the close of trading, Copart announced 4th quarter 2007 results. Revenue for the quarter ended July 31, 2007, came in at $154.0 million, up 12.2% from last year's results. Income came in at $36.7 million or $.40/diluted share up 21.2% from last year's result of $31.6 million or $.35/share.

Analysts according to Thomson Financial had expected profit of $.35/share on revenue of $138.1 million. Thus the company handily beat expectations.
How about longer-term results?
Reviewing the Morningstar.com "5-Yr Restated" financials on CPRT, we can see the steady increase in revenue from $306.5 million in 2002 to $528.6 million in 2006 and $547.8 million in the trailing twelve months (TTM). Except for a dip in 2006 to $1.00 from $1.10/share, earnings have been growing nicely since 2003 when the company earned $.60/share. The latest twelve months shows Copart with earnings of $1.40/share.

No dividend is paid but the shares outstanding are stable with 89 million reported in 2002 increasing only to 90 million in the TTM.

Free cash flow is positive with $70 million in 2005, $45 million in 2006 and $84 million in the TTM. The balance sheet from Morningstar appears very strong, with $124 million in cash which by itself could easily pay off both the $80.7 million in current liabilities and the $1.5 million in long-term liabilities combined.
What about some valuation numbers?
Using the numbers from Yahoo "Key Statistics" on Copart, we find that the company is a mid cap stock with a market capitalization of $3.04 billion. The trailing p/e is a moderate 23.57 with a forward p/e (fye 31-Jul-09) estimated at 17.91. Estimating the earnings going forward over the next five years, the PEG works out to an acceptable 1.42.

According to the Fidelity.com eresearch website, Copart has a Price/Sales (TTM) ratio of 5.54, much higher than the average in the industry of 2.35. On a positive note, the company is reported to be somewhat more profitable than average, with a Return on Equity (TTM) of 15.40%, higher than the industry average of 13.09%.

Finishing up with Yahoo, we find that there are 88.33 million shares outstanding with 69.21 million that float. As of 9/11/07, there were 1.02 million shares out short, representing 1.4% of the float or 4 trading days of volume. This is slightly higher than my own 3 day rule for short interest. No dividends are paid and the last stock split reported on Yahoo was a 3:2 stock split on January 22, 2002.
What does the chart look like?
Reviewing the "Point & Figure" chart on CPRT from StockCharts.com, we can see the weakness in the price chart through much of 2002 as it dipped from $25/share in January, 2002, to a low of $7.00 in March, 2003. Since that time, the stock has been moving steadily higher . The chart does not appear particularly 'overexteded' to me.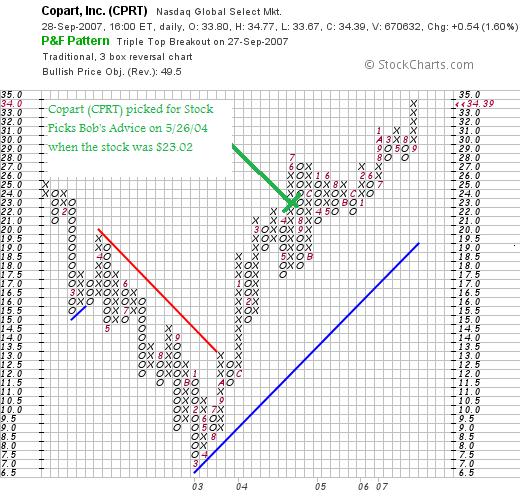 Summary: What do I think?
Well I like this stock! In almost a 'recession play', the stock fills a niche for automobiles and is involved in car auctions. I am confident that in any weakness in the economy, more and more car purchasers are looking at used cars...of courst that is only my speculation.

Earnings were great as the company handily beat expectations. Valuation isn't bad with a moderate p/e and a PEG under 1.5. The Price/Sales is a bit rich but the Return on Equity was a bit better than average. Finally, the stock chart looks nice.
Thanks so much for stopping by and visiting. If you have any comments or questions, please feel free to leave them on the blog or email me at bobsadviceforstocks@lycos.com. If you can, be sure and visit my Stock Picks Podcast site, my Covestor Page where my trading portfolio is analyzed, and my SocialPicks page where all of my stock picks from early 2007 are stored.
Have a great week trading!
Bob
Posted by bobsadviceforstocks at 11:00 AM CDT |
Post Comment
|
Permalink
Updated: Sunday, 30 September 2007 9:17 PM CDT