AutoZone (AZO)
Hello Friends! Thanks so much for stopping by and visiting my blog, Stock Picks Bob's Advice! As always, please remember that I am an amateur investor, so please remember to consult with your professional investment advisers prior to making any investment decisions based on information on this website.

It is late and I wanted to get this write-up on the blog. Let me see if I can do this briefly.
AutoZone (AZO) made the list of top % gainers on the NYSE closing at $128.80, up $20.93 or 19.40% on the day. I do not own any shares nor do I have any options on AutoZone. I shall try to do the impossible and be brief and explain why
AUTOZONE (AZO) IS RATED A BUY
This morning before the opening of trading, AZO announced 1st quarter 2008 results. Net sales climbed 4.5% to $1.5 billion with same store sales up 1.3% for the quarter. Net income was up 7% from the prior year, while earnings per share climbed 17.4% to $2.02 from $1.73/share last year.
What drove the stock higher, among other factors, was the earnings report which beat expectations of $1.93/share.
Longer-term, reviewing the Morningstar.com '5-Yr Restated' financials on AZO, we can see that while 'slow and steady' may describe these results, the company has been cranking out steady revenue growth, earnings growth with strong free cash flow growth and a solid balance sheet while maintaining and decreasing the number of shares outstanding.
Checking some "key statistics" we can see that this is a large cap stock with a cap of $8.36 billion. The trailing p/e is rather cheap at 15.10 with a forward p/e (fye 25-Aug-09) of only 12.24. Thus the PEG (5 yr expected) is reasonable at 0.96. There is moderate short interest on this stock with a short ratio of only 3 (2.27 million shares out short as of 9/11/07).
The last stock split was April 21, 1994, when the stock split 2:1.
Looking at the 'point & figure' chart from StockCharts.com, we can see that the stock has traded in what I would describe a volatile fashion with a definite upward bias. After dipping as low as $78 in October, 2005, the stock has gradually traded higher to its recent high of $140 in June, 2007. The stock dipped to as low as $104 in November, 2007, before the recent spike back to the $128 level. The chart looks encouraging but not over-extended.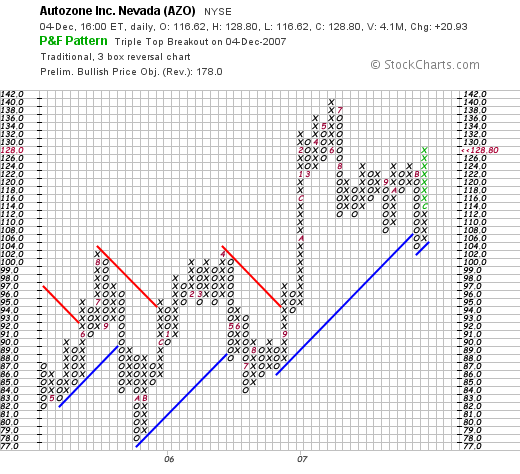 To summarize, this company which sells auto parts and accessories made a big move higher today on a surprisingly strong earnings report. They are continuing a longer-term success with steadily growing revenue, earnings, free cash flow, and a solid balance sheet while maintaining and actually decreasing the outstanding shares. Valuation is reasonable and the chart looks encouraging. It is the kind of stock I would be buying if I were.
Now off to my stock club tonight!
Bob